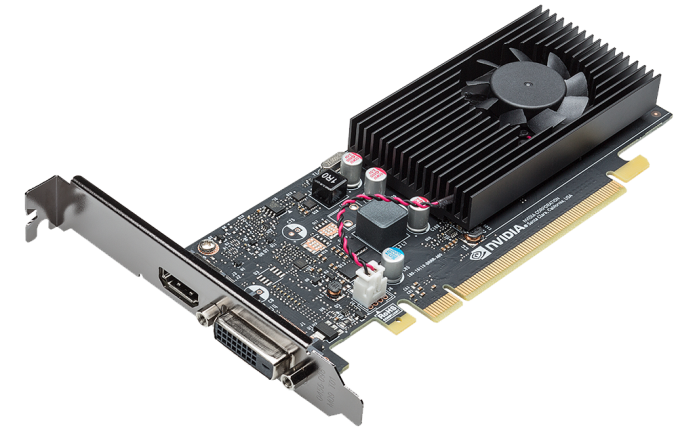 For the lowest-end video cards, a common practice by manufacturers is to substitute in slower VRAM – recently, this meant swapping out GDDR5 for DDR3 – saving costs in a product that typically would not be able to utilize the extra memory bandwidth. For quite some time now, we have been used to seeing DDR3 in those ultra low-end cards – until now. Sometime last month, NVIDIA quietly released the GeForce GT 1030 DDR4, with several models filtering out through add-in board partners.
In addition to slower-clocked DDR4 VRAM, the GT 1030 DDR4's core clocks have also been reduced, though the exact boost clocks differ between custom boards. The end result of 2100Mbps DDR4 from 6008Mbps GDDR5 does reduce the bandwidth from around 48 GB/s to 16.8 GB/s, though with no change to memory size and bus width. It appears that the DDR4 variants are also lower power, with a 20W TDP as opposed to 30W.
Specifications of Selected NVIDIA GeForce GT 1030 Cards
Palit GT 1030
MSI GT 1030
Gigabyte Low Profile GT 1030
Base Clock
1227 MHz
1151 MHz
1265 MHz
1189 MHz
1227 MHz (Gaming)
1151 MHz (Gaming)
1252 MHz (OC)
1177 MHz (OC)
Boost Clock
1468 MHz
1379 MHz
1518 MHz
1430 MHz
1468 MHz
(Gaming)
1379 MHz
(Gaming)
1506 MHz (OC)
1417 MHz (OC)
VRAM
Clocks
6000 Mbps
2100 Mbps
6008 Mbps
2100 Mbps
6008 Mbps
2100 Mbps
Capacity
2 GB
Bus Width
64-bit
Type
GDDR5
DDR4
GDDR5
DDR4
GDDR5
DDR4
Power Consumption
30W
20W
30W
20W
unspecified
Interestingly, some of the listed documentation shows two different core names: "GP108-300" and "GP108-310." But while "GP108" is affiliated with the lower-clocked, lower TDP DDR4 variant, certain GDDR5 models (AERO ITX 2G OC, AERO ITX 2G OCV1, 2G LP OC, 2G LP OCV1, 2G LP OCV2) list both core names in their specification sheets but with everything else unchanged, leaving it unclear what the differences are between these two GP108 bins.
The official NVIDIA GeForce GT 1030 product page mentions nothing of the change, though it does note that specifications of partner board may vary. In any case, each of the model names bar one differentiate the peculiarity with a "D4" moniker. Though the consequence of the bandwidth difference is much less with such low-end cards, particularly with ones under a tighter power budget, it is unclear how much of a performance hit this entails.
Nevertheless, given the overall shift away from DDR3 production, we should soon see future lower-end cards equipped with DDR4 over DDR3.
Source: MSI (via SH SOTN)