Dell Upgrades XPS 15
Dell's XPS 15 are among the highest-performing 15-inch-class laptops on the market today. Being aimed at demanding customers, the XPS 15-series gets upgrades with the latest hardware ahead of all other products from the company. Therefore, it is not surprising to see Dell rolling out its XPS 15 9570 along with Intel's launch of the Coffee Lake-H CPUs.
The Dell XPS 15 9570 comes in the same 17-mm thick CNC-machined aluminum chassis featuring a carbon fiber composite palm rest as its predecessors, so it looks, feels, and weighs just like the previous-gen models. Meanwhile, internals of the XPS 15 model 9570 have been upgraded: the PC is based on Intel's latest mobile 300-series platform featuring quad-core a Core i5-8300H, six-core Core i7-8750H, or a fully-unlocked six-core Core i9-8950 HK. Dell is particularly proud that it could overclock this CPU to ~5 GHz in this chassis (ed: don't try this at home).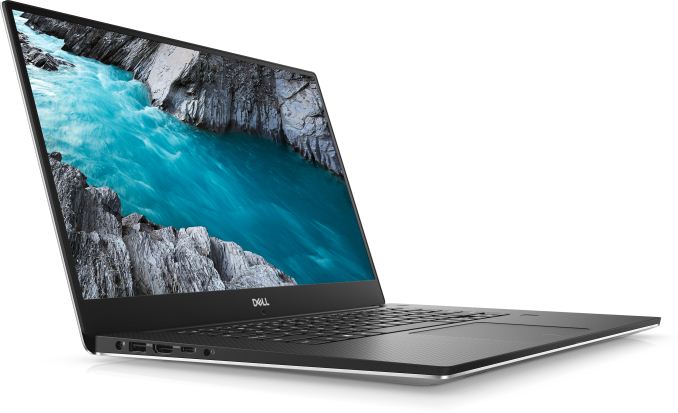 Since the new processors support DDR4-2666 memory, Dell will equip its new XPS 15 with 8 – 32 GB of DDR4-2666. In the meantime, storage sub-system of the XPS 15 9570 remained generally the same as before: users can choose between various hybrid storage options as well as PCIe NVMe SSDs featuring 256 – 1 TB capacities (see the table below for exact details).
When it comes to display, Dell will continue to offer two 15.6" InfinityEdge-branded panel options with its new notebooks: a FHD IPS panel supporting 100% of the sRGB color gamut as well as a 4K UHD IPS touch panel covering 100% of the sRGB color gamut. Both LCDs feature a 400-nits brightness and an anti-glare coating for added comfort. Meanwhile, Dell says that its new 4K panel consumes less energy than its previous-gen 15.6" panel and therefore UHD-enabled XPS 15 9570s will offer a longer battery life than their predecessors. As an added bonus, the 4K panel will also feature edge-to-edge Corning Gorilla Glass 4 protection.
Graphics sub-system of the XPS 15 9570 will get NVIDIA's GeForce GTX 1050 Ti option for the highest-end SKU, whereas the more affordable models will use Intel's UHD Graphics 630 and NVIDIA's GeForce GTX 1050, just like they do today.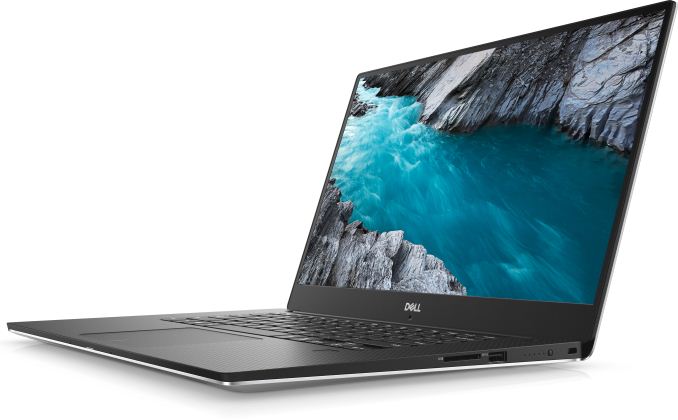 Moving on to connectivity, we have to keep in mind that the XPS 15 9570 borrows the chassis and some other components from the XPS 15 9560. The machine uses Rivet's Killer 1535 2×2 802.11ac Wi-Fi controller that also supports Bluetooth 4.1 and Miracast, which is good enough for the vast majority of today's networks that barely support 867 Mbps throughput. Meanwhile, Coffee Lake-H-based builds this spring will use Intel's Wireless-AC 9560 solution that will be able to demonstrate its full potential several years down the road, when 802.11ac networks with 160 MHz channels and up to 1.73 Gbps throughput will become common. When it comes to physical connectivity, the XPS 15 9570 has the same set of ports as the predecessor: two USB 3.0 Type-A headers, a Thunderbolt 3 connector, an HDMI 2.0 output, and an SD card reader. A particularly good news is that the TB3 port now features four PCIe 3.0 lanes, up from two on the previous-gen model.
Since Dell's new XPS 15 9570 retains chassis of the 9560, it has the same 720p webcam located on the bottom of the display lid, two 2-W stereo speakers with Waves MaxxAudio Pro software enhancements, and dual array digital microphones.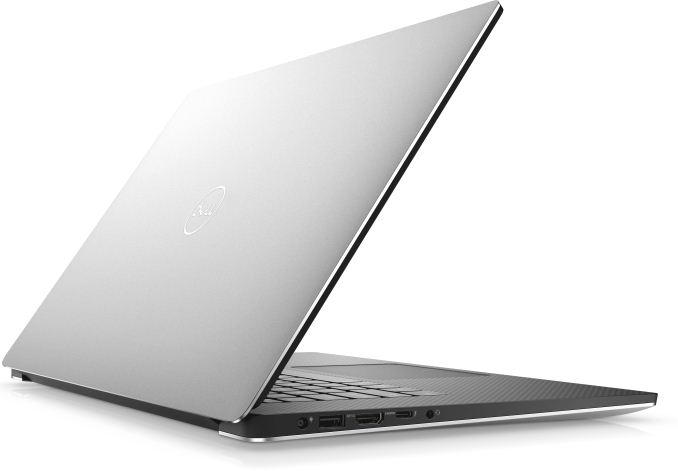 Battery pack options of the 2018 Dell XPS 15 remained the same as with the previous-gen model: 56 Wh for the cheapest SKU and 56 Wh or 97 Wh for the mode advanced models. Dell says that a system with a 97 Wh battery can work for 21.5 hours on one charge, but in the real world everything depends on the usage scenario.
Dell XPS 15 (9570) Base Configurations
Core i5
Core i7
Core i9
CPU
Intel Core i5-8300H
4C/8T
2.3 GHz - 4 GHz
8 MB LLC
45 W TDP
Core i7-8750H
6C/12T
2.2 - 4.2 GHz
9 MB LLC
45 W TDP
Core i9-8950HK
6C/12T
2.9 - 4.8 GHz
12 MB LLC
45 W TDP
GPU
Intel HD 630
Intel HD 630 +
NVIDIA GeForce GTX 1050 w/4 GB GDDR5
Intel HD 630 +
NVIDIA GeForce GTX 1050 Ti w/4 GB GDDR5
Memory
8-32 GB DDR4-2666 RAM
Two SODIMM slots, 32 GB Max
Display
15.6" IPS
1920×1080
sRGB
400 cd/m² brightness
1200:1 contrast ratio
15.6" IPS
3840×2160
Adobe RGB
400 cd/m² brightness
1500:1 contrast ratio
Storage
128 GB SSD + 1 TB HDD
256 GB PCIe SSD or
1 TB SSHD
512/1024 GB PCIe SSD
Networking
Killer 1535 Wireless-AC 2x2 + Bluetooth 4.1
I/O
USB 3.0 x 2 w/Powershare
SD Card reader
1 x USB 3.1 Gen 2 Type-C w/Thunderbolt 3 (4 lanes PCIe)
Headset Jack
HDMI 2.0
Microphones
720p webcam
Dimensions
(mm) : 357 x 235 x 11-17
(inches) : 14.06 x 9.27 x 0.45-0.66
Weight
With 56 Wh Battery
1.8 kg / 4.0 lbs
With 97 Wh Battery
2 kg / 4.5 lbs
Battery
56 Wh
56/97 Wh
Price
$999+
Overall, the Dell XPS 15 9570 seems like a decent upgrade to the Dell XPS 9560 primarily due to a higher core-count CPU and a more energy-efficient 4K display panel. The machine has the same peculiarities as its predecessors, such as a very compact design, a relatively low weight between 1.8 and 2 kilograms, good display panels and a not very good webcam placement. Traditionally, Dell does not disclose prices of all SKUs at launch, but only says that the entry-level model will be priced at $999.