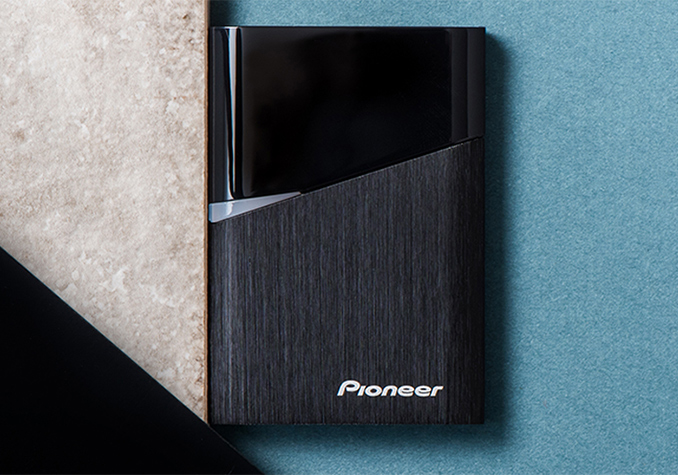 First formally introduced earlier this year, Pioneer has begun selling their APS-XS02 external SSDs, the company's first USB Type-C SSD. The drives combine stylish design with decent performance, compatibility with various PCs, and reasonable pricing.
The Pioneer APS-XS02 portable bus-powered SSDs come in small and light enclosures measuring 65×45×10.5 mm and resembling Zippo lighters. The drives feature 120 GB or 240 GB capacities and are rated for up to 480 MB/s sequential read speed as well as up to 400 MB/s sequential write speed, faster than any USB flash drives. The manufacturer does not disclose which controller and what kind of memory it uses with the APS-XS02, but since we are dealing with a 2018 product, it is reasonable to expect something contemporary.
One of the key features of the Pioneer APS-XS02 SSDs is their USB 3.1 Gen 2 interface that allows to take full advantage of performance offered by the drives. The USB 3.0 bus (aka USB 3.1 Gen 1) features a 5 Gbps nominal data rate, and due to overhead, in practice real-world data rates don't get much higher than 400MB/sec or so. Which for a fast SSD design using a SATA-to-USB bridge, the a USB 3.1 Gen 1 interface can be a bottleneck, particularly on reads.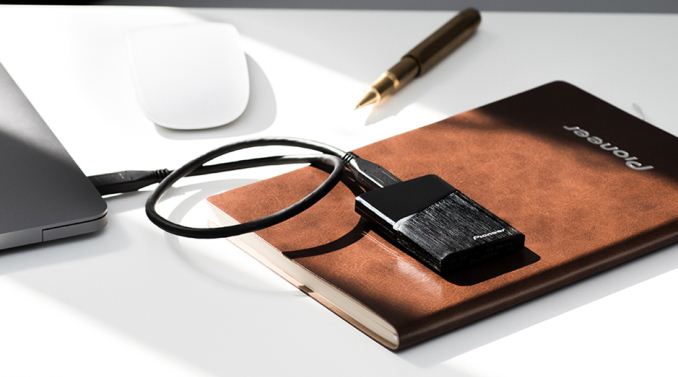 Specifications of Pioneer's APS-XS02 External SSDs
Capacity
120 GB
240 GB
Dimensions
65×45×10.5 mm
Controller
unknown
NAND Flash
unknown
Form-Factor, Interface
Candybar, USB 3.1 Gen 2 with 10 Gbps
Sequential Read
up to 480 MB/s
Sequential Write
up to 400 MB/s
Price
$75
$96
Pioneer bundles a USB-C to USB-A cable as well as a USB-A to USB-C adapter with its APS-XS02 SSDs, so they are compatible both with the latest and with legacy PCs.
Pioneers's external SSDs are now available at Amazon. The 120 GB version retails for $75, whereas the 240 GB SKU costs $96.
The Pioneer brand has a long history in the consumer electronics and professional equipment spaces, but as a result of tectonic market changes in the recent years, the company decided to leave some markets (e.g., TVs), but strengthen its presence on some others. As it appears, in addition to BD/DVD ODDs, the company is gradually expanding its product lineup with SSDs. In addition to the APS-XS02 and some cheap internal drives, the company has a quite interesting high-end model running a Microsemi controller.
Related Reading:
Source: Pioneer