We have a special treat today: an LCD that is not quite a monitor, yet not quite a TV either. As you may recall, Albatron only recently became Albatron as we know it in 2002. The company originally came to be in 1984 as Chun Yun Electronics, primarily a display company. As displays evolved to include LCDs, Plasma and other technologies, CYE evolved as well.
This is not our first Albatron LCD review. Several months ago, we analyzed a very different 17" LCD review for its time,
the L17AT
. Our friends at Albatron/Monivision provided us with a sample of what looks to be an extremely attractive convergence LCD TV.
As is, the 30" LCD market is exploding. Gateway, NEC/Mitsubishi, Sharp and about half a dozen smaller display vendors are capitalizing on the 16:9 30" panels that are all over the market. We have also seen prices plummet for the desireable 30" range; last year, the same 30" LCDs that we look at today had retailed for double what they do now. With good deals and rebates, your basic 30" LCD with no options runs around $2000. LCD technology isn't dirt cheap yet, but it is quickly gaining some ground on the ill-fated plasma display (PDP).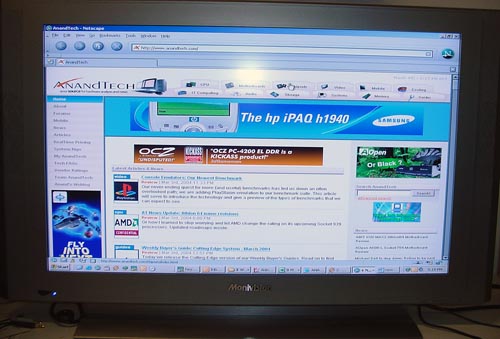 Click to enlarge.