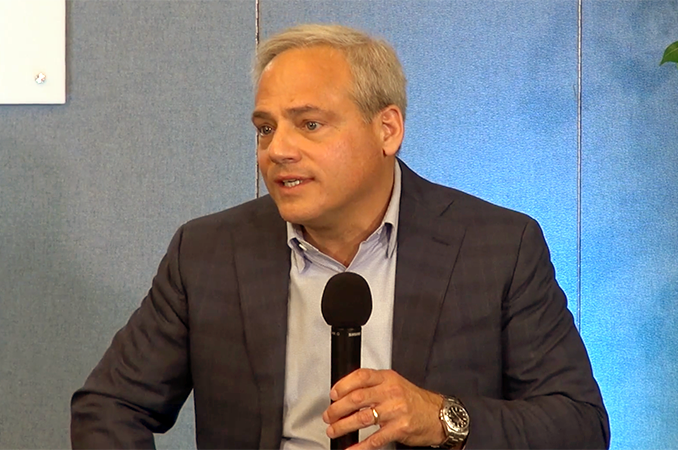 In a surprising move, GlobalFoundries has announced that its CEO is stepping down. Sanjay Jha, who lead the world's second largest foundry for four years, was in the past week was replaced by Dr. Thomas Caulfield, general manager of the company's Fab 8 manufacturing facility. GlobalFoundries stresses that Mr. Jha has achieved his goals as the head of the company and now it needs a different kind of leadership, an indicator of a strategy change. It is interesting that GlobalFoundries will now be run by two key managers from the IBM Microelectronics agreement.
GlobalFoundries '3.0'
Thomas Caulfield, the fourth CEO of GlobalFoundries in less than a decade, joined the company in 2014, just months before GF agreed to take over IBM's Microelectronics unit, where he worked from 1989 to 2005. At GlobalFoundries, Dr. Caulfield served as the general manager of the company's Fab 8, the most advanced production facility the company has. Prior to GF, Dr. Caulfield used to run various companies, sold semiconductor production equipment, and spent 17 years at IBM Microelectronics working at various positions.
The appointment of Dr. Caulfield on the position of CEO at GlobalFoundries indicates that the owner of the foundry (Mubadala Investment Co.) is betting primarily on an operational focus from now on. Given the current position of Dr. Caulfield, it is logical to assume that Mubadala sees leading-edge process technologies and the flagship Fab 8 as their major instruments to make the manufacturer bigger and profitable.
The new approach will differ from GlobalFoundries' expansionist strategy in the recent years under Mr. Jha that did not prioritize a particular technology, but relied on a combination of processes aimed at radically different kinds of customers in a bid to land additional orders.
GlobalFoundries: Versions and CEOs
Version
CEO
Time in Office
CEO Background
GlobalFoundries 1.0
Doug Grose
2008 - 2010
AMD manufacturing operations
Ajit Manocha
2011 - 2014
Spansion, NXP manufacturing operations
GlobalFoundries 2.0
Sanjay Jha
2014 - 2018
Motorola Mobility:
2008-2012, CEO.

Qualcomm Technologies 1994-2008, COO, engineer, etc.
GlobalFoundries 3.0
Thomas Caulfield
2018+
Soraa: 2012-2014, COO, President.

Ausra: 2009-2010, COO, President.

Novellus Systems: 2005-2009, EVP of sales, marketing, and customer service.

IBM: 1989-2005, VP of 300-mm VP of operations.
Interestingly, Mubadala calls Sanjay Jha's GlobalFoundries as the GlobalFoundries 2.0, whereas the upcoming GlobalFoundries is referred to as GlobalFoundries 3.0, indicating radically different goals that are set for Thomas Caulfield.
Thomas Caulfield's GlobalFoundries: Operational Efficiencies and Customer Focus
After all the major expansions made by Sanjay Jha, it is time for GlobalFoundries to capitalize on this foundation, which is exactly what Thomas Caulfield will try to do. It is unclear whether Mubadala has set a goal for GlobalFoundries to become profitable, but this is a possibility. The only thing we know is that GlobalFoundries 3.0 will be different than GlobalFoundries 2.0.
Based on the comments made by GlobalFoundries' chairman and new CEO so far, two of the major focuses of the new head will be improving operational efficiencies and engaging deeply with the company's customers. We already know from Gary Patton, CTO and SVP of R&D at GlobalFoundries (who also happens to come from IBM), that the company plans to offer multiple versions of its 7LP process technologies to better address different applications. Evidently, such a scale-out approach will be used going forward as well and, perhaps, not only for the leading-edge.
An important differentiating factor for many chip designers these days is ability to use advanced packaging technologies to get both higher bandwidth and potentially more local storage, as well as access to secondary chips. GlobalFoundries for years has said that the chips it makes are compatible with the latest 2.5D/3D advanced packaging solutions, but it has never announced plans to offer appropriate services to its customers itself. The new CEO will have to either stick to this strategy, or bring packaging in-house, but so far, no formal announcements on the matter has been made.
The focus on operational efficiencies probably meansa reduction of at least some costs. Due to nature of the foundry business in general, and Mubadala in particular, GlobalFoundries has not gone into detail. The only thing that Dr. Caulfield has mentioned so far are [cost]-effective creation of differentiated process technologies, but if you improve certain efficiencies, you want to improve others too, and so it goes across the company. The new head of GlobalFoundries specifically noted that improved efficiencies (which should be read like lower costs) will enable it to invest more in its future, another indicator that Mubadala wants GF to make more money.
What we do understand from the recent appointment is that from Mubadala's point of view GlobalFoundries has passed two critical stages: formation and expansion. Now it is time for consistent step-by-step development.