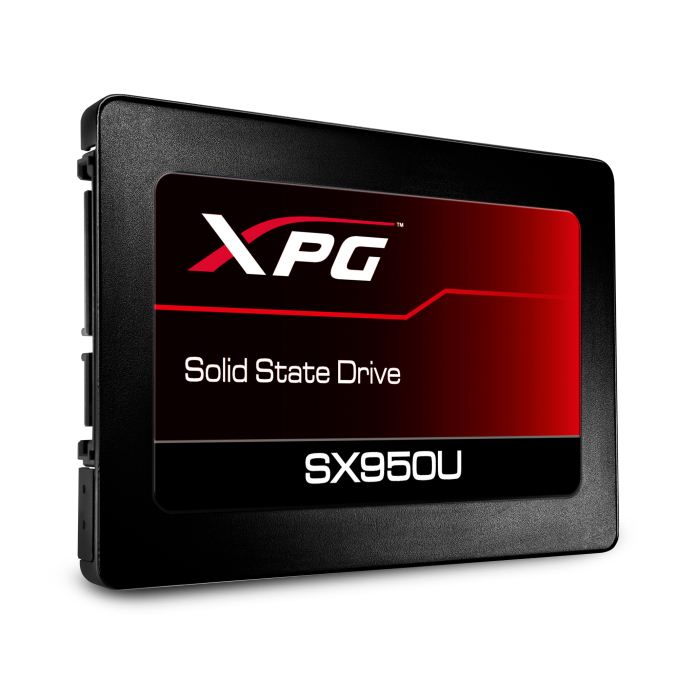 ADATA has announced a replacement for their top SATA SSD, finally moving their SATA lineup entirely to 3D TLC NAND flash memory. The outgoing XPG SX950 (based on Micron 32-layer 3D MLC) is being replaced by the new XPG SX950U with 64-layer 3D TLC. ADATA has been one of the last major brands using MLC NAND in consumer SSDs, though Crucial temporarily re-entered that club with the BX300. The overwhelming industry trend has been toward 3D TLC NAND flash, especially as the current generation of 64-layer 3D NAND has arrived over the past year and finally brought all the NAND manufacturers fully into the 3D NAND era.
ADATA isn't guaranteeing exactly which NAND will be used in the SX950U, but both Micron and Toshiba/SanDisk 64L 3D TLC seem to be faster than Micron 32L 3D NAND based on the drives we've tested so far. We expect the SX950U to use Micron NAND and only switch over to Toshiba NAND if there is a compelling cost advantage.
ADATA XPG SX950U Specifications
Capacity
120 GB
240 GB
480 GB
960 GB
Controller
Silicon Motion SM2258
NAND Flash
64-layer 3D TLC NAND
Sequential Read
up to 560 MB/s
Sequential Write
up to 520 MB/s
Warranty
5 years
MSRP
$69.99 (58¢/GB)
$99.99 (42¢/GB)
$169.99 (35¢/GB)
$319.99 (33¢/GB)
ADATA is sticking with Silicon Motion for the controller—almost certainly still the SM2258—putting the SX950U on par with the Crucial MX500 for both NAND and controller, but not firmware or power loss protection. Based on this, we expect the ADATA SX950U will most likely be a bit slower than the MX500. ADATA's official performance specifications don't provide much guidance, because only sequential read and write numbers have been released, and not broken down by capacity. ADATA also didn't announce write endurance ratings, but the SX950U does carry a 5-year warranty. The original SX950 had a 6-year warranty as part of a strategy to make it appear more premium that its performance justified, but 5 years is currently the standard for upper tier SSDs.
ADATA tends to have a wide range of SSDs using a variety of controllers, and we expect at least one or two more SATA drives with 64L 3D TLC to join the SX950U in their lineup over the next few months. ADATA usually has at least one DRAMless SSD in their SATA lineup (currently the SU700 with the Maxiotek MK8115 controller), and there will probably be another SM2258-based drive with less overprovisioning. On the M.2 PCIe side, ADATA's lineup includes Marvell, Silicon Motion and Realtek controllers, with the SX8200 coming soon to introduce 64-layer 3D NAND to that product line.
Source: ADATA