Performance and Final Words
So enough about how the look, feel, and operate. How do the Arctis Pro sound? In a word: excellent. In our briefing with Brian Fallon, Audio Category Manager for SteelSeries, he emphasised that SteelSeries was going for audio quality here, practically above all other things. The 40 mm drivers they used are the best they've ever used in a headset before. The audio circuitry is designed for the lowest noise, and the best clarity. The response of the headset was tuned to ensure no booming base, or low-end cut off. His team has delivered.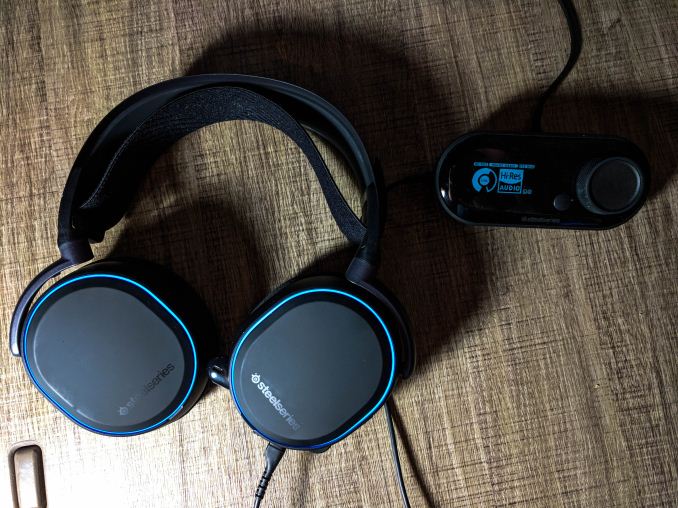 The frequency response of the Arctis Pro lineup is simply amazing. It's rated at 10 Hz to 40 KHz, and what most devices with ratings like that would not tell you is that their 10 Hz rating would be at -10 dB or less compared to 1 Khz. On the Arctis Pro, the 10 Hz response is actually higher than the 1 Khz response. You can clearly hear deep, low, bass notes, and even more than hearing them, you can feel them. This is done with no audible distortion as well, unlike many other headsets I've tried, and there's no large peak at 60-100 Hz or higher which some headsets use to offer a sound with more boominess. Instead you get low, tight bass response.
SteelSeries sent us a frequency response graph of the Arctis Pro, and the graph bears out what you hear when using these headphones. A perfect graph would be a straight line, end to end, but that's more or less impossible, especially with a single driver, but the Arctis Pro lineup does provide amazing response, with just a small dip around 4 KHz, and amazing low-level response.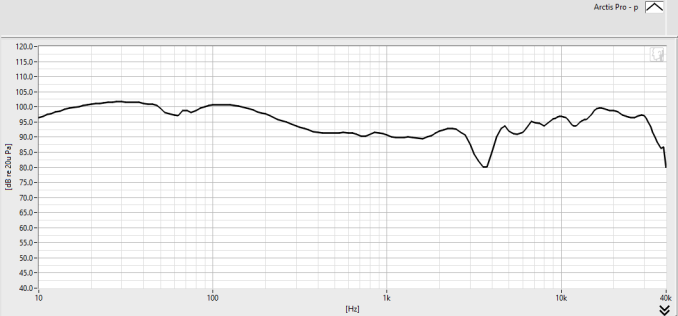 Image Source: SteelSeries
Playing back Hi-Res music on the GameDAC is a treat, with clean, sharp, tight sound, at any volume level it's set at. You don't have to be an audiophile to appreciate good sound, and although gaming doesn't yet offer the Hi-Res audio, it likely won't be long before some games start to support it.
The headsets also support DTS Headphone:X v2.0, which provides positional audio. This is the latest version of DTS's positional audio for headphones. However it has to be noted if you're leveraging the Hi-Res input on the GameDAC, DTS Headphone can't be enabled.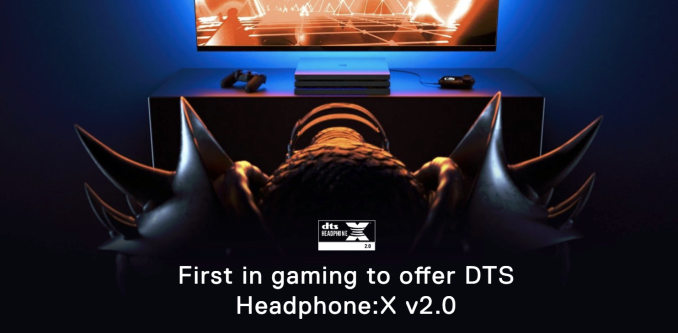 Thanks to both the wired and wireless models sharing the same speaker drivers, both of them offer the same frequency response. The wireless model just has more noise.
Because SteelSeries ships both headsets with adapters to hook to 3.5 mm, it gave the opportunity to hook the Arctis Pro up to several sources to see if there's an obvious difference in sound quality as well. It was immediately apparent just how poor the audio quality was from my onboard audio. There's far more noise, less dynamic range, and almost a hollow sound when hooked directly to the motherboard. Hooked to a couple of other audio sources, such as the Blu Yeti, was much better than onboard, but it still wasn't as clear as the GameDAC. Once again, the hiss and noise was audible, whereas the GameDAC is almost silent when no audio is playing.
Also, since the wireless model offers the same connectors as the wired model, you can also use it with the GameDAC for the best audio experience. It's a shame SteelSeries doesn't sell it separate so you could add it to the wireless bundle.
Wrapping things up, it's pretty easy to say that the Arctis Pro is one of the best gaming headsets on the market. SteelSeries has opted for quality sound, and they've delivered in spades. They offer an amazing frequency response on both wired and wireless models.
The GameDAC is simply an amazing piece of kit. A USB DAC and headphone amplifier offers the chance to bypass the often shoddy components built into many computers, and the extra functionality it adds in terms of being able to mix your game and chat volumes on the fly, as well as adding Sidetones to your audio, make it a great addition to any setup. It'll even output to 3.5 mm if you want to use it with external speakers or another headset. Then you add in the fact that it's Hi-Res audio certified, and there's not a lot of devices in this price range that can compete with it.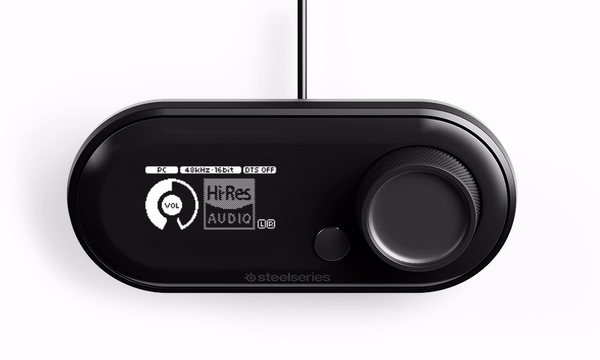 The wireless model keeps the same audio quality, and adds in dual-batteries for constant power without needing to worry about plugging in the headphones, and adds Bluetooth that can be used concurrently with the wireless connection. The headset can also be used as just a typical wired setup, without needing any power at all. SteelSeries put a lot of thought into the pain points of wireless headphones and addressed most of them.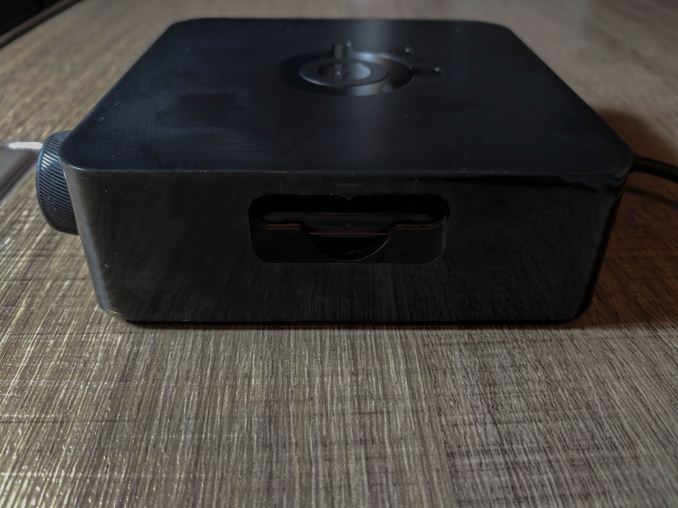 Wireless Transmitter showing the battery docking
Quality sound, a great microphone, and a comfortable fit. There's not a lot more you can ask for in terms of a PC headset. The Arctis Pro lineup isn't inexpensive, starting at $179.99 for the Arctis Pro, $249.99 for the Arctis Pro + GameDAC, and going up to $329.99 for the Arctis Pro Wireless, but if you appreciate quality sound, these are definitely models you need to check out.