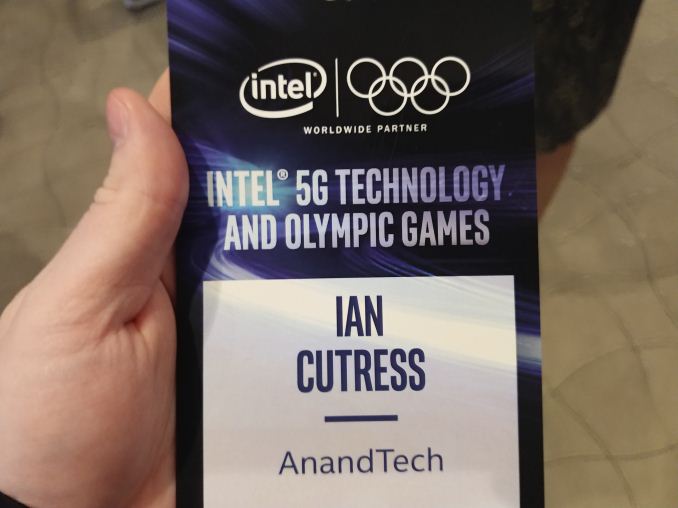 05:49AM EST - Sorry for the later than expected start - we are still waiting to be let into the auditorium. Our emails all said the event would start at 1045 UTC
05:51AM EST - Compared to CES, the number of press for the Intel event here seems to be an order of magnitude fewer
05:52AM EST - There is another event on the other side of town in two hours - I suspect most press are there instead
05:53AM EST - Andrei and Anton are covering that one for us
06:01AM EST - Just had a chat with one of my Intel contacts. They're still doing final prep. I wonder rig they are planning to sync with a winter Olympics event being streamed that is delayed
06:02AM EST - I've been told another 10 minutes to sit down
06:03AM EST - Now we're in. In like Flynn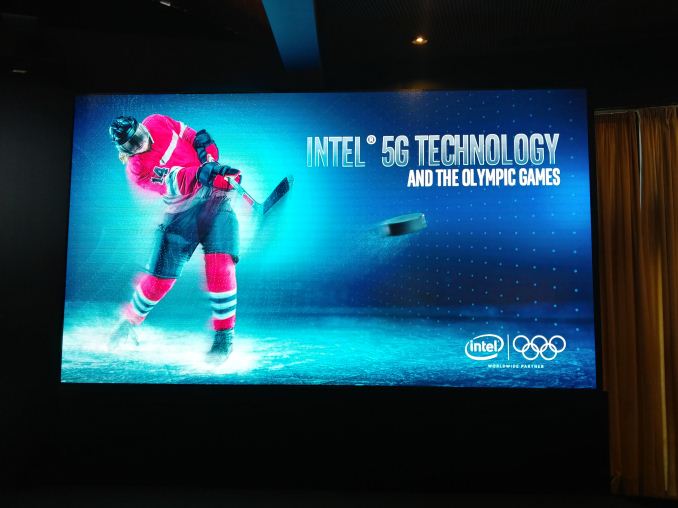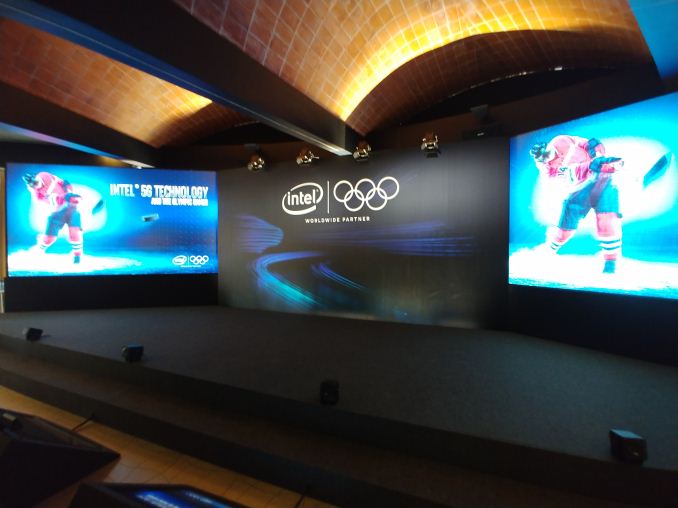 06:08AM EST - About 250 seats. All packed. A lot of customers
06:09AM EST - OK here we go
06:09AM EST - A video about the olympics to start
06:10AM EST - Talking about the amount of data that comes through an event like the olympics
06:10AM EST - Not only stats, but tracking
06:11AM EST - Talking about 5G implementation at the olympics for data transfer
06:11AM EST - Korea Telecom and Intel partnership
06:11AM EST - NTT Docomo too
06:11AM EST - Streaming the closing ceremony to the press event over 5G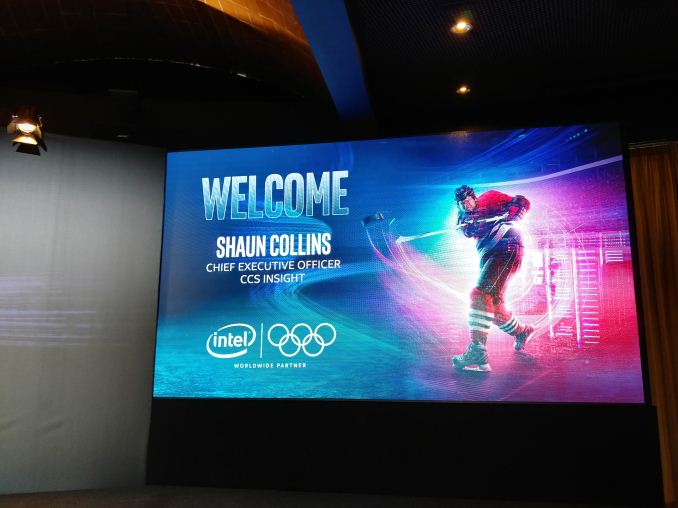 06:12AM EST - Shaun Collins, CEO of CCS Insight on the stage as the MC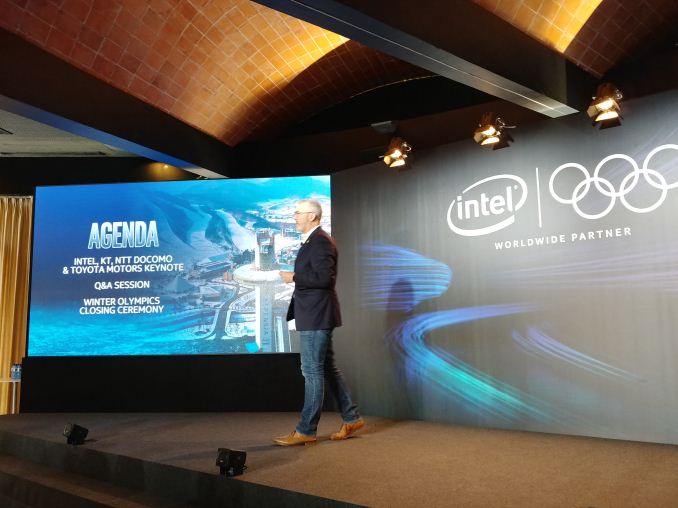 06:12AM EST - Various execs will come to the stage, talking about Tokyo 2020 olympics as well
06:13AM EST - Aicha Evans to the stage, Intel CSO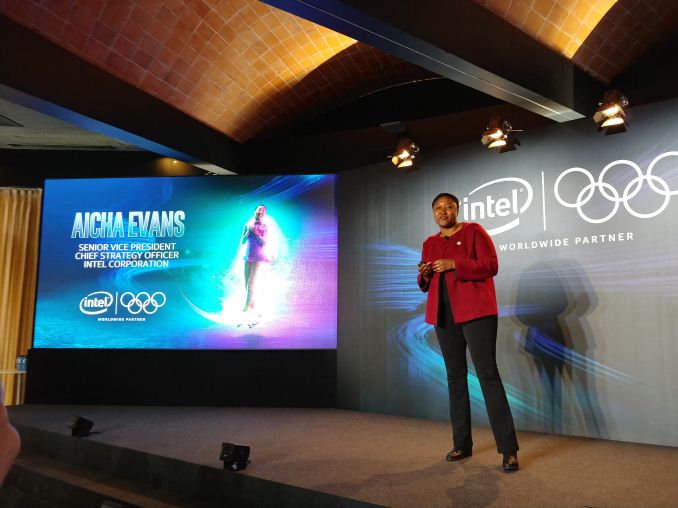 06:13AM EST - 5G is the link between Olympics and MWC
06:14AM EST - The amount of technology at the games is a massive broadscale testbed
06:14AM EST - Imagining the future of the games
06:14AM EST - Interaction of technology with the athletes is key to going forward
06:14AM EST - Moving from a PC centric to data centric company
06:14AM EST - Deriving analytics from data
06:15AM EST - Memory, AI, VR, 5G
06:15AM EST - Intel partnering for the next 8 years at the Olympics (Summer/Winter)
06:15AM EST - What you see at the olympics will become broadscale around the world
06:15AM EST - The focus on this games, it's all about how the spectators experience the games
06:16AM EST - The mobile network for 5G is the foundation of the whole ecosystem
06:16AM EST - Korea Telecom seems to have executed properly for Intel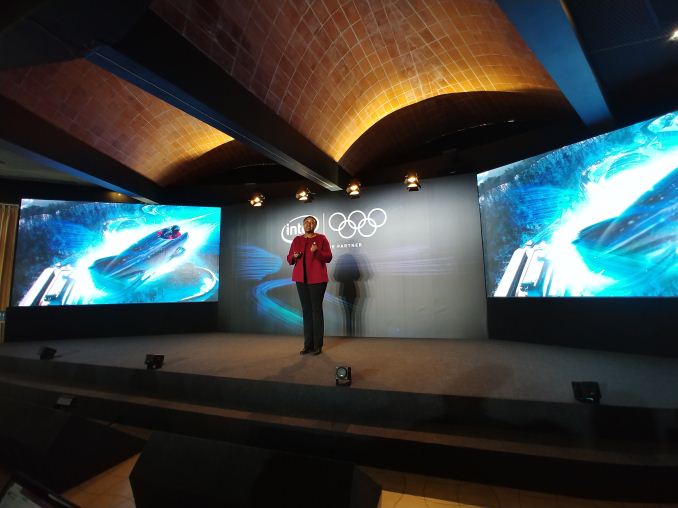 06:17AM EST - 5G is more than just comms - bringing the compute, wireless and cloud altogether
06:17AM EST - On top of that, AI, video, and analytics
06:17AM EST - Defining standards, working with partners (and competitors)
06:17AM EST - Involvement with Korea Telecom instigated the relationship with the IOC for the olympics
06:18AM EST - KT inspired Intel to sponsor the olympics
06:18AM EST - Focus on Tokyo 2020 technologies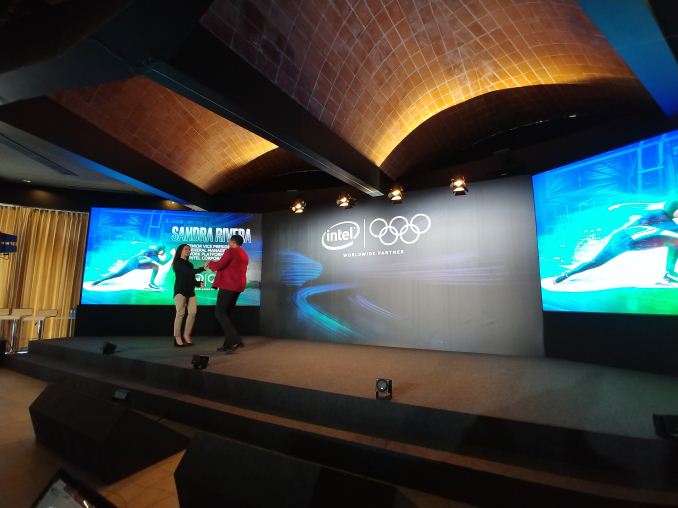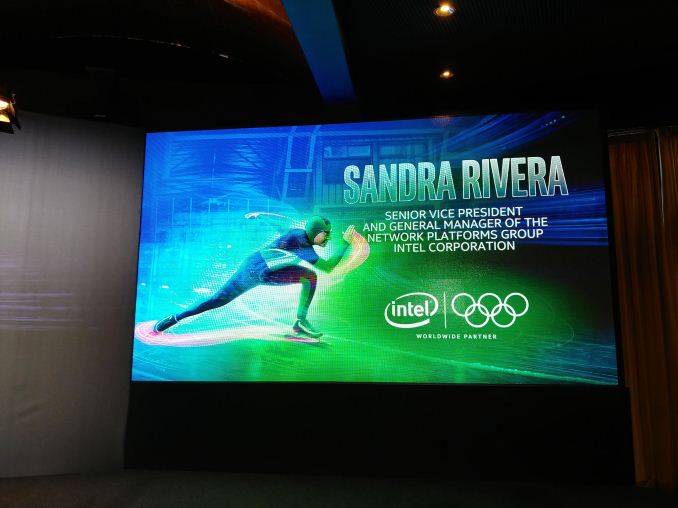 06:18AM EST - Sandra Rivera to the stage - SVP and GM of Netowrk Platforms Group
06:19AM EST - 48 TB of network capacity of 5G at the olympics
06:19AM EST - 360 degree video capture at the olympics
06:19AM EST - underlying all of it was the network
06:20AM EST - Took on the task of mass 5G deployment with multi-vendor involvement
06:20AM EST - Extreme temperatures as well, providing data to 1000s of attendees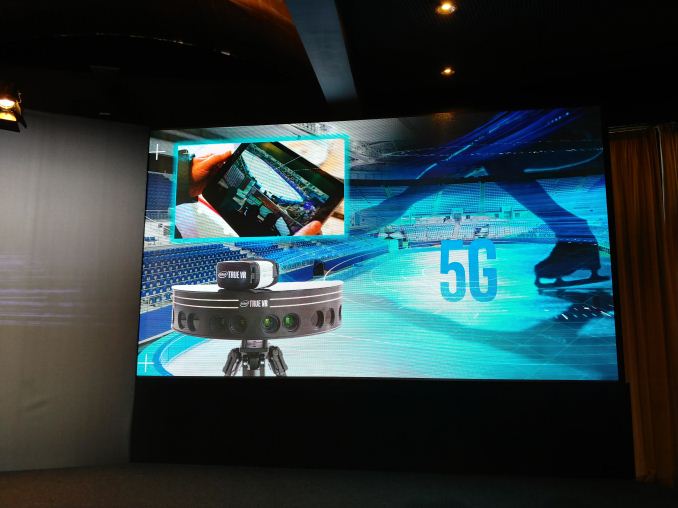 06:20AM EST - Lots of compute infrastructure
06:21AM EST - FlexRAND and MEC servers for main compute and edge
06:21AM EST - Bringing compute to the edge
06:21AM EST - Attendees could engage first hand
06:21AM EST - Ice rink had 100 cameras to deliver 360-degree views
06:21AM EST - sent to nearby edge-compute servers by 5G
06:22AM EST - Data then sent to KT servers over 5G
06:22AM EST - Viewers could pick their seat
06:22AM EST - Preferred viewpoint, and revisit moments from any viewpoint
06:22AM EST - Also another demo in Gangneung Ice Arena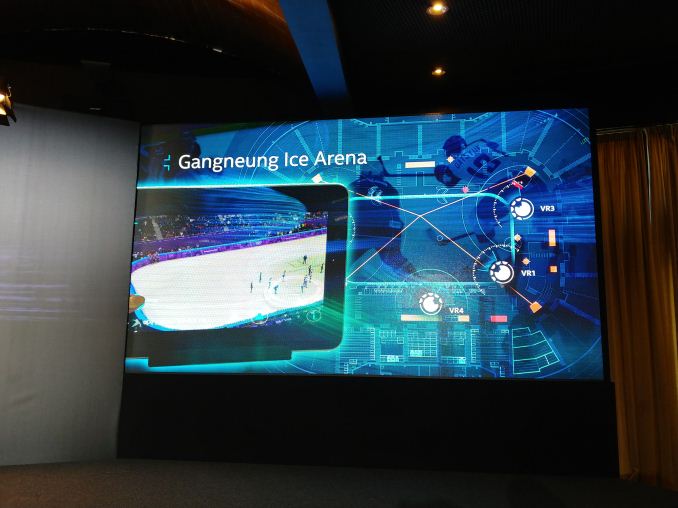 06:23AM EST - Use commercial edge servers, based on Intel, to manage the data
06:23AM EST - High-resolution media at high speeds with low latency
06:23AM EST - Giving users personalised control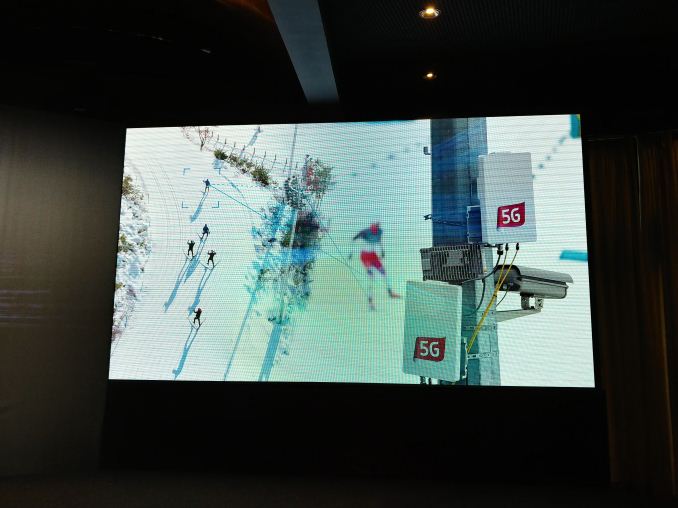 06:24AM EST - Multi-view technology on the slops, triggered by GPS
06:24AM EST - 5G connected cameras, connected to nearby base-stations
06:24AM EST - Tablets in the viewing zone so attendees could see athlete of choice/angle of choice and athlete data
06:25AM EST - Also 5G connected car demos
06:25AM EST - Used mmWave spectrum
06:25AM EST - Intel's 5G Go automotive platform
06:25AM EST - In one of the most crowded locations in the world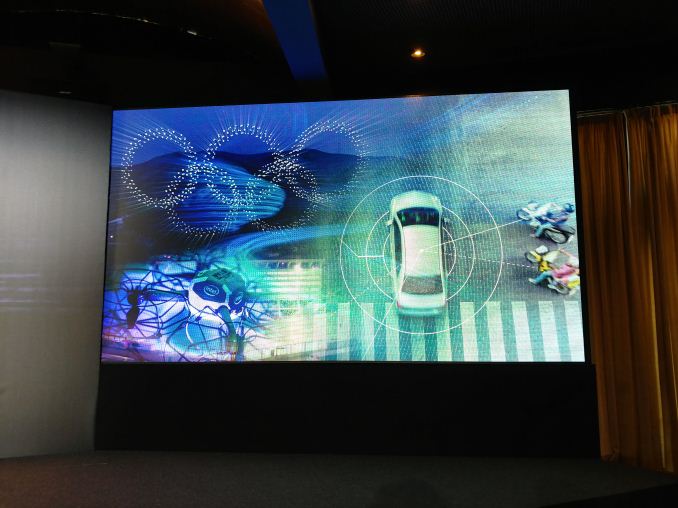 06:26AM EST - In one of the most crowded locations in the world
06:26AM EST - KT and Intel provided a VR experience, attendees could explore KT's pavilion in the olympic arena 100s of miles away
06:26AM EST - 5G zone downstairs at the press event afterwards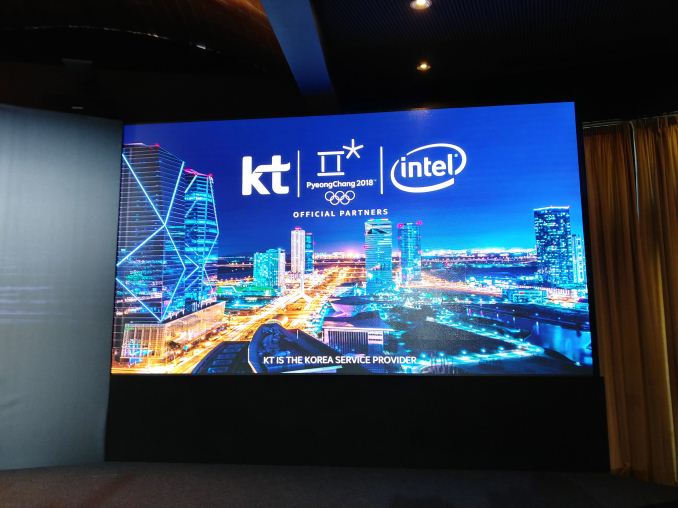 06:27AM EST - mmWave, beamforming
06:27AM EST - 5G brings the compute to the edge
06:27AM EST - A broadly distributed 5G network needs to deliver all the capabilities
06:27AM EST - The Olympic demo was a full-scale infrastructure deployment using Intel innovation and ecosystem partners
06:28AM EST - CTO of KT to the stage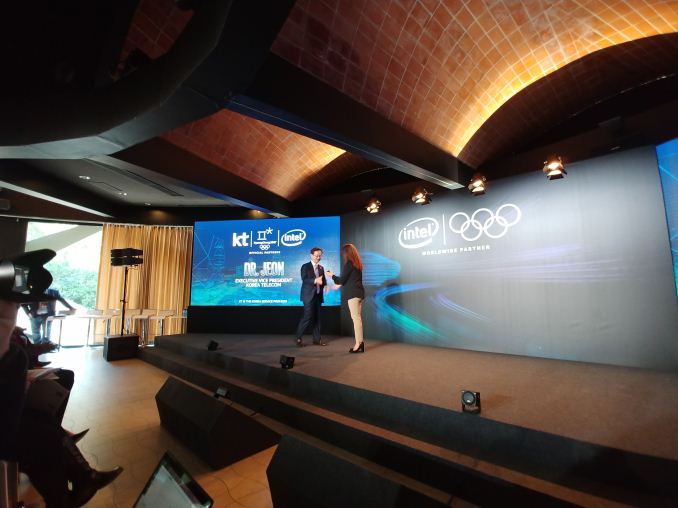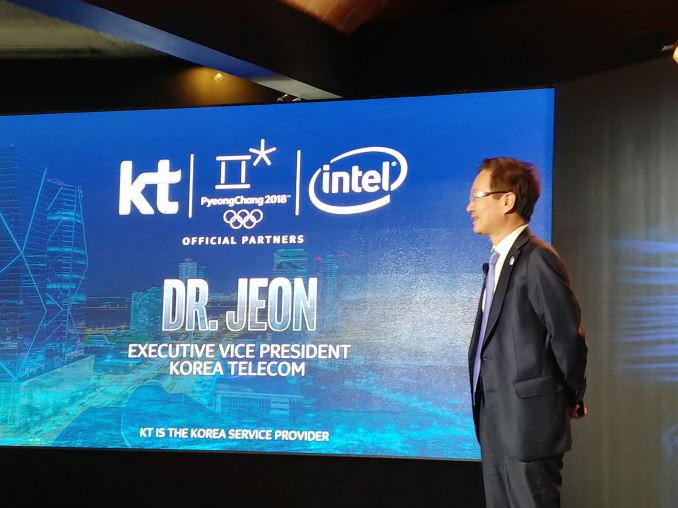 06:28AM EST - Closing ceremony is in process right now
06:29AM EST - Delighted to partner with Intel
06:29AM EST - World first broad-scale 5G network
06:29AM EST - Proud to have been chosen to deliver the challenge of bringing 5G to the Olympics
06:29AM EST - Gigabit speeds, live streaming, low latency
06:30AM EST - KT's own 5G inspirations, and demonstrates to others about 5G investment
06:30AM EST - The specifications of various deployments are now available to others
06:31AM EST - Showing 5G devices that actually work
06:31AM EST - Continuous coverage and high capability
06:31AM EST - It was a successful deployment
06:31AM EST - One of the challenges was securing the deployment. Working with partners but also platform specifications
06:32AM EST - 5G specifications released much earlier than expected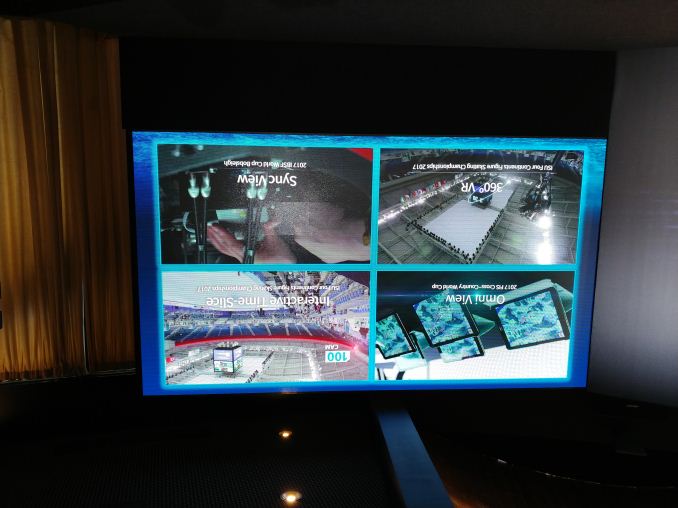 06:32AM EST - Part of the challenge was developing the experiences
06:33AM EST - Four separate significant demonstrations of the technology: OmniView, Interactive Time-Slice, 360-degree VR, Sync View
06:34AM EST - Focusing on ultra-low latency
06:34AM EST - Now discussing 5G connected car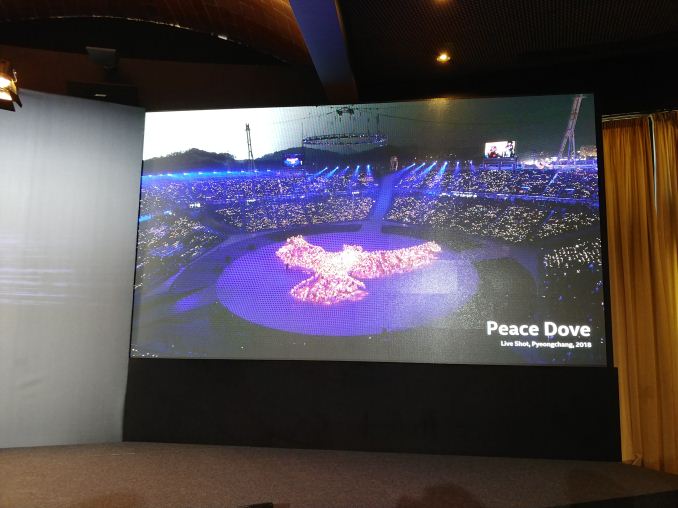 06:34AM EST - Intel is the key partner to put 5G in a lot of devices
06:35AM EST - Virtualization and cloud capabilities are key to a 5G network, and will collaborate with Intel
06:35AM EST - Beneficial to customers in terms of costs and services for 5G to take off
06:35AM EST - Aicha back to the stage
06:35AM EST - Intel's focus is now on 2020
06:35AM EST - Already working on the plans
06:35AM EST - Such as 8K and 360 VR
06:36AM EST - Preparing the infrastructure for 8K
06:36AM EST - Also looking at connected cars and smart cities
06:36AM EST - The full four weeks of the olympic games is one big smart city in action
06:36AM EST - Focus more on the AI with athletes and training
06:36AM EST - Using the abilities and data to better the performance
06:37AM EST - Announcing that Intel will be partnering with NTT Docomo for Tokyo 2020
06:37AM EST - Intel wants a broad scale deployment
06:37AM EST - By 2020, 5G should be in commercial deployment anyway
06:37AM EST - Dr Nakamura, CTO NTT Docomo to the stage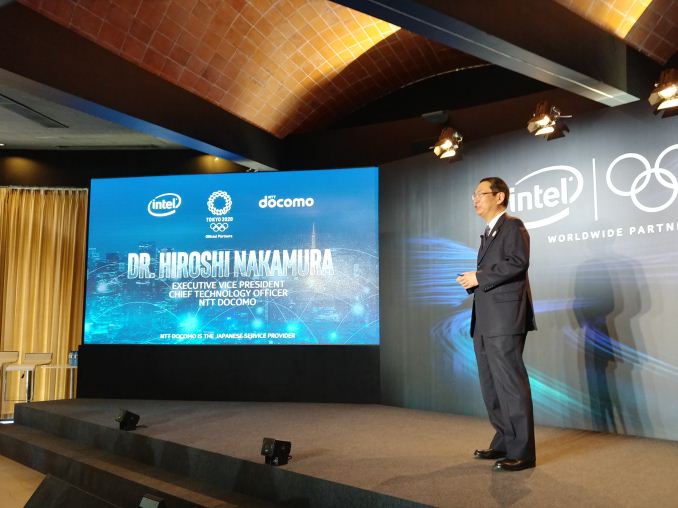 06:38AM EST - NTT Docomo very impressed with South Korea Games
06:38AM EST - Next is Japan's turn
06:38AM EST - NTT Docomo planning commercial 5G services in 2020
06:38AM EST - Multiple possibilities to expand social through 5G
06:39AM EST - One is 'style innovation' for consumers
06:39AM EST - using AR/VR
06:39AM EST - also enjoy AI to enhance the data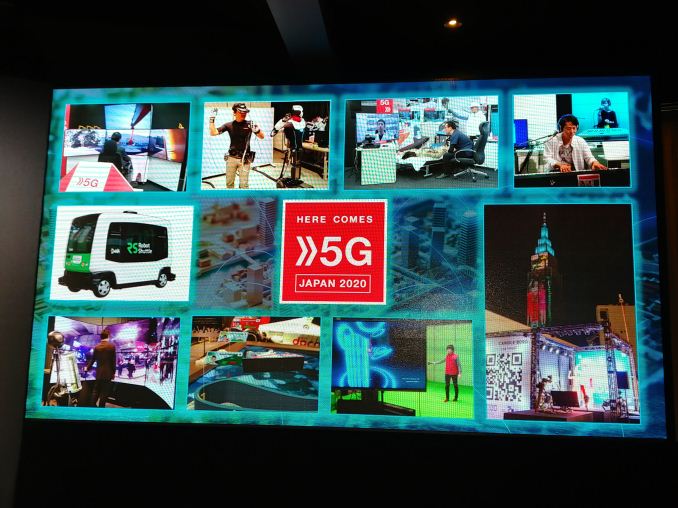 06:39AM EST - Also industry-level deployments
06:40AM EST - Remote control (cars and robots), but also music and others
06:40AM EST - Advanced services enabled through 5G
06:40AM EST - Operator can not to it alone - collaboration with industrial partners
06:40AM EST - Docomo 5G Open Partner Program - 600+ partners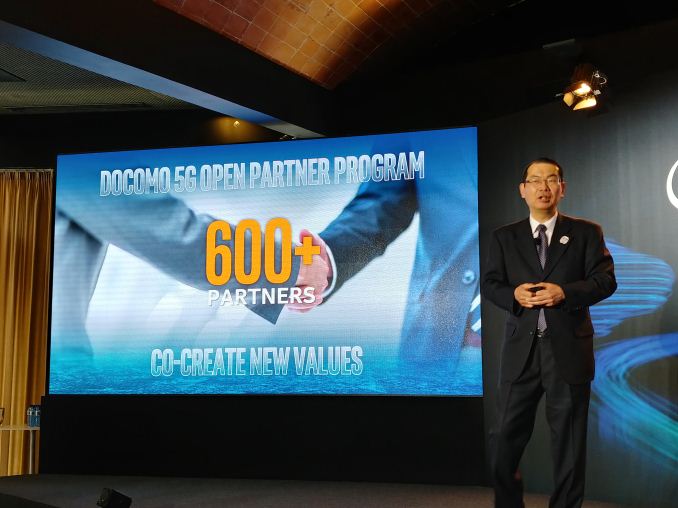 06:41AM EST - 600+ and growing
06:41AM EST - co-create new markets
06:41AM EST - 2020 combining Olympics and commercial 5G in Tokyo
06:41AM EST - Sandra Rivera back to the stage
06:42AM EST - First interoperable 5G demo with Toyota in Tokyo earlier this year
06:42AM EST - The future of autonomous driving is more than just connectivity
06:42AM EST - Requires significant edge computing implementations
06:43AM EST - Toyota GM to the stage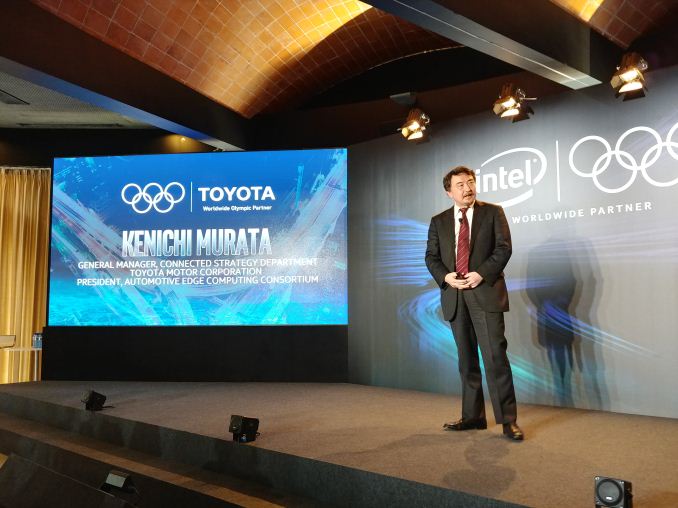 06:43AM EST - President of Automotive Edge Computing Consortium
06:44AM EST - Connected vehicle is already here
06:44AM EST - Goal to make 100% of vehicles in US and Japan connected vehicles
06:44AM EST - Leveraging the vehicle data for services
06:44AM EST - Helping develop the next generation of vehicles
06:45AM EST - 1-2 exabytes per month expected
06:45AM EST - We need more bandwidth and more compute
06:45AM EST - For example, directing taxis
06:46AM EST - Using localised data between multiple vehicles to improve services
06:46AM EST - Automated vehicles need more information that might not currently be available for edge cases
06:46AM EST - 5G is a key change in technology to help enable this
06:47AM EST - It enables edge computing which requires 5G
06:47AM EST - More companies are aligning their implementations
06:47AM EST - To realise a unified future
06:47AM EST - MC back on the stage, for a Q&A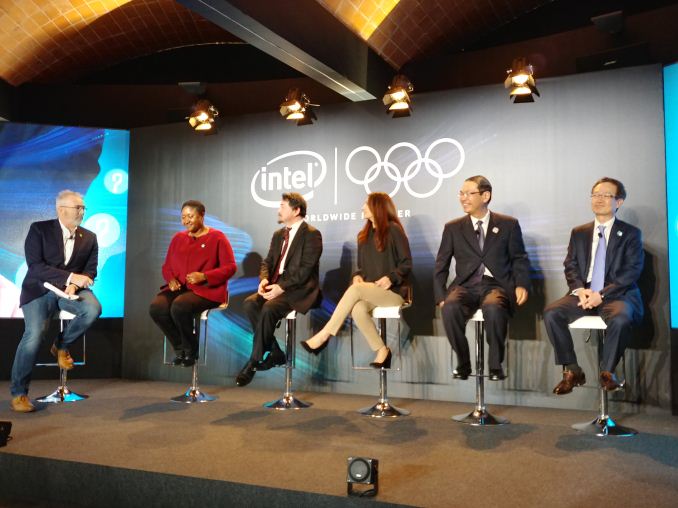 06:50AM EST - Q: Intel decided on the Olympics on July 21st 2017?
06:50AM EST - A: People said we were crazy - said it wouldn't happen. Dealing with the IOC and logistics, and working with partners, but we were proud we were able to do it. Looking forward to 2020
06:50AM EST - Q: What were the ecosystem challenges?
06:52AM EST - A: You end up working with everyone at the same time in a very short time frame. All the partners stepped up. The challenge to bring media and broadcasts and wireless was tough, and managing all these ecosystem partners was amazing. Proud of being able to deploy with all the technologies and the partners.
06:52AM EST - Q: What is required for network transformation for 5G?
06:54AM EST - A: The network is usually the most challenging aspect for experiences, because of the equipment deployment over many sites. We had 10 sites, 22 5G links, all running massive amounts of technology behind them. It was more than a showcase, but the broadscale 5G infrastructre deployment. It is fundamental in 5G to have an infrastructure that is scalable and programmable. This includes core, edge, and cloud. The ability to build cloudlets at the edge was a key part of this. All of it takes advantage of server volume economics with pooling infrastructure and virtualization technology. This is visualizing cloud business models. Demos available at MWC
06:54AM EST - Q: What happens with 5G in Korea now the Olympics are finished?
06:56AM EST - A: The Olympics was the trial - Korea is now changing towards the 5G deployments. All the resources are now changing to the commercial phase. We are expecting more movement in June for 5G commercial services, and mobile applications planned for Q1 2019
06:57AM EST - A: 5G is not only about the technology issues, it is always business issues. 5G has to make money as well! The olympics was a great demonstration of how 5G can be deployed in commercial environments for commercial services. Finding the Killer applications
06:57AM EST - Q: Why was Intel chosen as a partner?
06:58AM EST - A: Intel is a very essential partner. Intel can deploy 5G in more devices - cars, drones. This is a difficult technology that Intel was able to do. Intel also has virtualization technologies based on high-performance processors. 5G relies on virtualization, and Intel was ready
06:59AM EST - Q: What is the Automotive Edge-Computing Consortium?
07:01AM EST - A: Because of the size of the data we have to deal with in the future. The centralized cloud is not able to do this - we need to cache the data close to the devices. The edge-computing platform needs to be able to support the amount of data and processing - this requires a lot of compute for low latency. Even just sharing immediate basic data requires a high amount of locality, you rely on edge compute implementations. It is also distributable across the network, especially as the number of connected vehicles increases. The equivalent of putting a small data center in lots of locations. That kind of locality has to be clearly standardized across many companies - it has to be an industry standard. So we have a lot of partners in the consortium.
07:02AM EST - Q: What is NTT Docomo doing now about the Tokyo 2020 games? What happens for 5G in Tokyo?
07:04AM EST - A: We are expecting to have commercial deployment for 5G in Tokyo in 2020. Not only is it about the technical services for the operator, it is about creating new markets for partners on how to use this deployment. This includes industry. We started last May on 5G trials. We have similar partners to create the use cases for 5G - low latency, high bandwidth. During this collaboration with our industrial partners, we learn a lot! This thinking is now a lot more clear than before. We are building the acceleration of how 5G is used with our partners. We are also explaining the benefits of 5G to our partners with our demonstrations. The 600+ partners are creating new ecosystems by 2020
07:04AM EST - Q: What can you learn from the Olympics now?
07:05AM EST - A: We want to bring a lot of KT experience over to Tokyo! After today we will have a chance to discuss with KT to help us understand the deployment. We are good friends!
07:05AM EST - Q: Of all the things you think about 5G coming forward. Do you think there are things you will do differently with 5G in Tokyo?
07:07AM EST - A: 5G is a good keyword to trying new things! We are thinking about migration in the future. 5G is not a standalone thing - there is collaboration 4G networks. We are using the non-standalone approach with 5G technologies, adding 5G on top of current deployments. We aim for seamless migrations, either 4G or 5G. 5G is really good for 5G-specific features. We are determining what can be done with 4G and 5G.
07:10AM EST - Aicha - the 5G money question is that the last few decades, the wireless industry has introduced so many new technology changes. Always the discussion turns to money, and with every transition there is a lot of money being made and new companies come about - no matter how great everything is today, it will be better in the future with better experiences. We will all figure out how to make money in this ecosystem. This press event will show the end of the Olympics