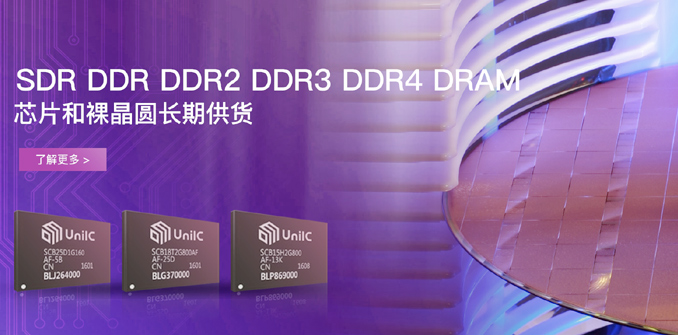 Xi'an UniIC Semiconductors, a memory producer based in China, has started to sell DDR4 DRAM chips and modules that were developed and made in-house. This is the first time when a China-based company develops its own DDR4 memory chips. In the meantime, it is completely unclear which process technology Xi'an UniIC uses to manufacture the chips and whether it was developed in-house.
Xi'an UniIC's DDR4 lineup includes 4 GB and 8 GB SO-DIMMs, 4 GB and 8 GB UDIMMs as well as a 4 GB UDIMM with ECC, all rated for data transfer rate of 2133 MT/s with CL15 15-15 timings at 1.2 V (according to Xi'an UniIC's DDR4 product decoder). All the DIMMs are based on Xi'an UniIC's own DDR4 memory chips featuring 4 Gb capacity. The modules and the chips are not meant to offer breakthrough performance levels and are probably aimed at various inexpensive PCs, most of which will be sold in China.
Xi'an UniIC's DDR4 Lineup
Type
Capacity
Speed
Timings
Voltage
SCQ04GU03AF1C-21P
UDIMM
4 GB
2133 MT/s
CL15 15-15
1.2V
SCQ04GE03AF1C-21P
ECC UDIMM
4 GB
SCQ08GU13AF1C-21P
UDIMM
8 GB
SCQ04GS03AF1C-21P
SO-DIMM
4 GB
SCQ08GS13AF1C-21P
SO-DIMM
8 GB
Xi'an UniIC's DDR4 products can hardly impress avid readers who follow DRAM innovations closely (and know that leading makers already produce DDR4-3600 ICs), but the fact that a Chinese company has developed and produced such chips is important itself. Meanwhile, Xi'an UniIC actually has history of DRAM production, so the new memory was hardly developed entirely from scratch.
Xi'an UniIC was founded in 2003 as Infineon Xi'an Memory Division and was then renamed to Qimonda Xi'an in 2006 after Infineon spun off its DRAM business. From 2003 to 2009 the company produced DDR, DDR2, DDR3 and other memory types for the parent company (Xi'an UniIC still offers them). After Qimonda went bankrupt in 2009, Inspur Group acquired remaining assets of its Xi'an subsidiary and started to produce its own DRAM in late 2010 (using IP and process technologies originally developed by Qimonda). In 2013, the company constructed the Xi'an Memory Engineering Technology Research Center with the help from Xi'an Science & Technology Agency. This R&D center apparently worked on DDR4 memory ICs as well as a new process technology to make them. Sometime in 2015 the company was acquired by Unigroup Guoxin (which is a part of Tsinghua Holdings) and was renamed to Xi'an UniIC Semiconductor. With financial and political backing of the multi-billion dollar government-controlled conglomerate, Xi'an UniIC finished development of its 4 Gb DDR4 chips and a fabrication process to produce them.
Xi'an UniIC reportedly started sales of its DDR4 memory modules recently. PC Watch notes that the company's 8 GB UDIMM was added to the CPU-Z database in September, 2016, so they could be available to customers in China for a while now. What remains unclear is whether the DDR4 ICs from Xi'an UniIC use any IP originally owned by Infineon/Qimonda and whether the manufacturer intends to sell its chips and modules outside of China.
Related Reading
Sources: PC Watch, Xi'an UniIC Semiconductors