ATI Mobility Radeon 9700 - Where can I get one?
So, with all the hubbub, you're probably wondering where you can get a notebook with ATI's Mobility Radeon 9700. There are several notebook partners with whom ATI has launched today. We should clarify that, just because ATI or NVIDIA "launches" with a system vendor that doesn't mean a design win. You should expect a design win from the launching partners, but most often, system manufacturers hold off announcing the actual notebook model until they are ready to ship, which means ATI and NVIDIA need to hold off claiming that design win.
Unannounced Voodoo PC notebook motherboard with Mobility Radeon 9700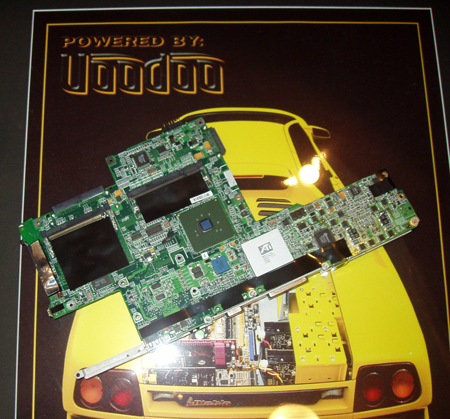 (Click to enlarge.)
Today, ATI is launching with Acer, Gericom, Alienware, Voodoo PC, Medion, RockDirect, Packard-Bell, Fujitsu-Siemens, Samsung, LG, Targa, Wistron, Clevo (the guys who make the notebooks that were pre-announcing the Mobility Radeon 9700 in the US), ECS, FIC, Quanta, Compal, Uniwill, and Asus. The first shipping notebooks will not be in the US market; instead, they will be in Europe. ATI and a few launching partners are announcing design wins, since the European market will experience the availability of Mobility Radeon 9700 based notebooks as of today. These notebooks will start to ship immediately, but we should make this clear:
do not expect to get one of these unless you are actually located in Europe
.
Interestingly enough, it seems that there is somewhat of a shortage of M11 chips for a few of the OEMs and ODMs. This has led to the inability for many of them to ship out notebooks on their original timeline or in the large quantities originally intended. So basically, several of them have delayed their product announcement and shipment by a little over two weeks, or have cut down on the initial quantity. ATI has already responded to the large demand for its chips, so this is a very temporary issue that will only affect some of the launch partners for a few weeks.
There is one
BIG
notebook manufacturer that has not announced along side with ATI, but will do so and ship in approximately a week. We can't say more than that for the moment, but it is definitely a design win that ATI will be touting. We will cover more on it when the time comes.