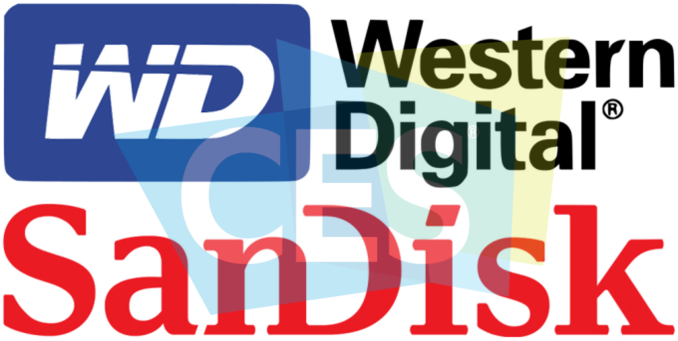 LAS VEGAS, NV — At CES 2018, Western Digital introduced some new products and feature updates to existing ones across both their SanDisk and WD brand of external storage solutions.
Consumers have had a number of miniature high-capacity thumb drives to choose from. However, the maximum capacity has topped out at 128GB (examples: SanDisk UltraFit, Samsung Flash Drive Fit, and the Mushkin Atom) till now. Thanks to the progress made with 3D NAND and TLC, it has now become possible for manufacturers to continue to offer low-cost higher capacity drives. Western Digital is introducing the SanDisk UltraFit 256GB USB 3.1 Gen 1 Type-A thumb drive at CES 2018.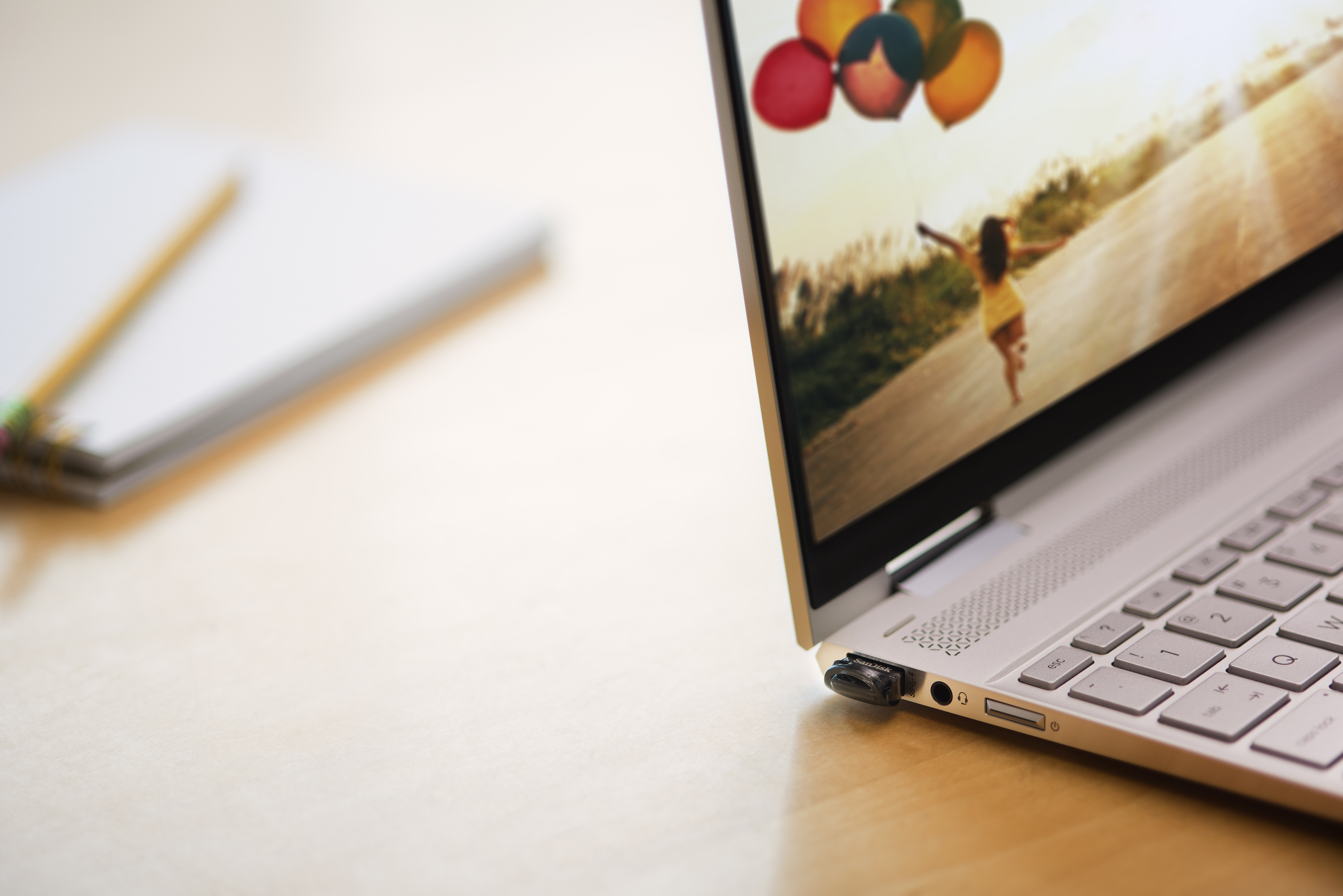 The 256GB version will have write speeds of around 40 MBps and read speeds of up to 130 MBps. SanDisk obviously compares this against USB 2.0 flash drives, as the TLC NAND and miniature controller can't sustain higher write speeds (applicable to all thumb drives in this category). The new capacity point will have a MSRP of $150, though we expect street prices to be much lower (considering the suggested MSRPs and pricing on Amazon for the lower-capacity versions).
A 1TB thumb drive with a Type-C connector (no cables needed, unlike the other popular low cost 1TB external flash devices that we have seen before) is also being demonstrated. Based on our estimates, it is roughly sized at 82mm x 42mm (not considering the Type-C connector). It is likely that the NAND used is the same as the one in the UltraFit 256GB version. We are reaching out to figure out the native USB controller capable of handling that much amount of flash memory.
We also have an update to the Extreme Portable SSD lineup. While the Extreme 500 and Extreme 510 Portable SSDs were based on 2.5" SATA boards, the new SanDisk Extreme Portable SSD becomes compact and pocket-sized. It is likely that a M.2 SATA SSD is being used inside the new version. The enclosure is IP55 rated to withstand rain, dust, spills, and drops.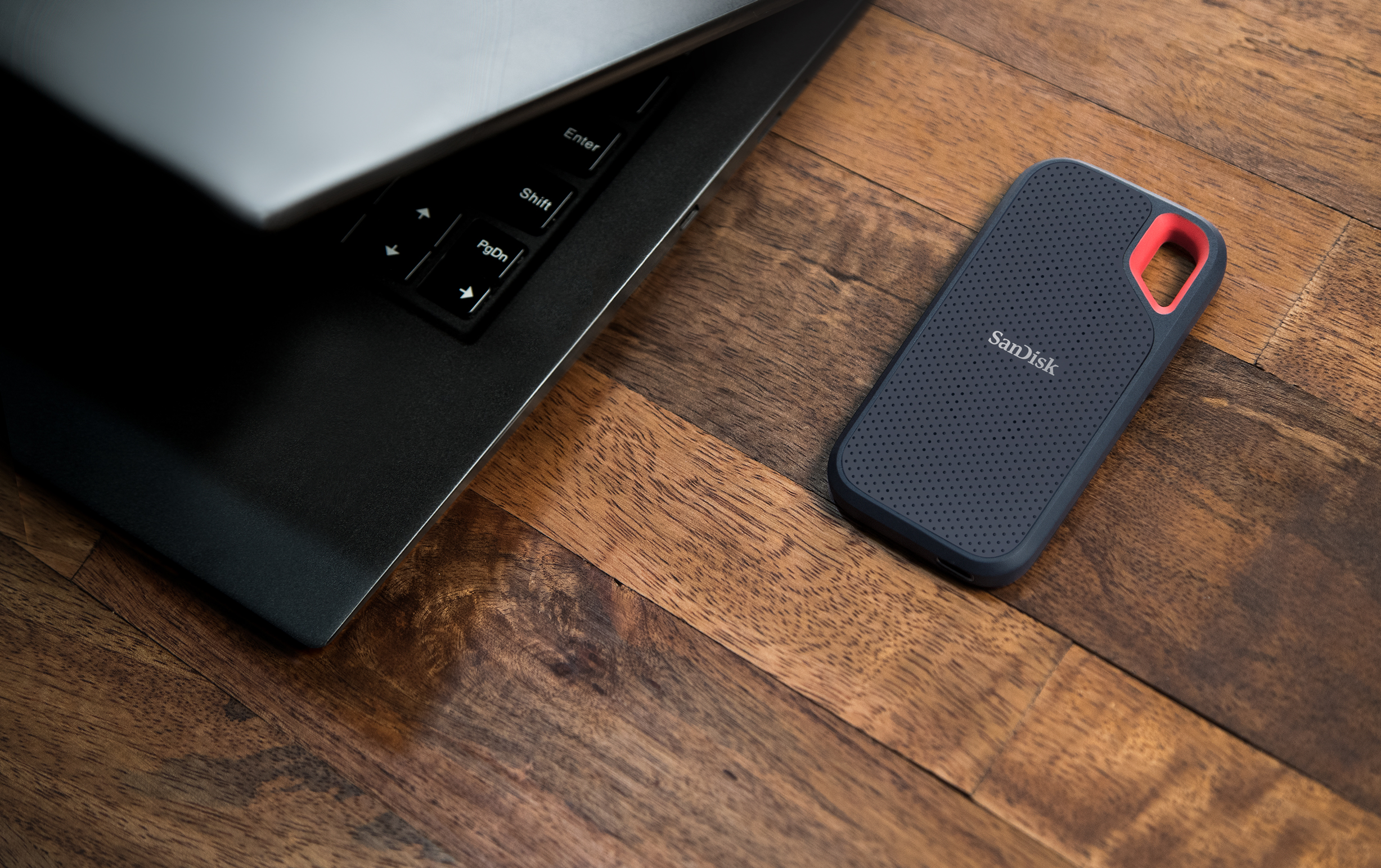 The new Extreme Portable SSD comes with a USB 3.1 Gen 2 bridge, enabling read speeds of up to 550 MBps. It has a Type-C interface. The bundled Type-C cable also comes with a Type-A adapter, similar to what we saw in the WD My Passport SSD. Four capacity points - 250GB, 500GB, 1TB, and 2TB - are being launched, with pricing set at $130, $200, $400, and TBD respectively.
We also have an external flash storage solution with the Western Digital branding - the My Passport Wireless SSD. It is similar to the other My Passport Wireless devices that we have seen before, with an emphasis on PC-free operation. The new devices comes with a shock-resistant SSD inside and allows access to content from the My Cloud mobile app. A DLNA server is also integrated.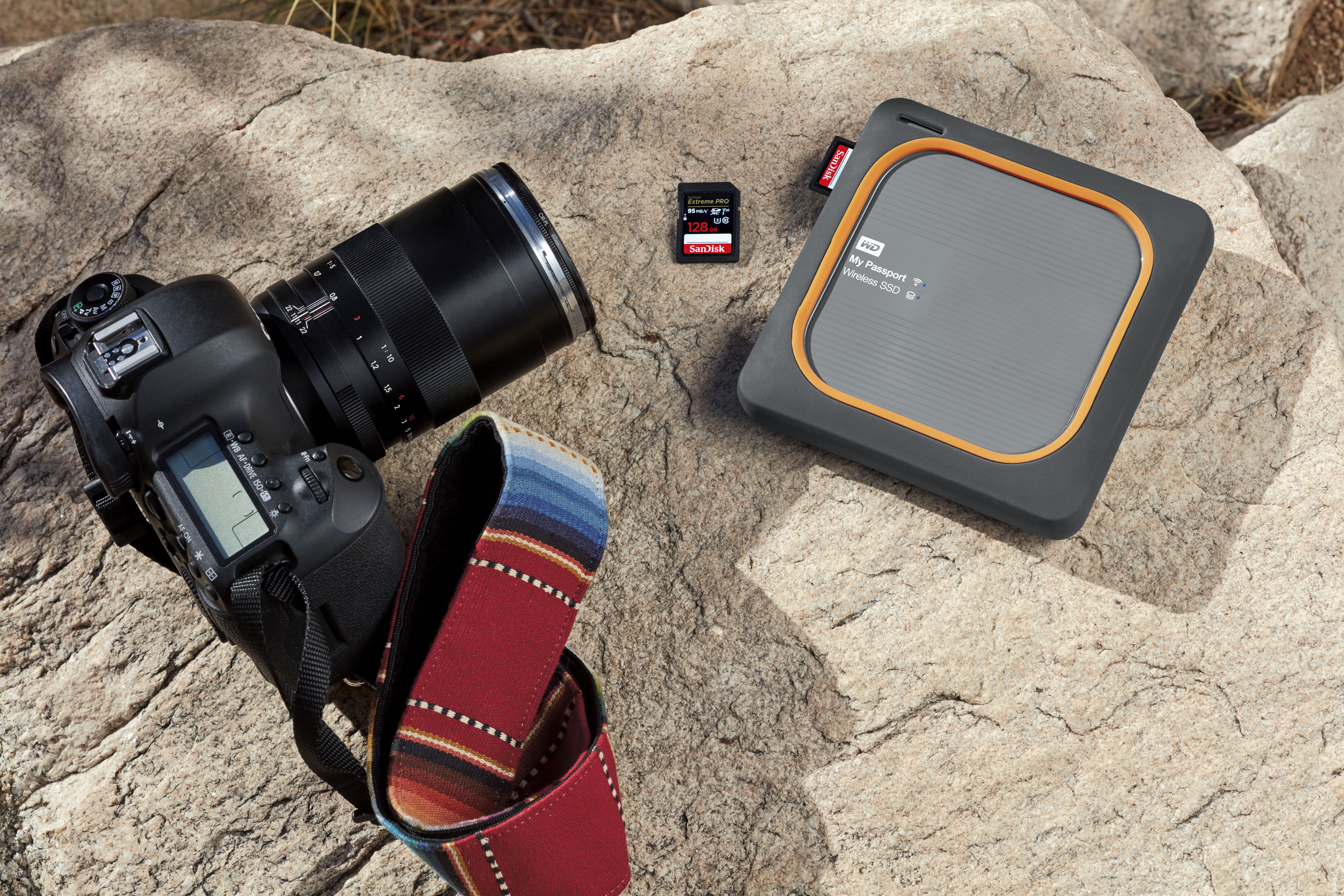 On the content ingestion side, the My Passport Wireless SSD Wi-Fi Mobile Storage unit has a USB 2.0 Type-A port (that can be used to charge another device / make the Wireless SSD act as a power bank) and a SD card slot. It can be connected to a PC / charged through a USB 3.0 Type-A port (read/write speeds are around 450/400 MBps, and the included charging adapter is a 12W one). It can also be accessed wirelessly using the built-in 1x1 802.11ac/n WLAN radio. The four capacity points - 250GB, 500GB, 1TB, and 2TB - are priced at $249, $299, $449, and $799 $230, $300, $500, and $800 respectively.
Western Digital also talked about some new features in the firmware update for the My Cloud Home devices and the associated My Cloud app. The most interesting is the voice-activated media streaming features. Users can stream the stored music collections using Alexa voice commands. Chromecast support has also been added to the My Cloud app.