Shuttle XPC ST61G4: FT61 Motherboard
Motherboard Specifications
CPU Interface
Socket-478
Chipset
ATI 9100IGP
(ATI RS300 North Bridge
ATI IXP150 South Bridge)
Bus Speeds
100-233, 0-15 scale for Overclock
AGP/PCI Speeds
Disabled, Fixed at 66
Core Voltages Supported
Auto, 0.825V-1.5875V
AGP Voltages Supported
Auto, 1.60V, 1.65V, 1.70V
DRAM Voltages Supported
Auto, 2.6V, 2.7V, 2.8V
Memory Slots
2 x 184-pin Dual-Channel DDR DIMM Slots
Expansion Slots
1 AGP 8X Slot
1 PCI Slot
Onboard Graphics
ATI 9100IGP
Onboard RAID
Silicon Image 3512 (SATA RAID 0, 1)
Onboard USB 2.0/IEEE-1394
Six USB 2.0 supported through IXP150
Two VIA VT6307 1394a FireWire ports
Onboard LAN
Broadcom 4401 10/100
Onboard Audio
Realtek ALC650 5.1 Digital Audio
With SPDIF Optical IN/OUT
Onboard Serial ATA
Sil3512 with 2 SATA connectors
Recent Shuttle SFF designs have made excellent use of the small real estate in the SFF chassis, and the ST61 motherboard continues that tradition. In general, layout is excellent and connectors are easy to reach. It is worth mentioning that Shuttle is now pre-wiring all the SFF cabling - including the hard drive connectors. This adds to the convenience for the SFF builder or end-user.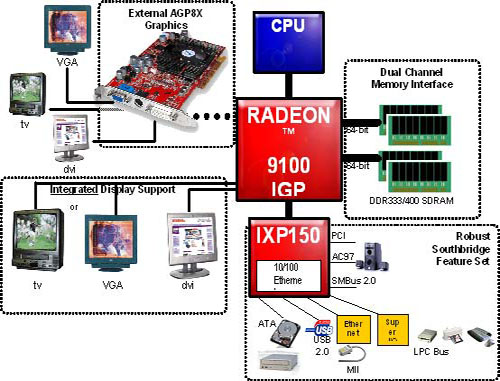 ATI's block diagram of the 9100IGP provides details of which features are actually implemented in the chipset. Shuttle has included additional chips for the missing features like SATA and IEEE 1394.
The small motherboard size, like other SFF, limits memory to 2 DIMMs, but the 2 DIMMs are dual-channel to compete with Intel's 865G chipset. Memory is limited to a maximum of 2GB, but that should be enough for most uses for this small system.