Netflix Streaming
We have been using Netflix's El Fuente test clip to evaluate the Netflix streaming capabilities of various HTPCs. Though it does have 4K streams at bitrates of up to 16 Mbps, it doesn't have a HDR version. Our search for a suitable test stream ended with Season 4 Episode 4 of the Netflix Test Pattern series.
The TCL 55P607's Roku platform has a Netflix app. It was able to play the 16 Mbps 4K Dolby Vision version along with Dolby Digital Plus 5.1 audio that was sent back to the receiver using the ARC feature.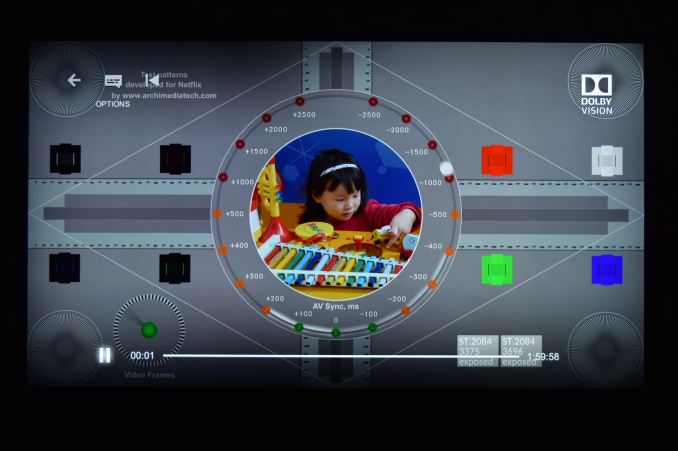 Netflix 4K Dolby Vision HDR Stream in the TCL 55P607
Note that the SMPTE text in the boxes are related to the HDR metadata. As we shall see further down, the non-HDR versions of the clip have blank white boxes in that space.
The NVIDIA SATV's Netflix app plays the HDR10 version of the clip, as evident from the stream information detected by the TV.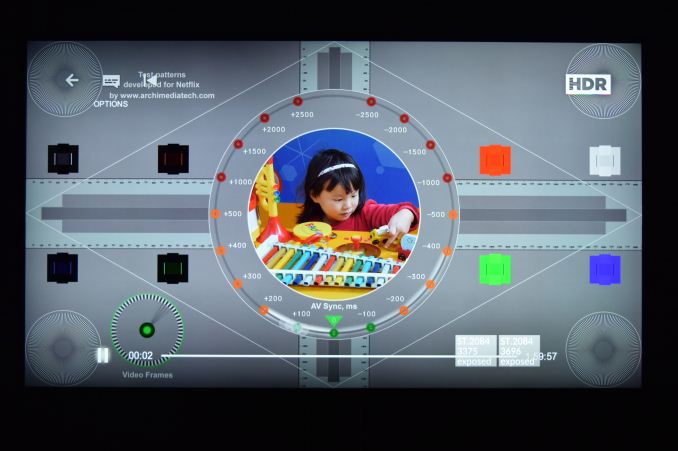 Netflix 4K HDR10 Stream in the NVIDIA SHIELD Android TV
Our test clip is not suitable for bringing out the advantages of dynamic metadata / Dolby Vision, but, suffice to say that the SATV's Netflix HDR capabilities are compatible with every HDR TV currently in the market.
On the PC front, we have Netflix's 4K HDR working with the natie Windows Store app as well as the Edge browser. We evaluated with the Windows Store app, and the HDR version played back in all three PCs.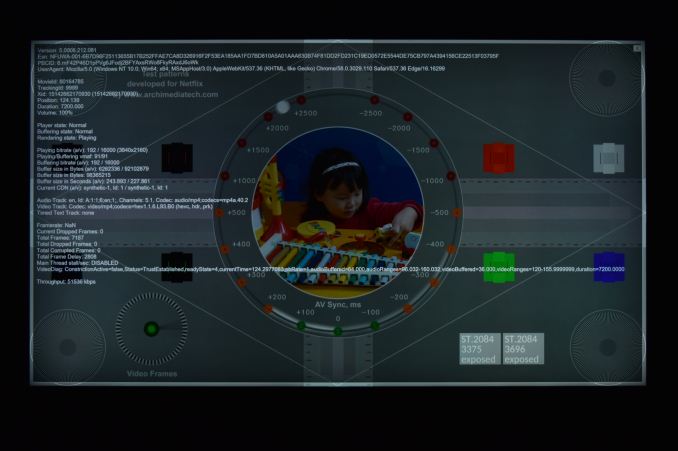 Netflix 4K HDR10 Stream in the Windows 10 Netflix Store App
The Windows 10 Netflix playback provides extensive insight into the available streams as well as current playback status. Note the (hevc, hdr, prk) entry corresponding to the Video Track in the debug OSD, as well as the ST.2084 boxes. Playing back the same clip with the desktop in default non-HDR mode plays back the 16 Mbps 4K stream without HDR. Note that we only have (hevc) in the Video Track codec entry, and the ST.2084 boxes are completely blank.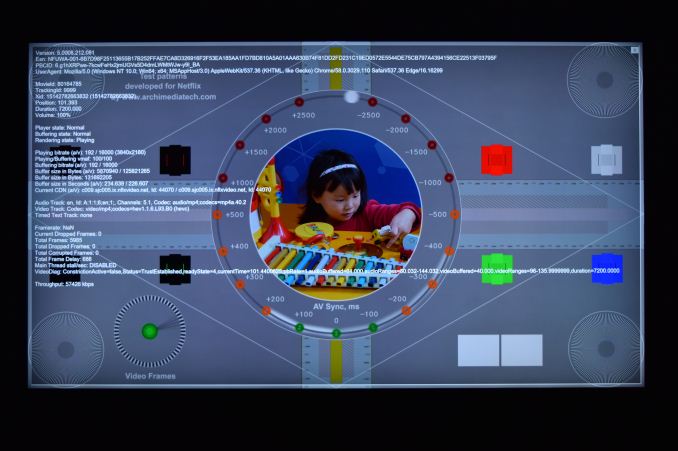 Netflix 4K non-HDR Stream in the Windows 10 Netflix Store App
We also tracked the power consumption of the various playback devices while streaming the HDR version. Similar to the YouTube case, we graph the TCL 55P607 Roku app separately since it involves the display power consumption also.
Netflix Streaming - Power Consumption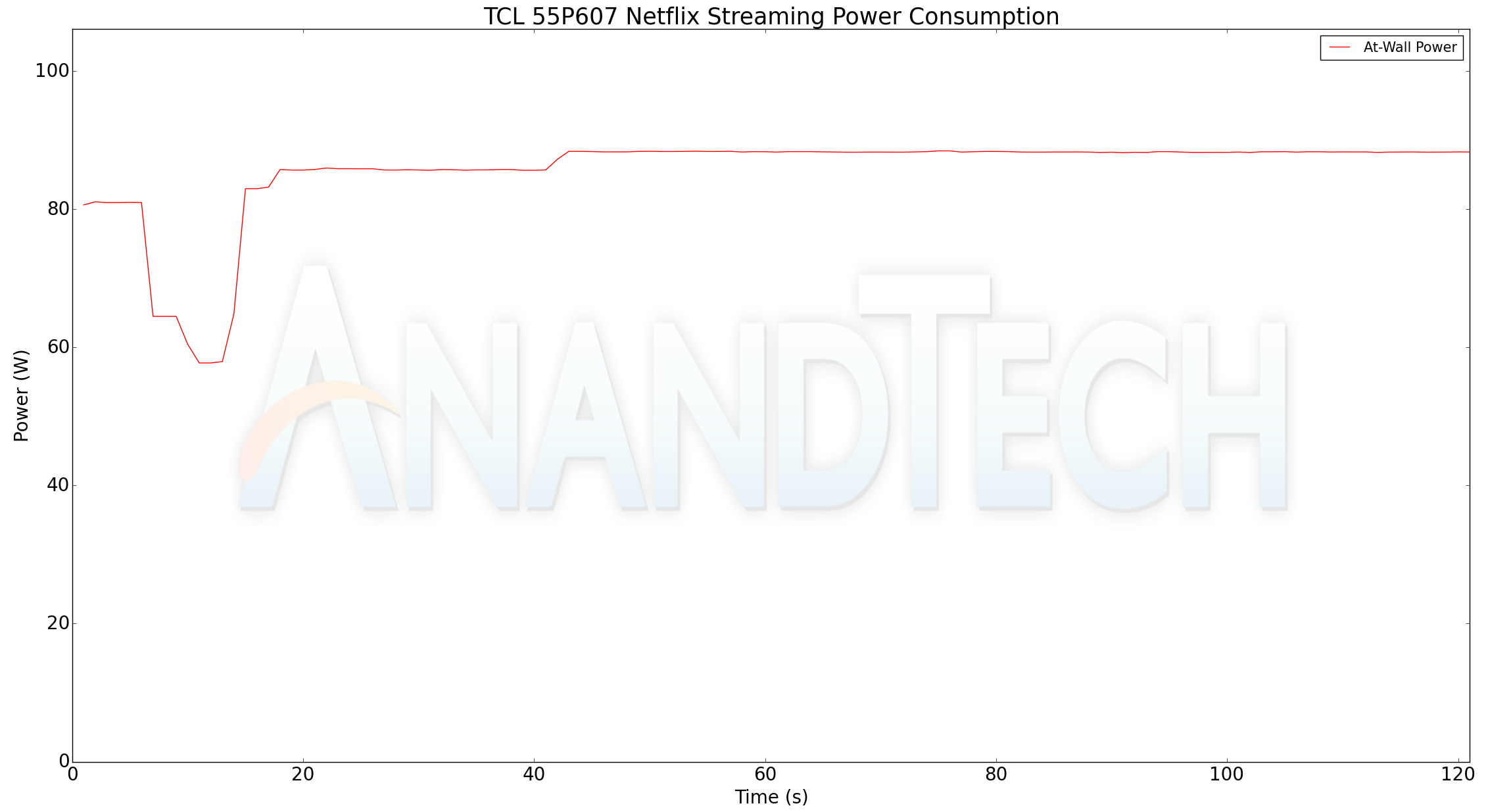 Similar to the YouTube streaming case, we find that the most power efficient of the lot is the ASRock Beebox-S 7200U.