GPU Performance
Here's where the Surface Book 2 gets really interesting. It's almost hard to believe how much GPU Microsoft stuffed in this updated version of the laptop. The 15-inch review unit comes with the impressive GTX 1060 GPU, which offers double the CUDA cores and four times the ROPs as a GTX 1050 found in the smaller 13.5-inch model, and the GTX 1050 is already a huge upgrade over the GPU options found in the original Surface Book, which could only be had with a custom GPU based on the GT 940MX, or even the updated Performance Base Surface Book which came later with a GTX 965M. Pascal has been a wonderful update from NVIDIA.
NVIDIA Laptop GPU Specification Comparison
GTX 1060
GTX 1050 Ti
GTX 1050
CUDA Cores
1280
768
640
Texture Units
80
48
40
ROPs
48
32
16
Core Clock
1404MHz
1493MHz
1354MHz
Boost Clock
1670MHz
1620MHz
1493MHz
Memory Clock
8Gbps GDDR5
7Gbps GDDR5
7Gbps GDDR5
Memory Bus Width
192-bit
128-bit
128-bit
VRAM
6GB
2GB/4GB
2GB/4GB
FP64
1/32
1/32
1/32
GPU
GP106
GP107
GP107
Transistor Count
4.4B
3.3B
3.3B
Manufacturing Process
TSMC 16nm
Samsung 14nm
Samsung 14nm
Launch Date
08/16/2016
01/03/2017
01/03/2017
The GTX 1060 is a big jump from the GTX 1050, and should really provide some serious compute and gaming capabilities with the Surface Book 2. Not everyone wants to work all the time, right? The GTX 1060 is outfitted with 6 GB of GDDR5 as well, so you will be able to play games such as Rise of the Tomb Raider without any RAM limitation issues, whereas the smaller 13.5-inch model with the GTX 1050 is limited to just 2 GB of VRAM.
First, we'll take a look at how the Surface Book 2 does in some synthetic tests, and then jump into some actual gaming tests.
3DMark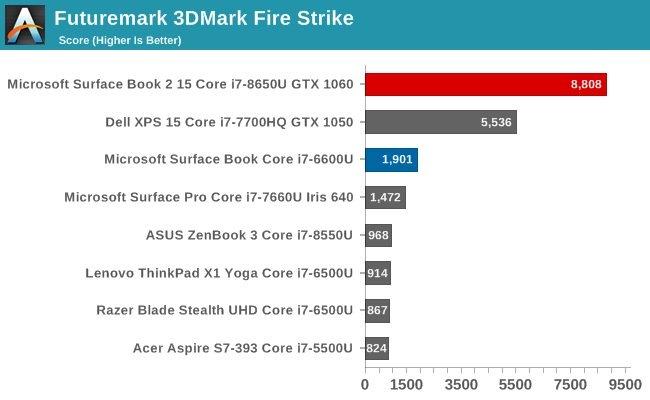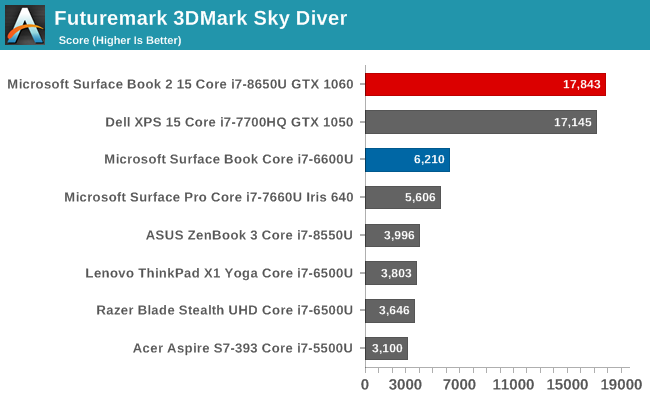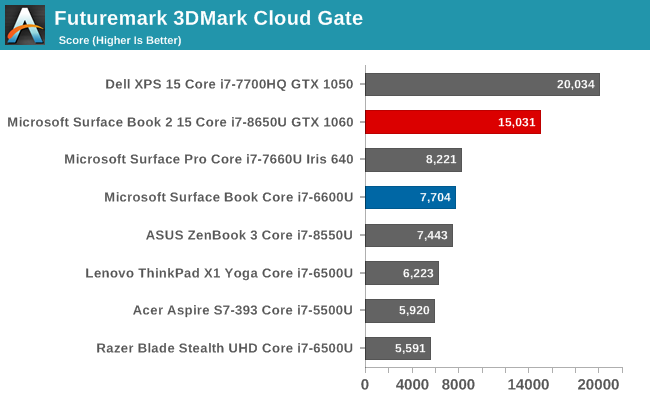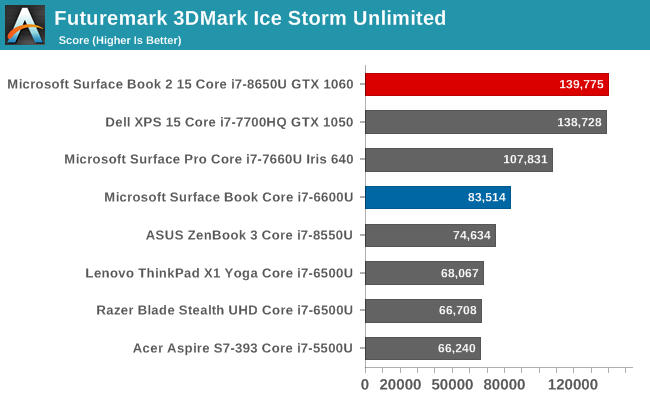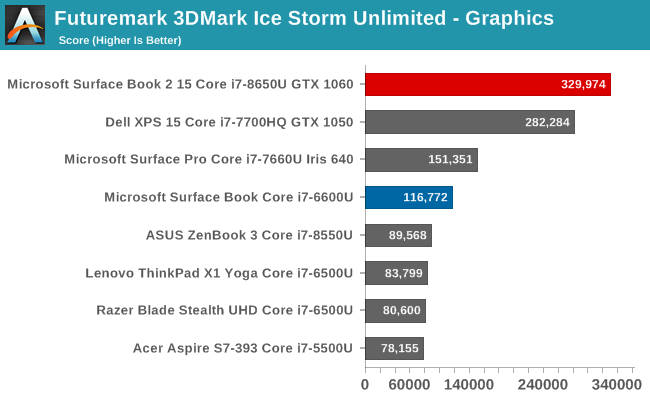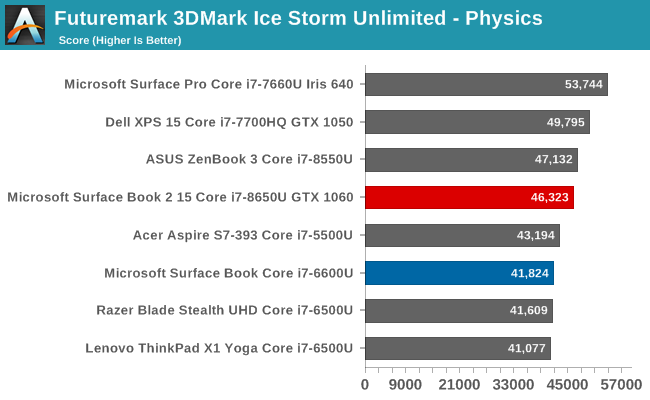 FutureMark's 3DMark offers several tests to choose from, and the company has been updating this version for several years now with new tests for UHD and DX12.
The GTX 1060 is a massive improvement over the original GT 940MX based Surface Book, and moves it out of being somewhat better than integrated, into a laptop with some serious gaming potential. The performance difference on the most GPU demanding test, Fire Strike, over the GTX 1050 is also a huge leap.
GFXBench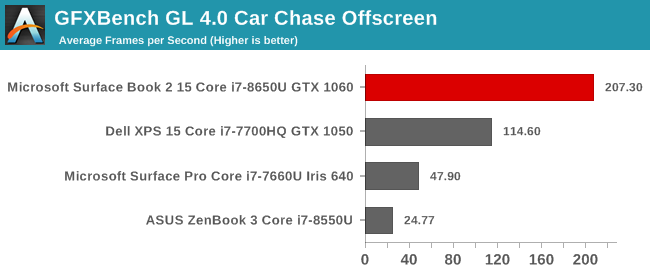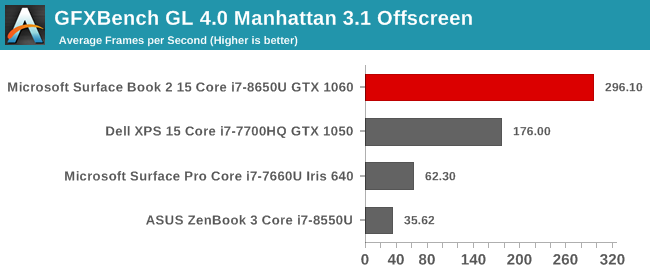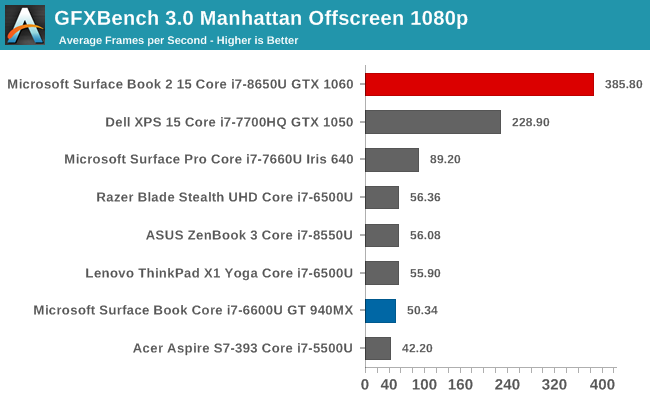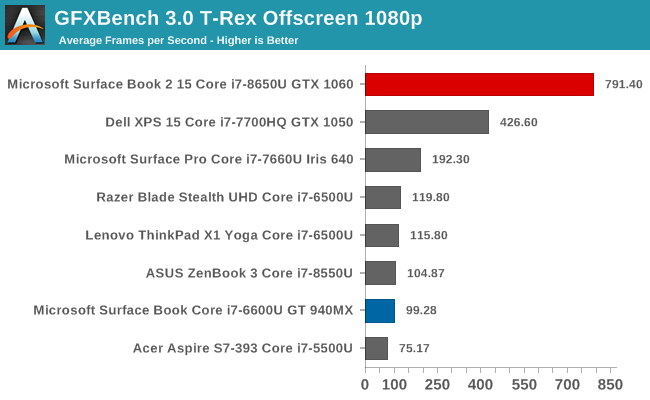 GFXBench is a cross-platform test, with tests that can be run on smartphones and tablets, which can also be run on a PC. They aren't exactly the same test though, since the PC ones run at a higher precision, but the tests are a great way to look at performance, especially on devices with integrated graphics.
Clearly, with the GTX 1060, the GFXBench tests are a bit too easy for it, with performance that is downright silly.
Dota 2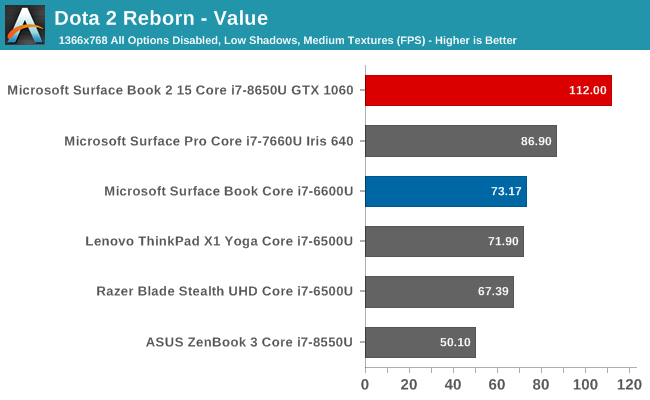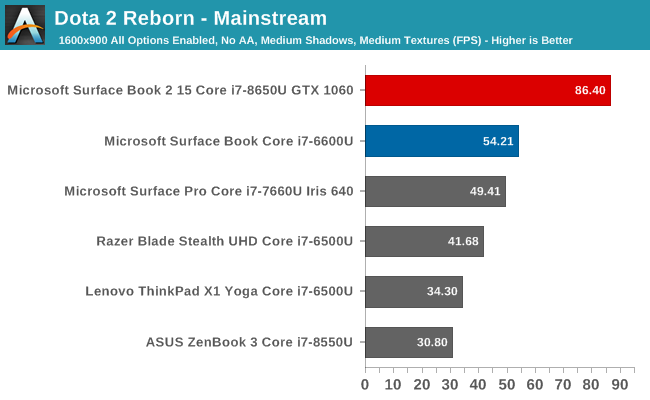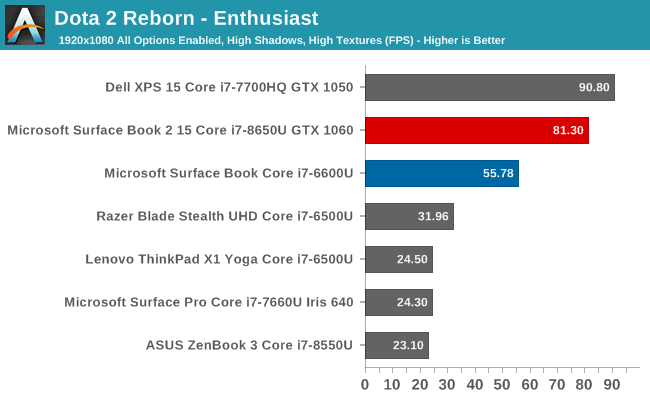 Valve's Dota 2 is our go-to benchmark for devices with lower-end GPUs or integrated graphics, since it can generally be run on even low-powered devices without much of an issue. The game can get CPU bound though.
On the higher level settings, the performance delta between the Surface Book 2 and devices with integrated graphics is quite large, and devices with integrated graphics can't even crack the 30 FPS barrier, but the Surface Book 2 has no issues. It's outperformed by the XPS 15 because the CPU is the limiting factor here.
Tomb Raider



The original Tomb Raider is getting a bit old now, but we have a lot of comparison data, and at maximum settings, it can still be a very demanding game for even devices with mid-range GPUs. We don't test this game on devices with integrated graphics, since the framerate is not enough to play, but the Surface Book 2 can easily play this game even on enthusiast settings, and offers far more performance than the GTX 1050 in the XPS 15.
Rise of the Tomb Raider



The sequel to Tomb Raider is the amazing Rise of the Tomb Raider, and it offers a graphical showcase for anyone with a powerful system. This is a much more demanding game, and offers DX12 as well. On the Enthusiast settings, more than 4 GB of VRAM is required. The Surface Book 2 can play this even at our Enthusiast levels, which isn't something you can say of the XPS 15. It might need a few options tweaked with GeForce Experience to get the optimal result, but it's pretty close to 60 FPS already.
Civilization VI



Firaxis has created an even more demanding version of Civilization with the latest instalment. It is a game that can be heavily CPU dependent, especially later in the game, but it does offer a graphics benchmark as well. The Surface Book 2 can easily play this game at our Enthusiast settings, but mostly because it is a game that doesn't penalize you much for the odd hiccup in framerate. The game engine tends to be CPU limited as well, so for best performance a fast desktop is required.
Bioshock Infinite



This is an older game, but one we keep around thanks to the excellent benchmark tool, and the copious amounts of data we have on it. At maximum settings, even today, it can be pretty punishing to mid-range devices, but the Surface Book 2 has no issues with this test, and offers dramatically more performance than the original Surface Book.
Dragon Age Inquisition



This amazing Bioware RPG is a couple of years old now, but still delivers excellent graphics and gameplay. It can also bring laptops to their knees, especially on higher settings. The Surface Book 2 offers enough performance that you could likely run in on 1080p Ultra, but it can't quite hit 60 FPS at that level. It still offers a serious boost over the XPS 15 though.
Shadow of Mordor



There's now a sequel to this game out as well, which we'll have to check out and see if we can add it to our list. On this test, the Surface Book 2 offers excellent framerates, even on our maximum settings, and offers almost double the performance of the GTX 1050 in the XPS 15 on this game.
Grid Autosport

This is another game that can end up CPU bound on higher powered systems, but with the Surface Book 2, that's not the case. Still, it averages right around 100 FPS, which is plenty for this arcade racer.
GPU Conclusion
The jump from the original GT 940MX found in the Surface Book, to the GTX 1060 in the Surface Book 2, is a massive increase in performance. The Surface Book 2 isn't what most people would consider a gaming laptop, but the 15-inch model offers plenty of compute if you ever do want to game. For office productivity, apps that take advantage of CUDA, such as Adobe's suite, should see some much-improved performance over almost any other productivity laptop. Really, to match the GPU performance in this laptop, you'd have to jump into the gaming notebook arena with something like a Razer Blade 14.