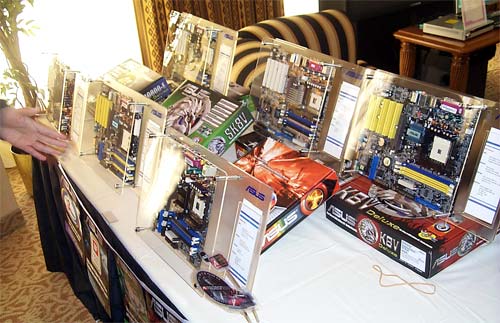 A slim taste of motherboards to come.
ASUS expects to launch seven new motherboards over the first quarter, including a SiS 755 motherboard.  ECS is now also shipping Revision A2 of its SiS 755 board with improvements to performance compared to the A revision.  ASUS is large enough to ship almost every chipset, so we expect to see Socket 939 boards from them based on VIA, nForce3 250 and SiS 755FX.  755FX has not received nearly as much attention as nForce3 250, but it is still an exciting new chipset.  While SiS 755 is designed for single channel Socket 754, the SiS 755FX will exclusively support the new Socket 939 and dual channel unbuffered memory. 
With the recent introduction of the SiS 655TX for Intel, and roadmaps with 755/755FX SiS appears to have reestablished a place in the core logic market.  Several roadmaps we saw also included IGP versions of these chipsets.
There are other big surprises with chipset manufacturers.  ATI has confirmed production of an AMD Athlon 64 core logic; NVIDIA is also rumored to have an Intel chipset in the works.  With both ATI and NVIDIA producing both AMD and Intel chipsets, we will now have five major chipset manufacturers (six if you include ALi).