AMD Updates their 2xx Series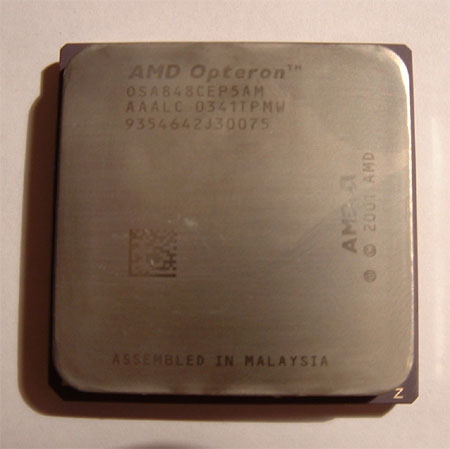 When the Opteron was launched back in April, it was launched at 1.4, 1.6 and 1.8GHz speeds with support for up to two processors and DDR333 memory. Since then, as we've already mentioned, 4-way setups have been announced (Opteron 8xx series) and higher clock speeds have debuted as well. More recently, support for DDR400 has been announced so that the Opterons are no longer running any slower or with fewer features than the Athlon 64 FX.
The Opteron's naming system can be a little confusing at first, so let's revisit that given the current batch of CPUs out there.
With the Opteron, AMD introduced their first-ever 3-digit naming system for server/workstation CPUs. The first digit indicates whether the CPU was designed for 1-way, 2-way or 4- to 8-way operation. For example, the Opteron 100 series is only validated for use in uniprocessor configurations while the Opteron 200 series is validated for use in uni- and dual processor configurations. Finally, the Opteron 800 series is validated for use in up to 8 processor configurations.
Note that we used the phrased "validated for use" because there is very little stopping an Opteron 100 CPU from being used in a dual processor environment (an Opteron 100 is identical to an Opteron 200 and an Opteron 800). As far as we know at this point, AMD has not prevented CPUs from being used in configurations in which they weren't intended to be used. Although, it wouldn't be too hard for them to prevent it in the future if it becomes a problem.
The second two digits in the Opteron name are what determine the "performance" of the part and currently, the remaining two digits of Opteron 1xx, 2xx and 8xx series processors are comparable to one another.
Currently, the Opteron is available in clock speeds ranging from 1.40GHz to 2.20GHz in 200MHz increments, which correspond to the following parts:
Opteron 140, 240, 840 = 1.4GHz
Opteron 142, 242, 842 = 1.6GHz
Opteron 144, 244, 844 = 1.8GHz
Opteron 146, 246, 846 = 2.0GHz
Opteron 148, 248, 848 = 2.2GHz
Just recently, the x48 parts were launched, and with them, the Opteron gained support for DDR400 memory. Support for DDR400 has trickled down to all members of the Opteron family, but only certain revisions of the CPUs support DDR400. To tell whether or not a CPU has DDR400 support, you will have to look at the last two digits of its part number. If they are "AL", "AK" or "AM", then the CPU is a Rev C0 CPU and it supports DDR400. If the part number ends in "AH", "AG" or "AI", then the CPU is an older revision and does not support DDR400 memory.
For this review, we are only comparing Opteron 248 and 244 parts. We will take a look at the performance of the new 8xx parts in a 4-way configuration in our upcoming database server performance shootout.