Color and Alpha
There is an incredible volume of technology that goes into producing a 3D scene in real-time. Due to the vast amount of information on this topic, we will only be covering the points necessary to help understand the visual differences we saw in the games that we tested. And what better place to start than one of the most basic aspects of any image: color.
In a computer, the color of a pixel is determined by four values: red, green, blue, and alpha. Red, green, and blue are the primary colors of light and can be combined in different intensities to create millions of other colors. The alpha value is a specification of how opaque or translucent a color should be, which allows for some very complex layering effects and translucent objects that can't be achieved with color alone (this is called alpha blending).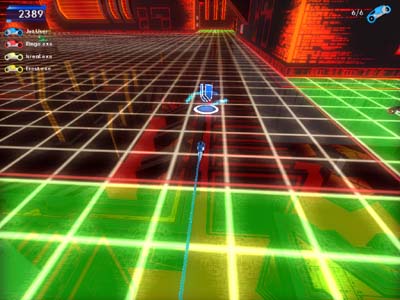 The translucent floor in this scene is a good example of what alpha blending can do.
(Click to enlarge.)
Using a lot of alpha blending can bring just about any GPU to a crawl. In light of the limitations of human visual perception and the accuracy of color representation in a computer, very translucent objects can be discarded, since the alpha blending won't significantly change the color of the final result. It is common practice in the world of 3D graphics to put a threshold on how opaque something needs to be before it is considered for drawing at all. This really helps to speed up rendering, and (ideally) doesn't impact the experience of the game at all.