A Closer Look at SiS 655TX
While AnandTech was impressed with the features and value of the earlier Gigabyte 655FX, the performance found was nothing to write home about. So what has SiS changed in the 655TX incarnation to improve performance?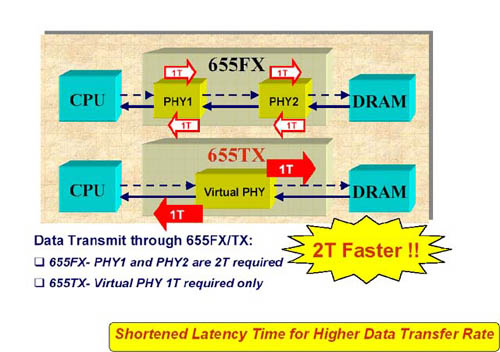 The most significant performance improvement in the 655TX is the reduction in latency by removing half the command cycles from the communication between the CPU and memory. SiS claims that this brings memory performance to 865/875 levels, which would be significant indeed since the Intel memory controller is a very good performer for a chipset-based controller.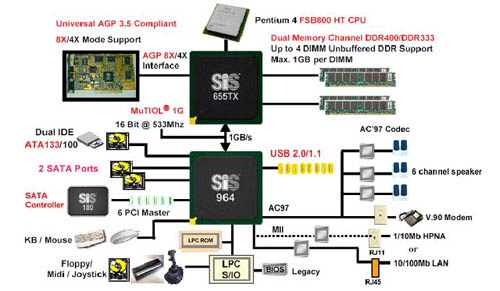 Other features of the 655TX are very close to the 655FX, but they are refined to be more competitive with current and upcoming Intel chipsets. The 655TX is also paired with the 964 South Bridge to offer SATA RAID and 8 USB 2.0 ports for a very contemporary feature set.
Full Prescott Compatibility
655TX also fully supports FMB (Flexible Motherboard) 2.0 and VRM (Voltage Regulator Module) 10.0 specifications. This means full compatibility with upcoming Prescott processors. Both the Asus and Gigabyte manuals list Socket 478 Prescott processors as fully supported on their 655TX motherboards. Since there has been so much confusion and misinformation on the web about the new specifications, the FMB and VRM tables should help in better understanding what is required and the features provided in the new standards.
 FMB 1, 1.5, 2.0
 CPU Code Support
 FMB 1
 FMB 1.5
 FMB 2
Willamette VRM9.0
60A
Northwood VRD10
60A
70A
Prescott VRD10
78A
91A
119A VRD10.1
 VRM 10.0 VS VRM 9.0
 
 VRM 10.0
 VRM 9.0
 Benefit of VRM 10.0
VID
6 bit
5 bit
More accurate voltage adjustment
0.0125V
0.025V
Voltage Range
0.8375 - 1.6
1.1 - 1.85
Lower voltage

Northwood and Prescott dual support
Supports higher frequency CPU
Dynamic VID
Yes
No
Supports CPU that can change Voltage on the Fly
SiS655TX Specifications
Advanced HyperStreaming™ Engine
SiS HyperStreaming™ Technology allows streams of chipset data to flow over all paths efficiently, concurrently, smoothly and intelligently. The SiS655TX Advanced HyperStreaming™ Engine further enhances the transfer rate on the path from host block to memory controller block to achieve lower latency that can improve whole system performance.
Host Interface
Support Intel Pentium® 4 HT FSB 800 CPU
Support Intel Hyper-Threading Technology
Support 800/533/400MHz Front-Side Bus
High Performance Dual DDR Memory Controller
Delivering up to 6.4GB/s Bandwidth
Performance optimization auto-configurability with flexible granularity via supporting the Dual 128x1 bit mode in symmetric DIMM types deployment, and the Concurrent Dual 64x2 bit mode with flexible DIMM types support
Up to 4 DIMMs of DDR400/DDR333
Support Un-buffered DDR DIMM and up to 1GB per DIMM
Suspend-to-RAM(STR)
Support AGP 8X Interface
Support AGP 8X/4X Interface
Support Enhancements of AGP Rev.3.5 Register Format
Support Fast Write Transaction
MuTIOL® 1G Delivering 1GB/s Bandwidth
Proprietary Interconnect between SiS655FX and SiS964
Bi-Directional 16-bit Data Bus at 533MHz Operating Frequency
SiS964 MuTIOL® 1G Media I/O
MuTIOL® 1G Delivering 1GB/s Bandwidth
Proprietary Interconnect between SiS655FX and SiS964
Bi-Directional 16-bit Data Bus at 533MHz Operating Frequency
USB 2.0/1.1 Host Controller
One EHCI USB 2.0 Controller and three OHCI USB 1.1 Controllers
Support Total 8 USB 2.0/1.1 Ports
Support USB 2.0 High-Speed Device @480 Mb/s Transfer Rates
Serial ATA Host Controller
Two independent ports and flexible channel allocation
Compliant with Serial ATA 1.0 Specification
Support Ultra DMA 150
Support RAID 0, RAID 1 and JBOD configuration
PCI 2.3 Specification Compliance
Support up to 6 PCI Masters
Fast Ethernet/Home Networking Controller with MII Interface
Support 10/100Mb Fast Ethernet or 1/10Mb HomePNA 2.0 with External PHY
Audio/Modem Controllers with AC'97 Interface
AC'97 v2.3 Compliant
Support 6 Channels of AC'97 Speakers Out and v.90 HSP Modem
Advanced Power Management
ACPI 2.0 and APM 1.2 Compliant
Dual IDE Channels with Parallel ATA 133/100
LPC 1.1 Interface
Integrated RTC
Integrated Keyboard/PS2 Mouse Controller