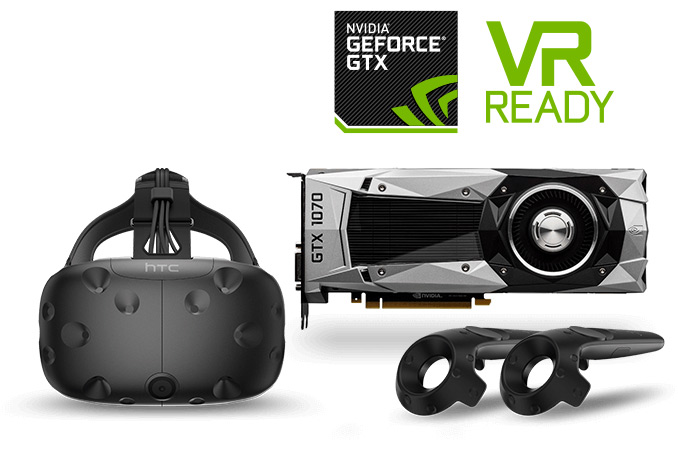 HTC this week launched a new $799 bundle that includes its Vive VR headset, NVIDIA's GeForce GTX 1070 Founders Edition graphics card, as well as a copy of Fallout 4 VR. The campaign will run while supplies last and will be available only in the U.S.
Developers of the major VR platforms (HTC and Facebook's Oculus VR) understand that in order to popularize their headsets they need to make them more affordable. To do so, they run limited-time sales or cut prices permanently (which is what both did earlier this year). With the new bundle, we are dealing with the former scenario several weeks ahead of Black Friday and Cyber Monday.
At present, HTC charges $599 for its Vive VR headset (accompanied by two wireless controllers, two base stations, link box, earbuds, connectors, and accessories), which is also bundling Fallout 4 VR as well. Meanwhile the most affordable GeForce GTX 1070 graphics cards are available for around $400. The $799 bundle allows gamers to buy both pieces of hardware together at an effective discount of $200.

However, there are a couple of things to consider before hitting the "buy" button. Today's bundle announcement from HTC happens to line up perfectly with the launch of the GeForce GTX 1070 Ti, and while the vanilla GTX 1070 is still a potent card, it's now third-string in NVIDIA's enthusiast video card lineup. Meanwhile, given that Black Friday and Cyber Monday are coming up, I'm not wholly convinced that we won't see further deals a bit closer to the holidays.
Related Reading:
Source: HTC