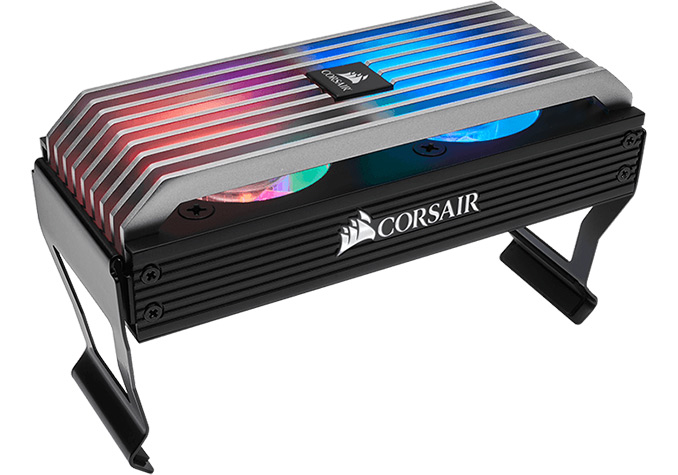 Corsair has introduced a new fan for its top-of-the-range Dominator Platinum memory modules that not only adds additional airflow to the memory but also adds additional RGB LEDs. The Dominator Airflow Platinum RGB cooler is compatible with DDR4 memory modules and is already available.
Customizable RGB lighting can be installed on pretty much all types of enthusiast-class PC components these days. Virtually all high-end motherboards, graphics cards, memory modules, chassis, fans, etc. released this year are equipped with some sort of RGB LED topology. All the leading suppliers of memory modules for gamers and enthusiasts either already ship DRAM modules with customizable RGB lighting, or at least have demonstrated them. Corsair itself released its Vengeance RGB series to complement its cases and coolers this summer.
Corsair's top-end Dominator Platinum modules still have not received any RGB treatment. Although today's announcement is aimed to allow users to keep the design ID, add additional cooling, and add RGB.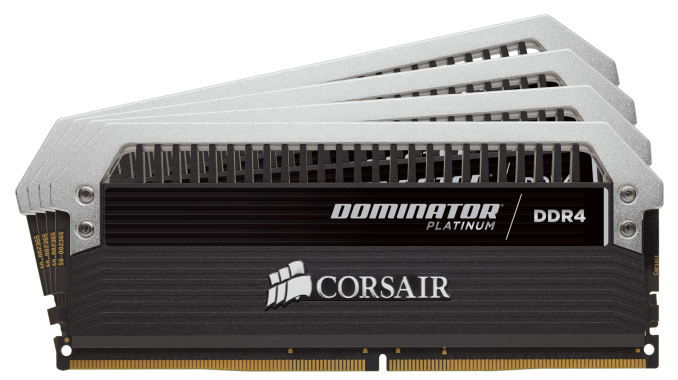 Corsair's Dominator Platinum range is for Corsair's top performing modules, and the kits do not come cheap. In the effort for performance, typically the custom PCBs (and industrial design) are not intended for LEDs, especially if the delivery of "clean" power to the memory chips had an adverse effect on performance or overclocking potential. Corsair has experimented with white LED-equipped Platinum Dominator Torque DDR4-3200 special edition modules, but it looks like it does not plan to introduce LEDs to all of its highest-end parts. So instead of installing RGB LEDs on the Dominator Platinum modules, Corsair has decided to offer an optional cooler that would add lighting effects.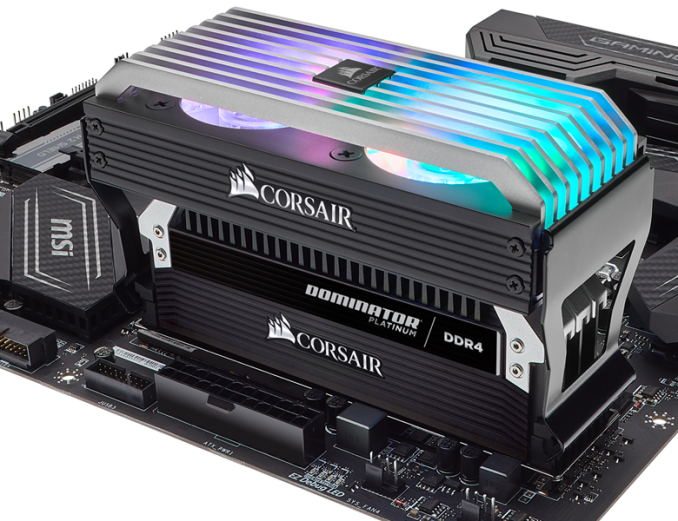 The Corsair Dominator Airflow Platinum RGB cooler is equipped with two 50-mm ball bearing fans that can create 21.2 CFM airflow pressure at their maximum rotating speed of 3700 RPM. The fans are PWM controllable using Corsair Link software. The same application can customize the lighting of both fans.
Corsair Dominator Airflow Platinum RGB at a Glance
AnandTech.com

CMDAF2

Bearing Type
Ball bearing
Fan Diameter
Dual 50mm
RPM
3700 RPM, PWM controllable
Airflow
21.2 CFM (3700RPM)
Noise level
25.6 dBA (max)
Fan life
150,000 hrs/40° C
Voltage
5-12V (DC)
The Corsair Dominator Airflow Platinum RGB is available today directly from Corsair and its resellers. The MSRP of the product in the U.S. is $69.99, whereas in Europe the cooler is available for €74.99. Meanwhile, the device is available from Amazon for $56.54 at press time. You will need two for a high-end desktop with quad channel memory. To clarify, memory is not included.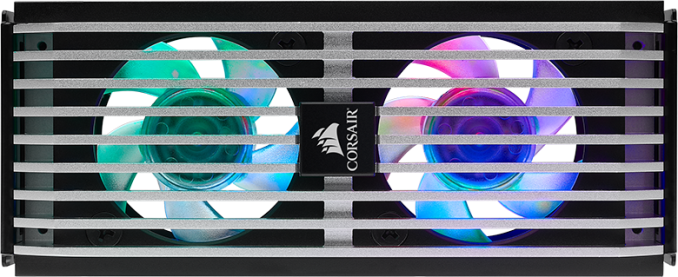 Related Reading