Overclocking
As NVIDIA is pushing the GTX 1070 Ti for overclocking, it is only fair that we look into it. While NVIDIA does support overclocking, they have limited actual overvolting, and instead providing the ability to unlock 1-2 more boost bins and associated voltages. Using Precision XOC, we adjusted the core and memory clocks, as well as the power/temperature limit and percent 'overvoltage.' For the 180W GTX 1070 Ti, the TDP and TDP limit match the GTX 1080, resulting in a 120% power limit (216W). The 1.093v boost voltage is no surprise, matching the GTX 1080 and 1070 FEs.
GTX 1070 Ti FE Overclocking
Stock
Overclocked
Core Clock
1607MHz
1787MHz
Boost Clock
1683MHz
1863MHz
Max Boost Clock
1898MHz
2078MHz
Memory Clock
8Gbps
8.8Gbps
Max Voltage
1.062v
1.093v
The results, of course, cannot be taken as representative of all GTX 1070 Ti Founders Editions, as this is only a sampled sample size of one. But results here can offer some insight. For one, if there were explicit actual overvolting, it seems very possible to stabilize ~2100+MHz clocks on the GTX 1070 Ti Founders Edition. At any rate, GPU overclocks topped out with observed clocks in the high 2000MHz region, roughly 10% over the previously measured average in-game clockspeeds. Memory overclocks were only able to go up 200MHz from the base 2002MHz, or also about 10%. All-in-all, very similar to the GTX 1070 FE, which also managed 10% overclocks on both GPU and GDDR5 memory. Recalling that the GTX 1070 Ti FE clocked on average just 2% higher than the GTX 1070 FE at stock, there's nothing particularly groundbreaking here, especially considering the 20-25% overclock capability of Maxwell 2 reference cards.
A total of four different overclocks were tested. First was a baseline, consisting of 100% overvoltage and max power/temperature limits. The second was overclocking the GDDR5 memory by 800Mbps. The third was overclocking the GPU with a +180MHz offset; in practice this resulted in observed clocks between 2030 - 2080MHz. Lastly, all previous adjustments were combined for an overall overclock.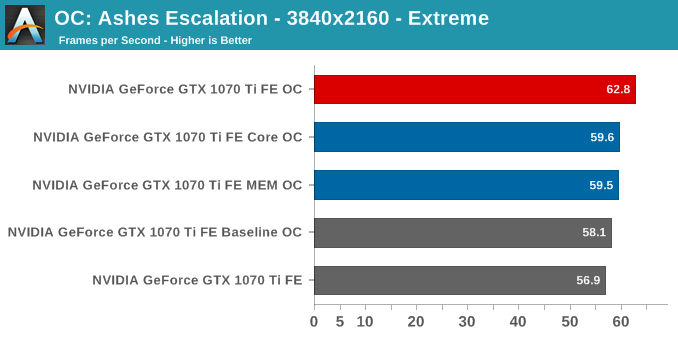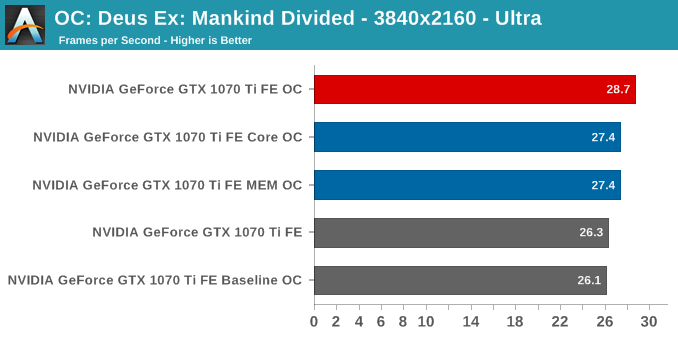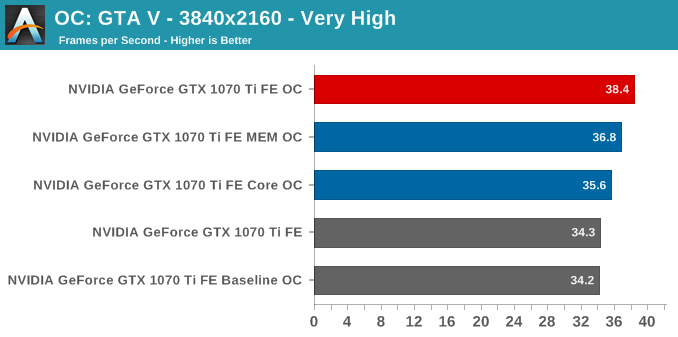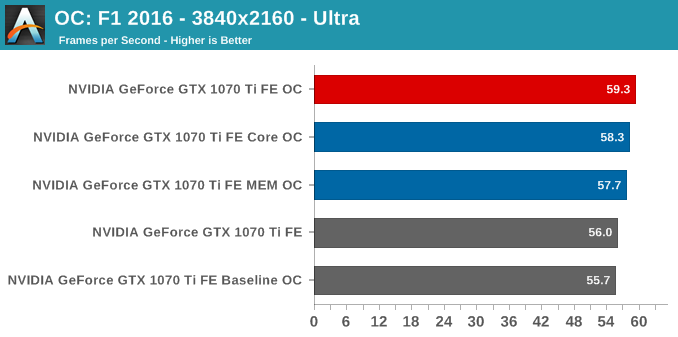 Although this is more of a cursory look than anything else, the combined overclock provides the best performance, just like it was for the GTX 1080 and 1070, although it seems like memory overclocking is more effective on the GTX 1070 Ti. Earlier, we mentioned how the GTX 1070 Ti compared to the GTX 1070 by having four more SMs but without any additional memory bandwidth, and perhaps that is playing a role here.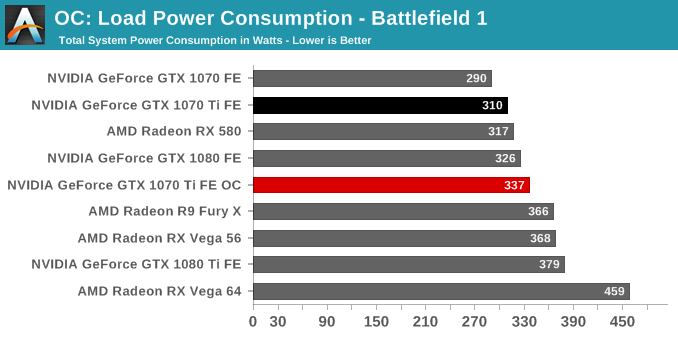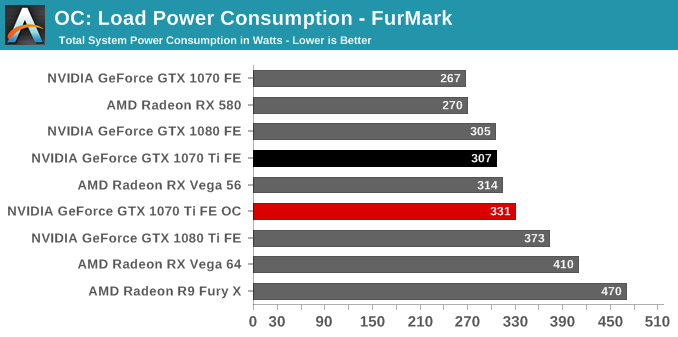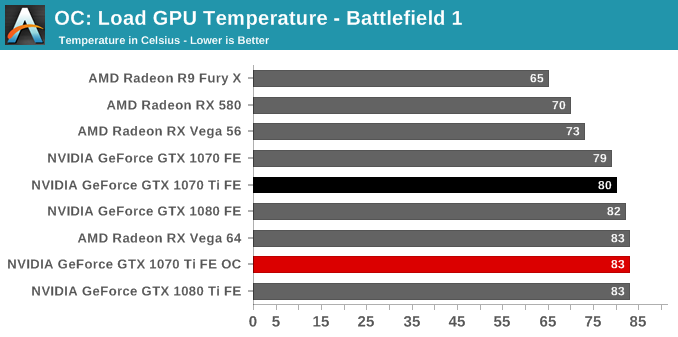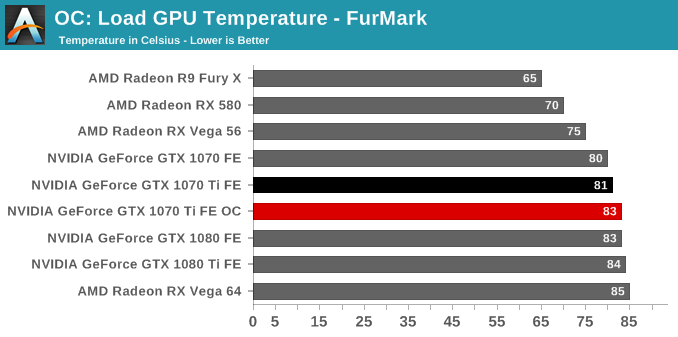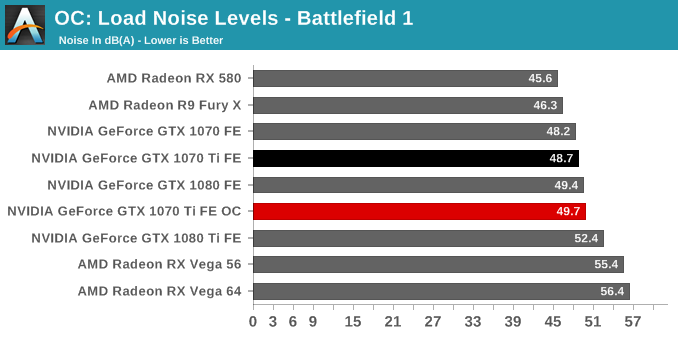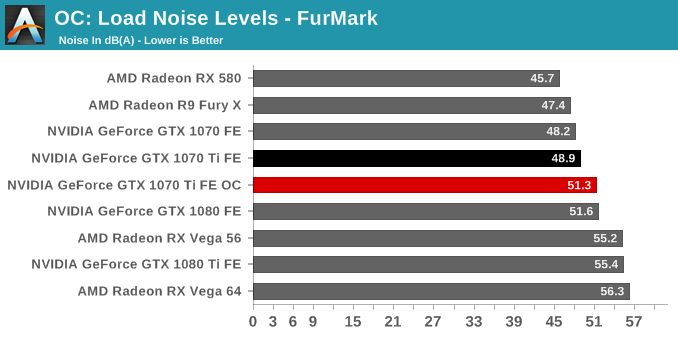 There isn't much to add on the power, temperature, and noise front. Understandably, the card will heat up a few more degrees and spin its blower faster, at the expense of ~25W at the wall, inasmuch as the 120% power limit will let it. As a casual overclocker, there may not be a lot to gain here; the GTX 1070 Ti FE already boosts to ~1800+MHz at stock, and squeezing 200MHz more with the anemic capabilities of NVIDIA's reference PCB won't make waves. And for hardcore overclockers, there would be little need of the reference board's power delivery system.