Synthetics
Continuing onto our synthetic benchmarks, we should be able to see how the GTX 1070 Ti sits in between the GTX 1080 and 1070. These tests are more graphics focused than compute focused – especially the low-level tests – so it will be interesting to see how the GTX 1070 Ti compares to its fully-featured GP104 sibling, the GTX 1080, given how close they are so often in compute tests.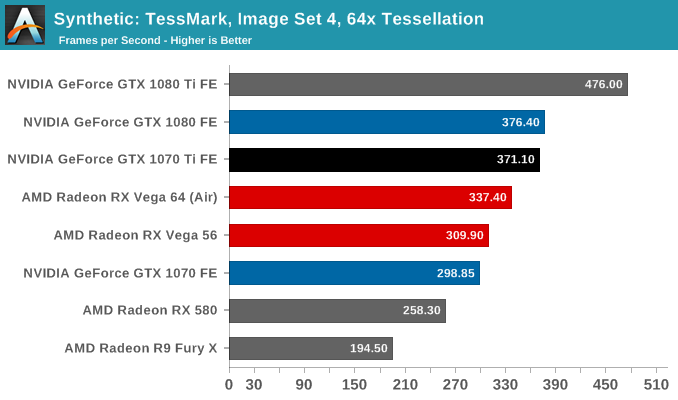 Starting off with tessellation performance, as NVIDIA's geometry performance is tied to the SMs, the GTX 1070 Ti benefits from having 3 more SMs enabled than the vanilla GTX 1070. This allows the new card to leapfrog both AMD Vega cards, coming in right behind the GTX 1080.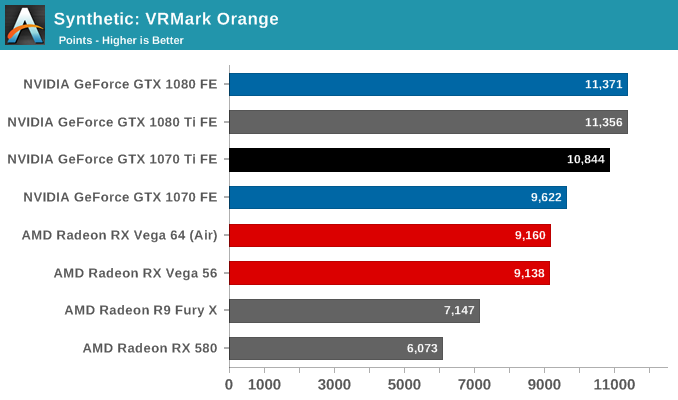 Switching gears, we have Futuremark's VRMark Orange benchmark. Essentially a synthetic gaming-type rendering workload with a focus on VR, this test pushes every part of a video card. Consequently, it also hits the weaker parts of the GTX 1070 Ti's configuration, particularly the lack of increased ROP throughput and memory bandwidth. As a result the GTX 1070 Ti still gains quite a bit over the GTX 1070, but it also trails the GTX 1080 by about 5%. Which, as it turns out, isn't too far removed from our general gaming benchmarks.
Finally, for looking at texel and pixel fillrate, we have the Beyond3D Test Suite. This test offers a slew of additional tests – many of which use behind the scenes or in our earlier architectural analysis – but for now we'll stick to simple pixel and texel fillrates.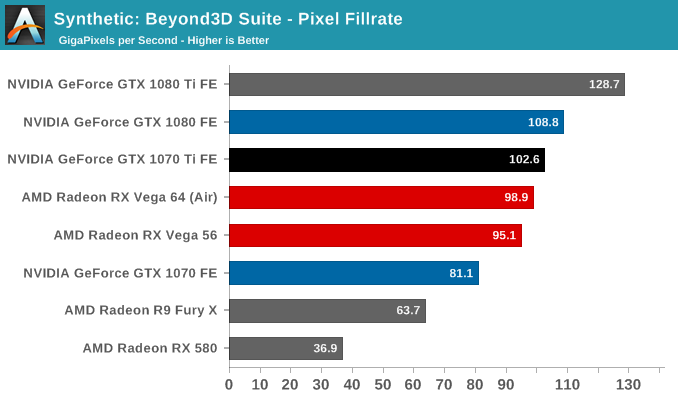 The pixel fillrate test is actually one of the more interesting results we have in today's review. While the GTX 1070 Ti doesn't get any more ROP resources on paper, pixel fillrates are a combination of both ROP (backend) and rasterizer (frontend) output. And in the case of NVIDIA's architecture, rasterization is not fully decoupled from the SMs; which is to say there's some scaling going on. And actually, this was more than I was expecting, with the GTX 1070 Ti coming very close to the GTX 1080 despite the memory bandwidth disadvantage. Not unlike tessellation performance, we see the new card leapfrog both AMD Vega cards here, pushing over 100 Gigapixels per second. In general pixel throughput is still going to be what best differentiates the GTX 1080 from the GTX 1070 Ti, but in this low-level test the two are closer than I would have expected.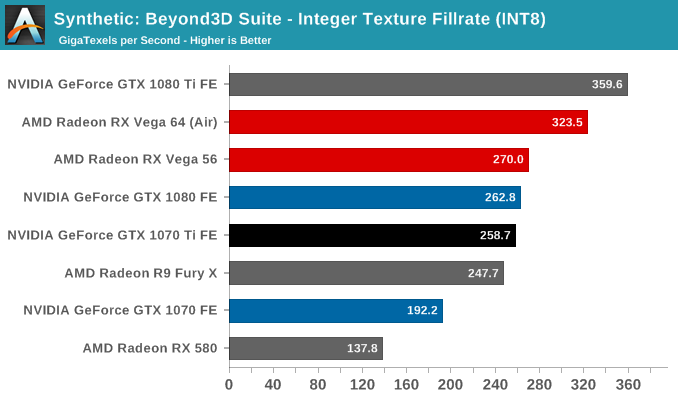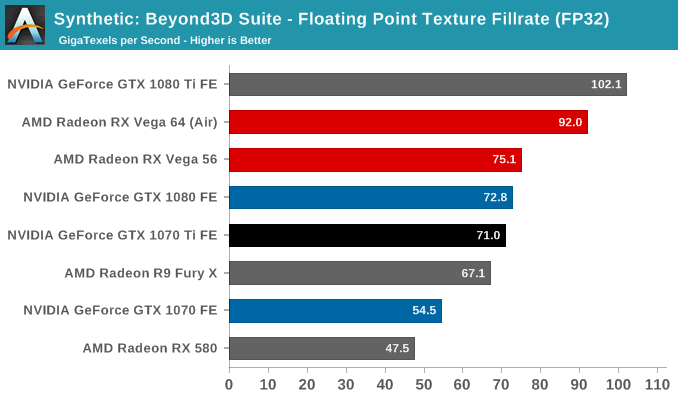 Finally, for texture throughput, we're once again looking at a scenario tightly-coupled with the SM count. As a result the GTX 1070 Ti can deliver texture throughput rates very close to the GTX 1080.