A Closer Look at SiS755
SiS755 is compatible with either Athlon64 or Opteron/Athlon64FX. The Reference Board is an Athlon64 board supporting Socket 754 A64 chips. Our reference board combined the 755 Northbridge with the 964 Southbridge, which adds many contemporary features.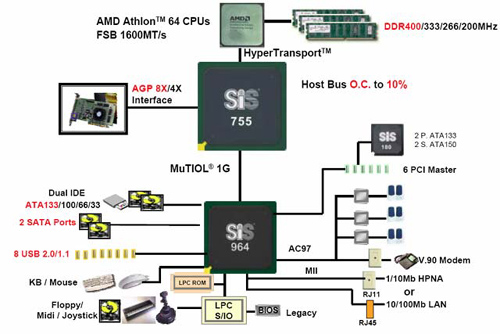 While the 755 can also be combined with the older 963L Southbridge — a combination you will see on cheaper solutions — the most competitive features are provided when the 964 is used. The 964 adds SATA RAID, increases USB ports to 8, and adds base code for "Hollywood Audio"-10/100 Ethernet-Modem.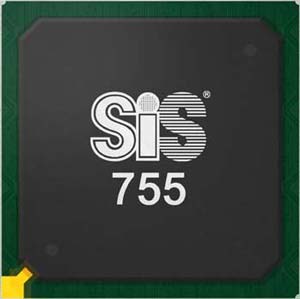 SiS755 Specifications
SiS Propriety Hyper Streaming Engine Architecture

"Low Latency" with Single stream
"Pipelining" and "Concurrent Execution" with Multiple streams
"Prioritized Channel" with Specific stream
"Smart flow control" and "Intelligent arbitration" with Smart stream



Host Interface Controller

Supports AMD Athlon 64/ Opteron CPUs
800/600/400/200 MHz Front-Side Bus
HyperTransport Technology with 8/16 links support
HyperTransport Technology up to 1600MT/s bandwidth



Support AGP 8X Interface

Support AGP 8X/4X Interface
Support Enhancements of AGP v3.0 Register Format
Support Fast Write Transaction



MuTIOL 1G Delivering 1GB/s Bandwidth

Proprietary Interconnect between SiS755 and SiS964
Bi-Directional 16-bit Data Bus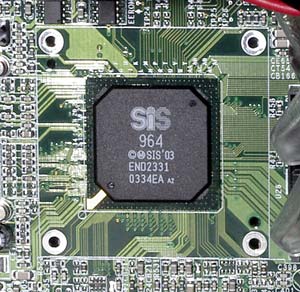 SiS964 MuTIOL 1G® Media I/O
MuTIOL 1G® Delivering 1GB/s Bandwidth

Proprietary Interconnect between SiS755 and SiS964
Bi-Directional 16-bit Data Bus



USB 2.0/1.1 Host Controller

One EHCI USB 2.0 Controller and three OHCI USB 1.1 Controllers
Support Total 8 USB 2.0/1.1 Ports
Support USB 2.0 High-Speed Device @480 Mb/s Transfer Rates



Serial ATA Host Controller

Two independent ports and flexible channel allocation
Compliant with Serial ATA 1.0 Specification
Support Ultra DMA 150
Support RAID 0, RAID 1 and JBOD configuration



PCI 2.3 Specification Compliance

Support up to 6 PCI Masters



Fast Ethernet/Home Networking Controller with MII Interface

Support 10/100Mb Fast Ethernet or 1/10Mb HomePNA 2.0 with External PHY



Audio/Modem Controllers with AC'97 Interface

AC'97 v2.3 Compliant
Support 6 Channels of AC'97 Speakers Out and v.90 HSP Modem



Advanced Power Management

ACPI 2.0 and APM 1.2 Compliant



Dual IDE Channels with Parallel ATA 133/100/66



LPC 1.1 Interface



Integrated RTC



Integrated Keyboard/PS2 Mouse Controller