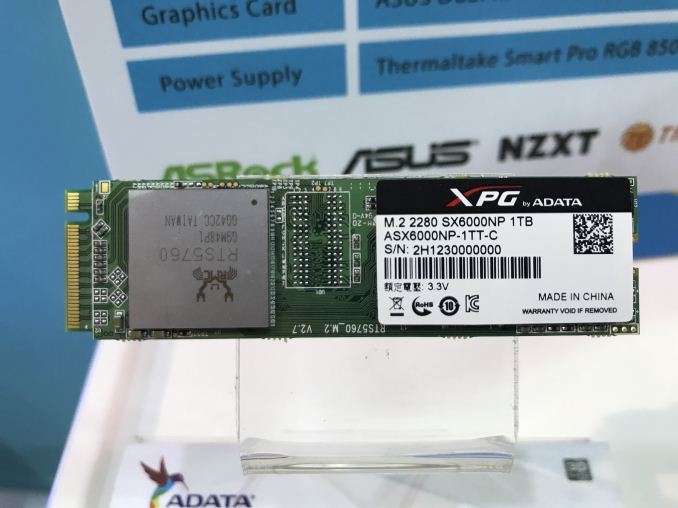 Update 11/2: ADATA notified us about the corrected MSRPs for the XPG SX6000 series SSDs, which are higher than the ones published.
ADATA has launched its new 3D TLC-based SSD, the XPG SX6000. The new drive is among the first in the industry to use Realtek's RTS5760 controller. The manufacturer positions the XPG SX6000 SSD as an entry-level enthusiast-class PCIe x2 solution that will be affordable but will offer higher performance than the drives featuring the SATA interface.
The market of SSD controllers (unlike the market of the drives) is not very crowded, but it is still very hard to enter. Many SSD suppliers these days either use proven solutions from well-known controller designs or simply tweak turnkey designs (from Phison, Silicon Motion, etc.). Realtek announced its first generation of SSD controllers in mid-2016, but so far, no one has adopted these ICs. SSD vendors need to test how well they work with the memory they have, and since the industry is in transition to 3D NAND, sometimes they just prefer to go with proven controllers. Being one of the largest independent makers of drives, ADATA is usually among the first to adopt the latest types of memory as well as experiment with new controllers. Earlier this year the company released a lineup of SSDs featuring controllers from Maxiotek and this month it is releasing the first drives based on Realtek's RTS5760.
ADATA has released three families of 3D NAND-based XPG-branded M.2 drives over the past several quarters: the SX7000, the SX8000 and the SX9000. The XPG SX6000 lineup complements the existing families and is aimed at the entry level of the market: it features the PCIe 3.0 x2 interface and is meant to replace SATA-based drives inside PCs for gamers with budget constraints. The interface is the limitation of the Realtek RTS5760 controller (four NAND channels, 8 CEs, PCIe 3.0 x2, NVMe 1.2, SLC caching, DRAM cache buffer support, etc.), but its performance should be enough for the particular storage devices.
ADATA's XPG SX6000 family of drives includes 128 GB, 256 GB, 512 GB and 1 TB models. The manufacturer claims that the drives featuring 256 GB and higher capacities offer up to 1000 MB/s sequential read speed as well as up to 800 MB/s sequential write speed. As for random performance, we are dealing with SSDs capable of 100K/110K random read/write IOPS. For those who would like to ensure high performance under high loads, ADATA will ship a heatsink in the box with the drives. When it comes to endurance and reliability, ADATA rates the 1 TB version of the XPG SX6000 for 600 TBW, two million hours MTBF and covers them with a five-year warranty.
ADATA XPG SX6000 Specifications
Capacity
128 GB
256 GB
512 GB
1 TB
Model Number
ASX6000NP-
128GT-C
ASX6000NP-
256GT-C
ASX6000NP-
512GT-C
ASX6000NP-
1TT-C
Controller
Realtek RTS5760
NAND Flash
3D TLC NAND
Form-Factor, Interface
M.2-2280, PCIe 3.0 x2, NVMe 1.2
Sequential Read
730 MB/s
1000 MB/s
Sequential Write
660 MB/s
800 MB/s
Random Read IOPS
65K IOPS
100K IOPS
Random Write IOPS
110K IOPS
110K IOPS
Pseudo-SLC Caching
Supported
DRAM Buffer
Yes, capacity unknown
TCG Opal Encryption
No
Power Management
Unknown
Warranty
5 years
MTBF
2,000,000 hours
TBW
75 TB
150 TB
300 TB
600 TB
MSRP
$79.99
$139.99
$199.99
$399.99
ADATA does not disclose what kind of 3D TLC NAND it uses for the XPG SX6000, but given the fact that the company is using a new controller, it would probably opt for familiar memory. That said, it is highly likely that ADATA uses Micron's 32-layer 3D TLC NAND, but that is something the company has not confirmed yet.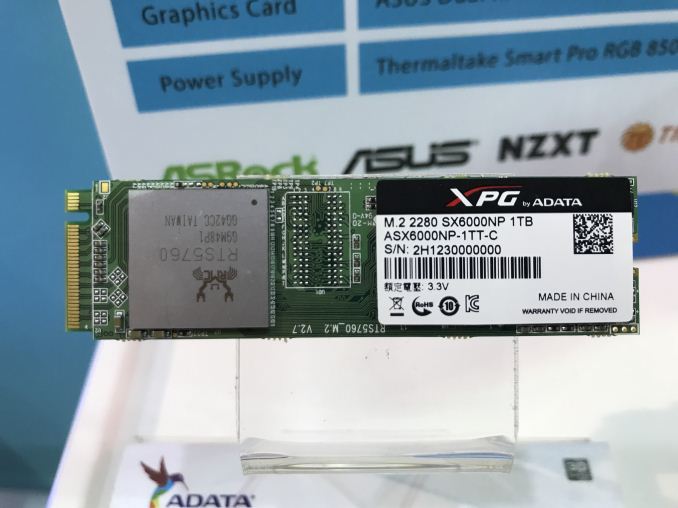 ADATA plans to start sales of the new XPG SX6000 drives with 128 GB, 256 GB and 512 GB capacity in the coming weeks at Amazon and Newegg. Other regions and the 1 TB model will follow. As for pricing, the MSRP of the entry-level model is set at $79.99, whereas the 512 GB version is priced at $199.99. The new MSRPs of the XPG SX6000 series drives make 128 GB and 256 GB versions of such SSDs competitors to the SX7000/SX8000 products from ADATA that have been on the market for a while and which actual prices have dropped compared to the original MSRPs. Over time, pricing of the XPG SX6000 will decrease, but right now such 128 GB and 256 GB drives look less competitive than the SX7000/SX8000-series SSDs of the same capacity (while the SX6000 128 GB looks good against the SX7000 128 GB, it is slower than the SX8000 128 GB, at least on paper).
Brief Comparison of 3D NAND-Based ADATA XPG M.2 SSDs
SX6000
SX7000
Gammix S10
SX8000
Controller
Realtek RTS5760
SMI SM2260
NAND Flash
3D TLC NAND
3D MLC NAND
Interface
PCIe 3.0 x2
PCIe 3.0 x4
Sequential Read
128 GB
730 MB/s
660 MB/s
1000 MB/s
256 GB
1000 MB/s
1370 MB/s
2000 MB/s
512 GB
1750 MB/s
2400 MB/s
Sequential Write
128 GB
660 MB/s
450 MB/s
300 MB/s
256 GB
800 MB/s
820 MB/s
600 MB/s
512 GB
860 MB/s
1000 MB/s
MSRP/Actual Pricing
128 GB
$80
$75
$80
256 GB
$140
$110
$120
512 GB
$200
$240
$228
1 TB
$400
$460
$500
Related Reading
Source: ADATA