AnandTech Storage Bench - Heavy
Our Heavy storage benchmark is proportionally more write-heavy than The Destroyer, but much shorter overall. The total writes in the Heavy test aren't enough to fill the drive, so performance never drops down to steady state. This test is far more representative of a power user's day to day usage, and is heavily influenced by the drive's peak performance. The Heavy workload test details can be found here. This test is run twice, once on a freshly erased drive and once after filling the drive with sequential writes.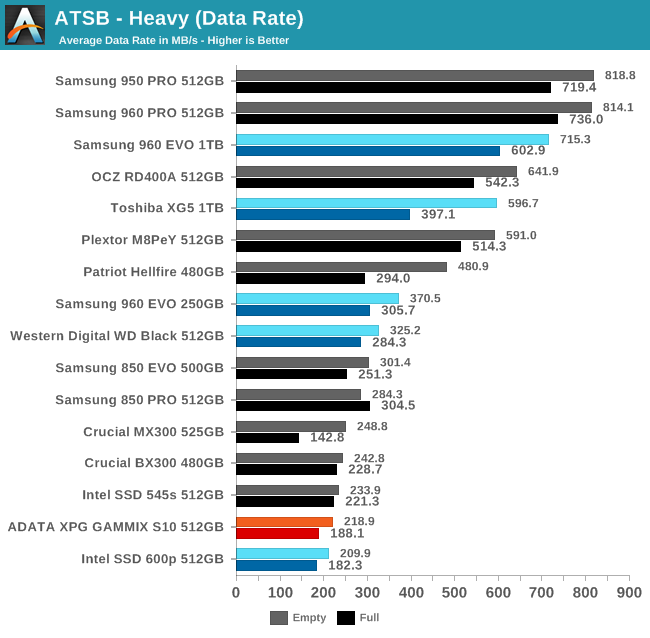 The ADATA XPG GAMMIX S10 doesn't handle the Heavy test much better than the Intel 600p did. Both deliver a lower average data rate than many SATA SSDs.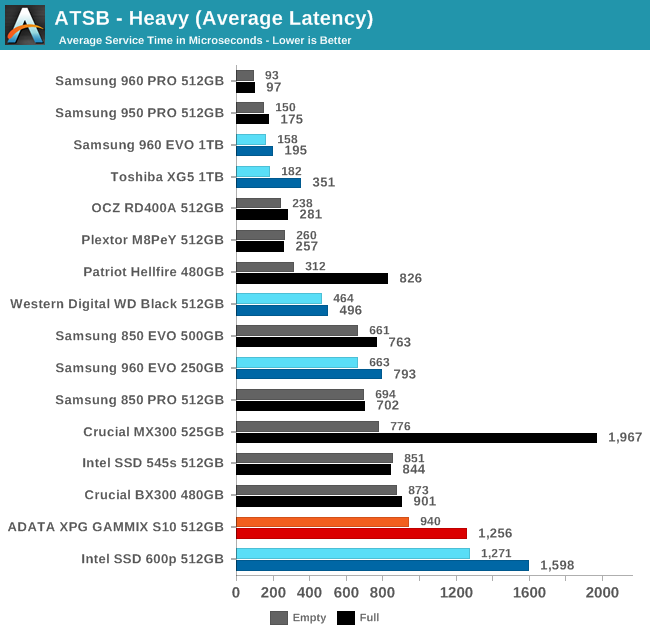 Both the average and 99th percentile latency scores of the GAMMIX S10 on the Heavy test are a clear improvement over the Intel 600p, but both drives are behind mainstream SATA drives and even further behind the TLC NVMe competition.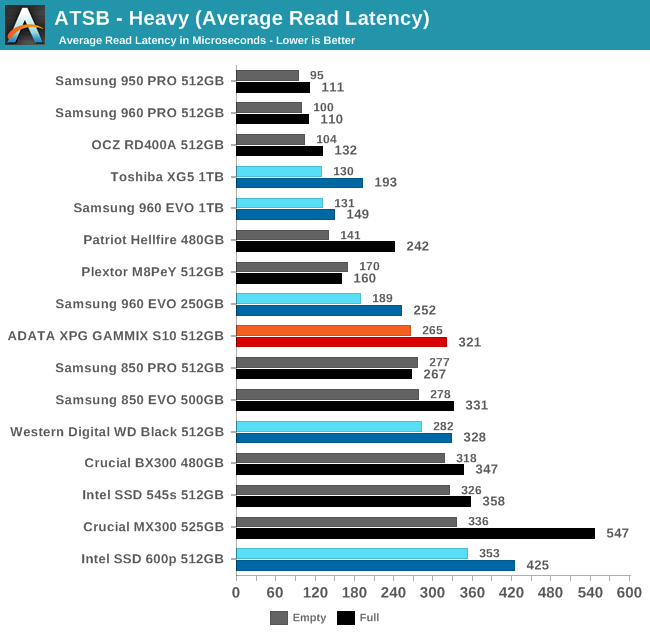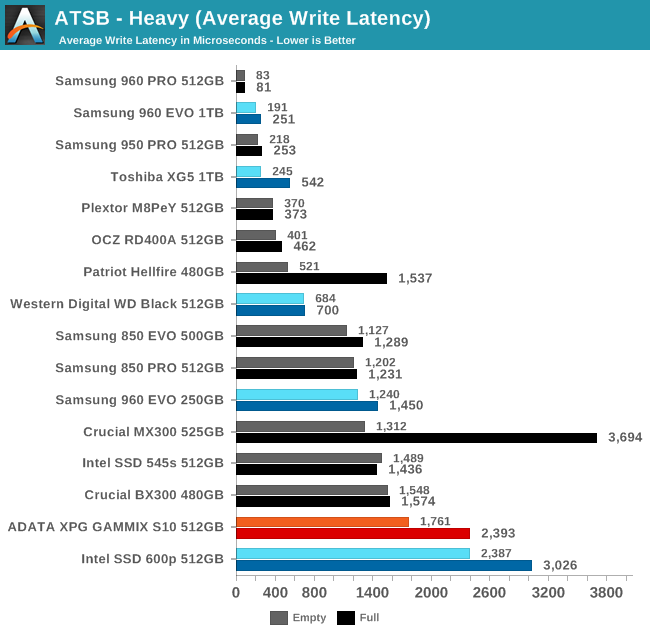 The average read latency of the GAMMIX S10 is slightly better than most SATA SSDs, but substantially higher than the typical NVMe SSD. The average write latency is more of a problem, as it is generally higher than mainstream SATA SSDs.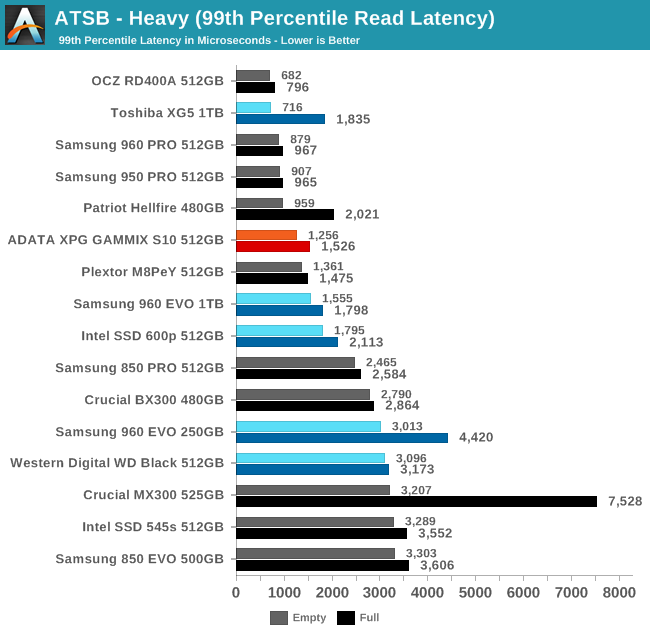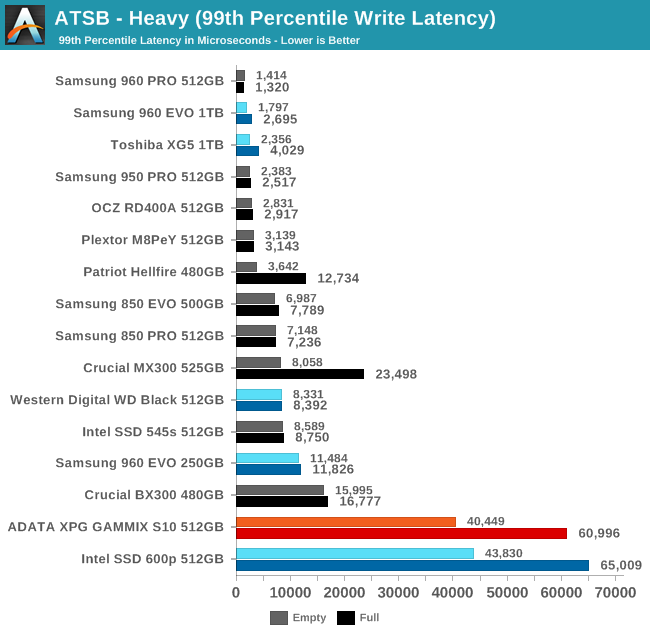 The 99th percentile read latency of the GAMMIX S10 is good, beating some MLC-based NVMe SSDs and any SATA SSD. The 99th percentile write latency is only slightly better than the Intel 600p, and both have a serious problem with controlling write latency.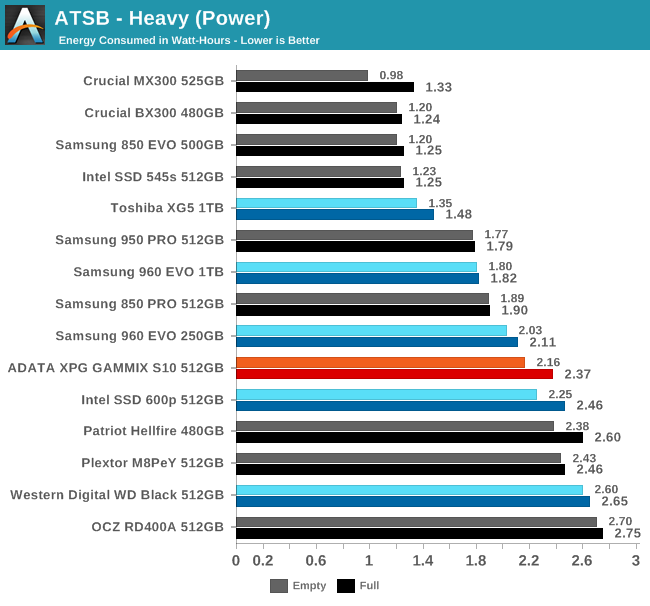 The power consumption of the GAMMIX S10 on the Heavy test is typical for most NVMe SSDs. Good SATA SSDs use much less energy over the course of the test, but few current NVMe SSDs can match the efficiency of SATA, and the GAMMIX S10 isn't one of them.