Wallmount, Swivel, Pivot & Cable Management
How many of you remember the pivot feature on the
191T LCD
that we reviewed last year? That's right — Dell brought this feature back in the 2001FP. The original Samsung 191T was pivotable, but fairly awkward. The 191T cable management provided difficulties when attempting to pivot the unit. Dell took a slightly different approach to this problem, but essentially reevaluated the stand of the LCD in the form of a primitive universal joint.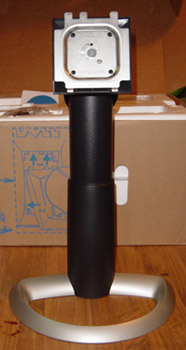 Click to enlarge.
Dell's first move was to build the monitor in two separate pieces; the mount and the screen are two totally separate units. The screen has a receptacle for a standard 100mm VESA wall mount, but can be interchanged with the stand. Interchanging the stand with a VESA wall mount was very simple and requires no tools. Dell deserves some extra credit points here. It sounds obvious, but believe us, not many monitors are built this way. As you can see below, the stand allows a swivel of about 50 degrees left and right, as well as a 90 degree pivot clockwise. A small button locks the monitor in place in either landscape or letter pivot mode.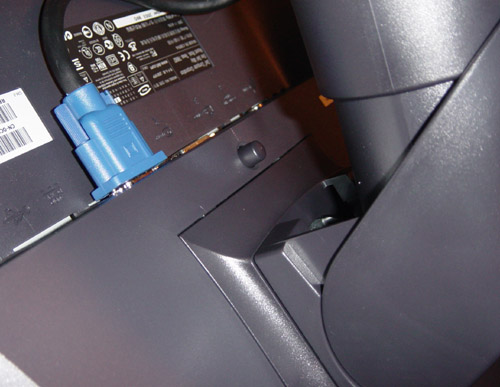 All of the inputs are fed into the LCD under the stand mount. This is acceptable, but not particularly thrilling.
Samsung's 192T
, arguably, has the best cable management, with the interfaces all running down the inside of the stand. Dell's whole stand can be folded into VESA compatible mount point. On one hand, we enjoy the fact that Dell set the monitor up to be easily interchanged with a VESA arm, but on the other hand, we miss the extremely simple cable management on the 192T.
As somewhat of an unusual move, the 2001FP has a small cable holster at the base of the stand. Good intentions, but poor foresight. Any premium VGA or DVI cable has an insulator a few inches from the end, and usually, this happens to be the same linear distance as the cable holster on the bezel. This is fine if you keep the monitor stationary, but if you pivot the screen, the cable instantly snags on the holster. This, therefore, makes the holster useless.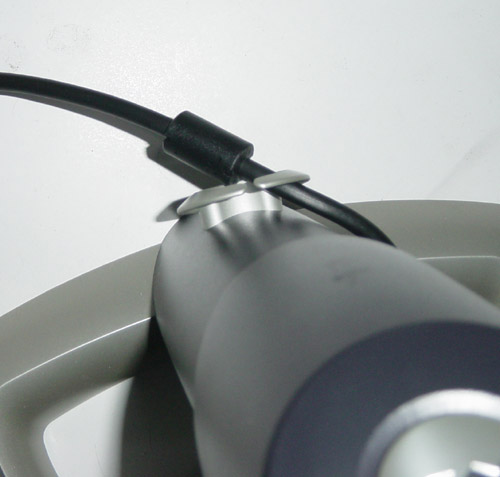 We would further like to note that even if you do not use the holster, the monitor can still be a slight pain to rotate. It needs to be tilted slightly before pivoting because there is not enough clearance between the monitor base and the screen bezel to come all the way around in an upright position.