Abit KV8-MAX3: Basic Features
 Motherboard Specifications
CPU Interface
Socket 754 Athlon64
Chipset
VIA K8T800/VIA VT8237
Bus Speeds
200MHz to 300MHz (in 1MHz increments)
PCI/AGP Speeds
None. Multipliers reset to 66/33 at 233, 266, and possibly other frequencies
Available CPU Ratios
Auto & Adjustable. Adjustment for unlocked CPU could not be tested
Core Voltage
Normal, +0 to +350mV (+0.35V) in .001V increments
DRAM Voltage
Normal, 2.50V to 3.20V in 0.05V increments
AGP Voltage
1.5V, 1.55V, 1.6V, 1.65V
Hypertransport Voltage
1.20V to 1.40V in .05V increments
Memory Slots
Three 184-pin DDR DIMM Slots
Single-Channel Configuration
Regular Unbuffered Memory to 2GB Total
Expansion Slots
1 AGP 8X Slot
5 PCI Slots
Onboard Serial ATA RAID
VIA 8237 (2 Drives, 0, 1)
Silicon Image Sil3114 (4 drives, 0, 1, 0+1)
Onboard IDE RAID
Two Standard ATA133/100/66 (4 drives)
Onboard USB 2.0/IEEE-1394
8 USB 2.0 ports supported by 8237
3 x 1394a FireWire ports
Onboard LAN
3Com Gigabit LAN
Onboard Audio
Realtek ALC658 codec AC '97 2.3
6-Channel with UAJ
BIOS Revision
Release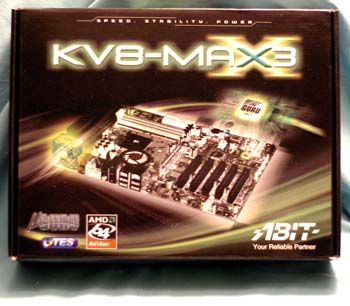 The MAX Series name is used for Abit's top motherboards, and the packaging tries to communicate that status. The unusual interior packaging, with separate boxes for the cables and manuals, continues a design that started with the IC7 series. As the top Athlon64 board, the Abit KV8-MAX3 includes just about ever option that you will find on an Abit board.

As a MAX series board, you will
not
find a traditional Parallel port or Serial ports on the KV8-MAX3. Abit has brought back PS2 keyboard and mouse ports on recent MAX boards, but if legacy Parallel or Serial are a requirement, you will need to look elsewhere. The very full back panel does include 4 USB 2.0 ports, SPDIF in and out, 5 individual mini jacks for 6 speakers plus mic and line, Gigabit LAN, Firewire, the PS2 ports, and a rear facing fan to exhaust heat from the OTES system.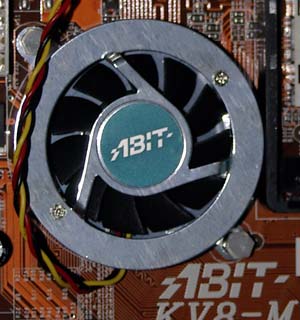 The VIA K8T800 is a traditional Northbridge/Southbridge chipset. Active cooling is used on the Northbridge to keep the chipset cool. The 8237 Southbridge has much less to do with the memory controller on the Athlon64 chip, and does not provide any cooling. The Southbridge remained cool during benchmarking.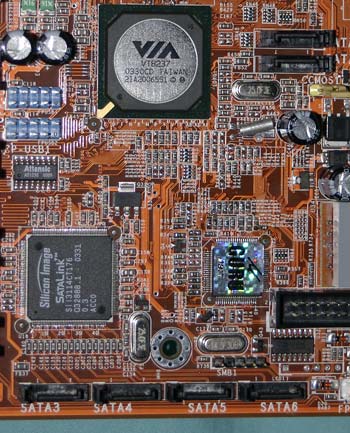 The KV8-MAX3 provides huge support for SATA drives with support for 2 drives by the VIA 8237 and an additional 4 SATA drives supported by the Silicon Image 3114 controller. Both controllers support SATA RAID in addition to regular SATA drive support. There are no on-board provisions for IDE RAID — a concession to market moves from IDE to SATA.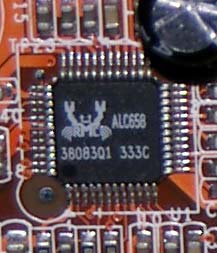 The KV8-MAX3 uses the newest and best version of the Realtek audio codec called ALC658. This audio chip features Dolby Digital 6-channel sound and UAJ or Universal Audio Jack. This allows automatic jack programming as we've seen on some boards based on Intel's 865/875 chipsets. Realtek markets the ALC658 as a premium sound solution, and their first 2.3 compliant audio codec. Realtek says:
The ALC658 has six 20-bit DAC channels, two pairs of stereo 18-bit ADC, and an AC'97 2.3 compatible six-channel audio CODEC designed for PC multimedia systems. The ALC658 incorporates proprietary converter technology to achieve 100dB sound quality, meeting performance requirements on PC99/2001 systems and placing PC sound quality at the same level as consumer equipment.
More information on the features and specifications of ALC658 is available at
Realtek
.
If you have Dolby digital capabilities, SPDIF input and output is provided by optical jacks on the rear IO panel. Optical only SPDIF is provided — there are no jacks for coaxial SPDIF. The 5 rear panel mini jacks allow a full 4- to 6-powered speaker arrangement, while still leaving usable microphone and audio input capabilities. Many motherboards must program the rear-panel jacks and use the mic and input jacks for a 6-speaker setup. The ability to use six speakers, mic, and audio input is a nice feature.
In addition to the 4 USB 2.0 ports on the rear I/O panel, Abit provides an accessory bracket with two more USB 2.0 ports and 2 Firewire ports (one standard and one mini). Many users have front USB ports on their cases and the combo USB/firewire bracket may be their only added ports. It is nice to see the extra ports combined on one bracket to minimize the clutter caused by many individual brackets.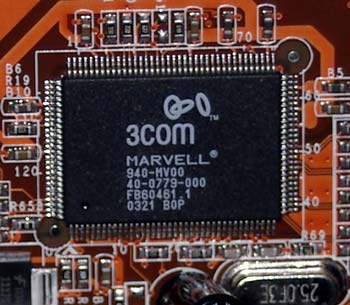 The KV8-MAX3 includes 3Com Gigabit LAN. As LAN connections have moved from added cards to an on-board feature, it appears that 3Com is now actively providing LAN chips to board manufacturers. It was not long ago that 3Com was only available as a premium add-in LAN card.
Abit has pioneered many of the overclocking options that we now take for granted. As a result, they were one of the first manufacturers to pay close attention to power regulation and grounding on their boards. We were, therefore, not surprised to see a 4-phase power design hidden beneath the OTES shroud on the MAX3. This should help provide stability for the board, which helps everyday operation as well as overclocking.

Three DIMM slots support standard unbuffered Single-Channel memory. Abit did not provide warnings or unusual DIMM-slot specs as we have seen on other Athlon64 boards. As we have already demonstrated in our launch articles on the Athlon64 and Athlon64FX processors, Dual-Channel memory provides only a small benefit on the A64 platform. The real memory performance difference between single and dual-channel is small and not comparable to the large performance differences that we see on the bandwidth-hungry Pentium 4. 1, 2 or 3 DIMMs can be installed to a maximum of 2GB.