ASUS ROG STRIX Z370-I Gaming
Having spoken to ASUS at a recent event, there are no current plans to release a new Maximus Impact ITX offering to the market on Z370, so users specifically looking for an ASUS option will have to make do with the Strix Z370-I Gaming for the smaller form factor.
With this being an ITX form factor motherboard, certain and very obvious sacrifices have been made to cut down the size, but aside from fewer PCIe slots and a couple of SATA ports having been removed, the feature set is certainly far from small. The Z370-I has a single full-length PCIe 3.0 x16 slot which features the SafeSlot reinforcement, and in design terms, it is very similar to the Z370-E in styling and features new light silver metallic heat sinks.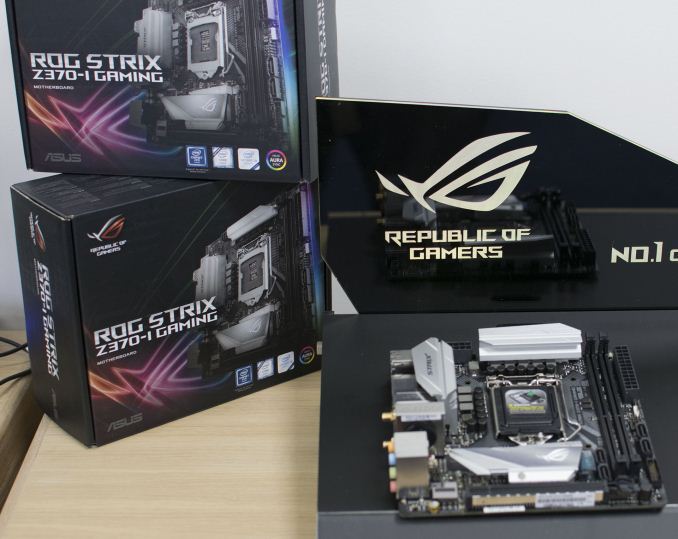 Only two full-size memory slots can realistically fit onto an ITX form factor board - in recent years we have seen motherboard vendors push one memory slot per channel (1 DPC) designs on ATX boards as they can afford better performance through higher frequency margins, and ITX boards can get these benefits naturally: ASUS have rated the Strix Z370-I Gaming highly with support for up to DDR4-4333, memory controller on the CPU depending.
With storage, the Z370-I Gaming has four SATA ports, which are set upright out of the board with a pair on the edge outside of the DRAM and the second pair just inside, with this latter group potentially affected by large memory heatsinks, a large GPU cooler backplate, or a large CPU cooler. There is also two M.2 PCIe 3.0 x4 slots, one of which is neatly tucked under the main silver heat sink, and the other is placed on the rear of the board.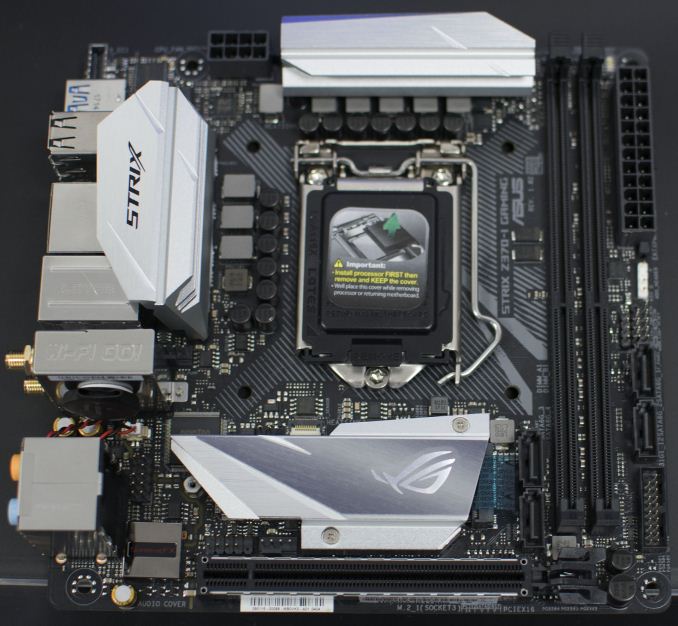 For audio, the Strix Z370-I Gaming like all the other Strix and Maximus Z370 boards utilizes the Realtek ALC1220 codec. The audio PCB segment uses gold Nichon Japanese audio capacitors, and the codec features a small EMI shield to protect from interference. Video support on the rear comes via DisplayPort and HDMI, and networking from an Intel I219-V gigabit Ethernet controller and an 802.11ac WiFi module.

The rear IO board has three USB 3.1 10 Gbps Type-A ports, a Type-C port, and four USB 2.0 Type-A ports. Headers on the board offer another USB 3.1 10Gbps port and four USB 2.0 ports. The small ITX form factor isn't known for being rich in the way of fan headers, and on this board there are two regular 4-pin fan headers, a single header dedicated to AIO CPU coolers. There is also a single thermal sensor header.
It might be strange to think that ASUS ROG has started omitting Maximus Impact boards from the range - it would mean that ASUS has shifted focus away from high-performance ITX motherboards. The Impact boards were always over-engineered, which might be related to the delay, or ASUS might be saving it depending on market potential.