ASUS ROG Z370 Maximus X Apex
Also in the stack is the heavily overclocking focused ASUS ROG Maximus X Apex. The most insane of enthusiasts and performance connoisseurs will be happy to know that the Z370 Maximus X Apex picks up exactly from where the Z270 variant left off. The main reason for selecting an Apex doesn't exactly stop at extreme overclockers, but for the Z370 chipset, ASUS Republic of Gamers has gone all-out in cramming many key and feature rich performance components.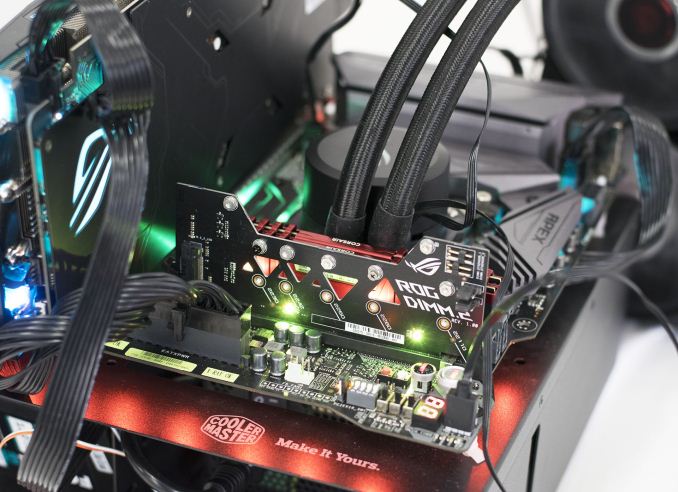 The Apex won't be available immediately at launch, but should hit the shelves in late October. In the overclocking theme, this is the only ROG board to feature dual 8pin EPS12V inputs out of the entire range. The Apex only supports one memory stick per channel, leaving it with a maximum support of 32GB, but this maximizes the memory overclocking capabilities as the slots have shorter tracks than regular E-ATX/ATX sized motherboards to ensure maximum performance and lower latencies between the CPU and memory.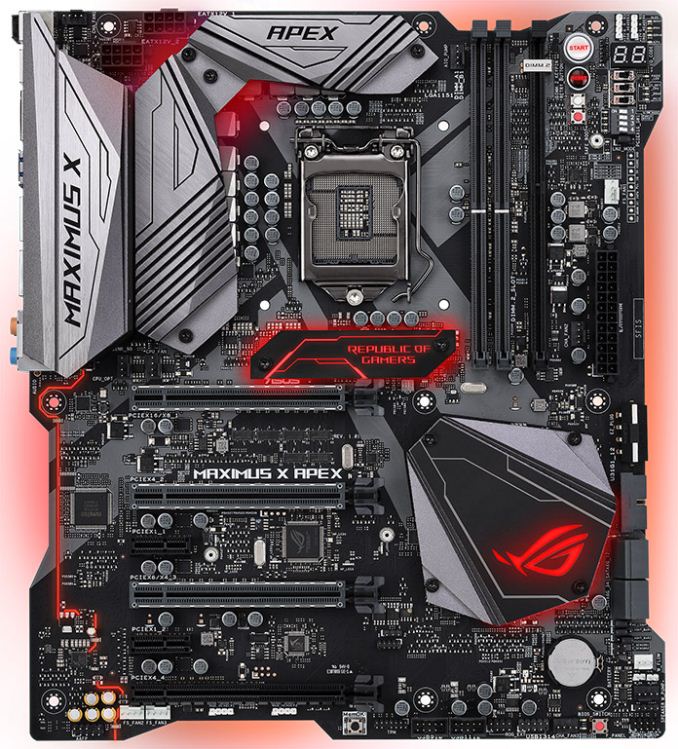 A plethora of full-length PCIe 3.0 ports are featured, with the first three supporting an x16, x8/x8 and x8/x4/x4 configurations, with an additional full-length PCIe slot at the bottom taking lanes directly from the chipset and running at x4. This means support for 2-way SLI (x8/x8) and up to 4-way Crossfire (x8/x4/x4 + x4).
A single DIMM.2 slot is located directly to the right of the dual memory slots, and allows for installation of up to two M.2 NVMe x4 high-speed SSDs connected via the chipset. The DIMM.2 feature is designed to save physical space on the motherboard by mounting the drives vertically. On the storage side, along with the DIMM.2 slot, only four SATA 6Gbps ports are included as opposed to the regular six you would find on a full-sized option. If that wasn't enough, the overall form factor of the board is Extended ATX (EATX) rather than ATX. For design, the E-ATX layout has the same X-shaped PCB as the previous generation of Apex motherboard (Maximus IX Z270).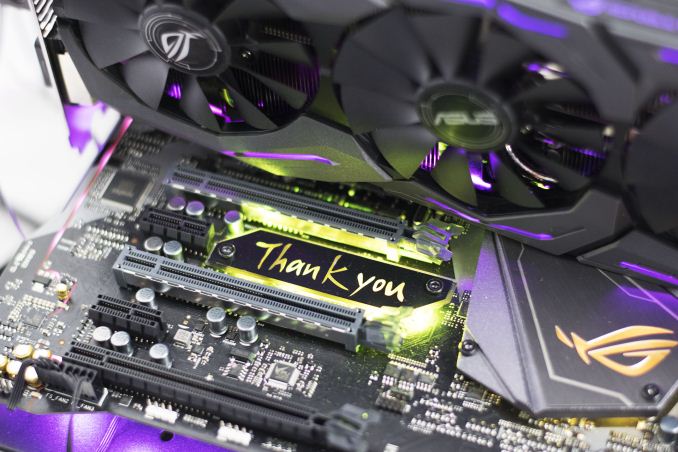 Touching on aesthetics, the board has a grey and black contrasting look with RGB hailing from the chipset heatsink and the central placed ROG plate, to which ASUS included an additional plate for name customization (as shown above). The customizable RGB lighting also runs down the left-hand size of the tracks from the SupremeFX S1220A audio codec, all the way up and under the large metal power delivery heat sink.
As you would expect with any premium performance board, there are cooling options aplenty. Five regular 4-pin headers, two pump headers, and a flow header (including one specifically for AIO coolers) have been included. A total of three full speed fan headers have been implemented allowing the use of high-speed fans for directing nitrogen vapor away from the PCB (during extreme overclocking) as well as helping to cool secondary components such as chipset and memory. A combination of thermal sensor headers are also present, with two regular headers and two specific to liquid cooling.
To the direct right of the memory is a DIMM.2 slot which allows the use of dual M.2 SSDs and has support to mount a cooling fan, which in turn should lower temperatures on NVMe x4 drives. Staying in the same area at the top right hand of the board, ASUS has included something they like to call the Overclockers Toolkit. What this consists of is a range of switches, buttons and even a very handy Q-Core for debugging. Switches for slow mode, one for enabling LN2 mode, and one for an RSVD (cold boot bug) have been included making this a strong contender for one of the most capable overclocking boards available on Intel's 8th Gen/Coffee Lake CPUs. Probably the most sophisticated feature of all is the integrated condensation detection within the PCB which enables overclockers using extreme methods such as Liquid Nitrogen (LN2) to debug runs and prevent component death due to condensation or water which could be sitting and waiting to short the components.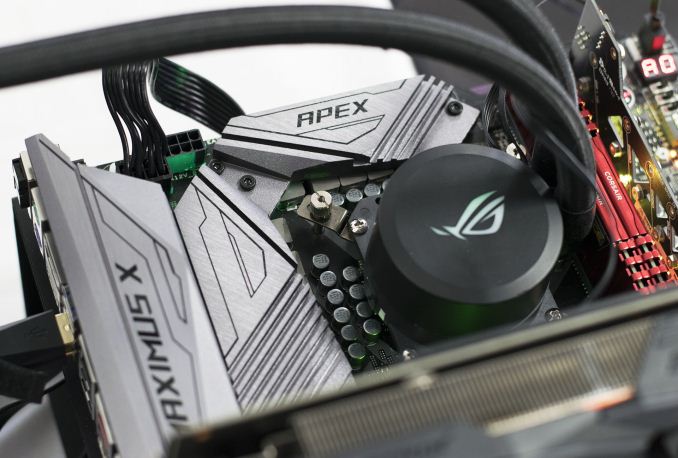 An interesting addition, and one to satisfy enthusiasts, is the inclusion of two ethernet ports. One of these is the standard Intel I219-V gigabit Ethernet, but ASUS also added an Aquantia AQC-108 high-end 5G port. Also included is a SupremeFX S1220A audio codec based on Realtek's ALC1220 codec, although on this board it does not come covered with EMI shielding, but does have a wave of gold Nichon gold Japanese capacitors and PCB separation.
The rear I/O is stacked, with six USB 3.1 (5 Gbps) ports and an ASMedia controlled USB 3.1 (10 Gbps) Type-A and Type-C present. There are no USB 2.0 ports present on the back, but the inclusion of three front panel headers offer up to six USB 2.0 ports in total. Overclockers will be happy thanks to two PS/2 ports nestled on the I/O with a separate port for mouse AND keyboard. It wouldn't be an overclocking focused board without a clear CMOS button and BIOS Flashback button which can come in handy, especially with one of the USB 3.1 (5 Gbps) ports being dedicated to this job. Finishing off is a set of 3.5mm audio jacks and single HDMI port for the processor integrated graphics.
The ASUS ROG Z370 Maximus X Apex aims to be a premium option for power users that want to maximise their memory performance. This board is going to pique the interest from enthusiasts and gamers due to the included features, but extreme overclockers may take an issue to all these unnecessary non-OC features.