Mixed Random Performance
Our test of mixed random reads and writes covers mixes varying from pure reads to pure writes at 10% increments. Each mix is tested for up to 1 minute or 32GB of data transferred. The test is conducted with a queue depth of 4, and is limited to a 64GB span of the drive. In between each mix, the drive is given idle time of up to one minute so that the overall duty cycle is 50%.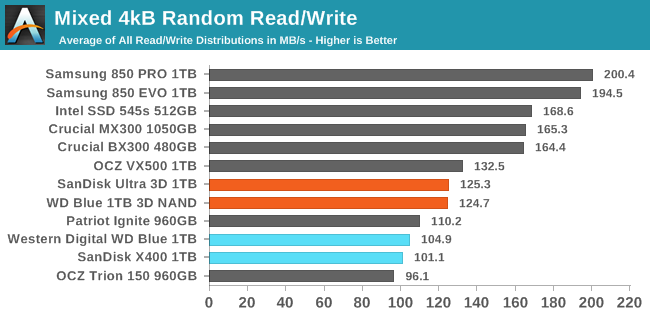 Orange is for the new drives, Blue is for the previous generation models
The mixed random I/O performance of the WD Blue 3D NAND and the SanDisk Ultra 3D is significantly better than the previous generation, but the improvement is not enough to match any of the other 3D NAND SSDs. The Samsung, Intel and Micron drives with 3D NAND are all still much faster overall on this test.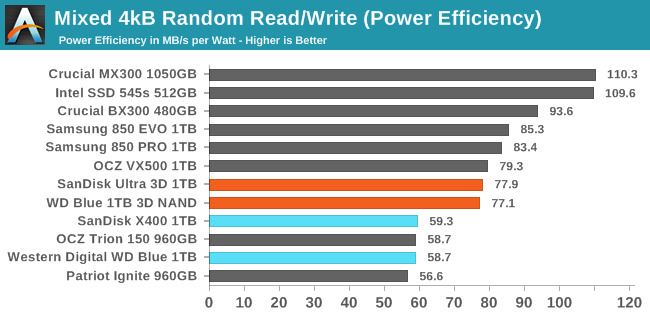 The power efficiency of the WD/SanDisk drives has improved to a larger degree than performance, but is still slightly worse than Samsung's 850 EVO and 850 PRO, and is far lower than the Crucial MX300 and the Intel 545s.
Both generations of WD/SanDisk drives show fairly flat performance across most of the mixed random I/O test, with only a modest spike at the end when the workload shifts to pure random writes. Most of the other drives either have steady performance increases across the test as the proportion of writes grows, or a much larger spike in performance at the very end.
Mixed Sequential Performance
Our test of mixed sequential reads and writes differs from the mixed random I/O test by performing 128kB sequential accesses rather than 4kB accesses at random locations, and the sequential test is conducted at queue depth 1. The range of mixes tested is the same, and the timing and limits on data transfers are also the same as above.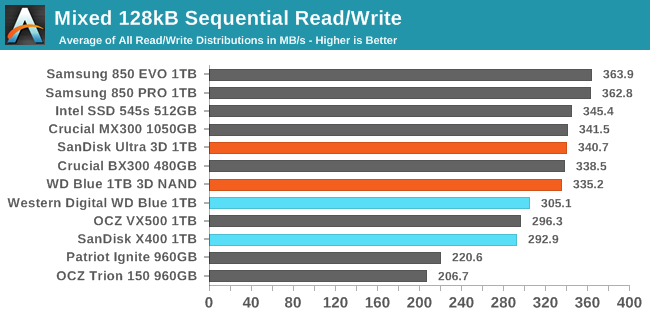 The mixed sequential I/O performance of the WD Blue 3D NAND and SanDisk Ultra 3D is comparable to the Intel and Micron 3D NAND drives, and only slightly behind Samsung's 850 PRO and 850 EVO.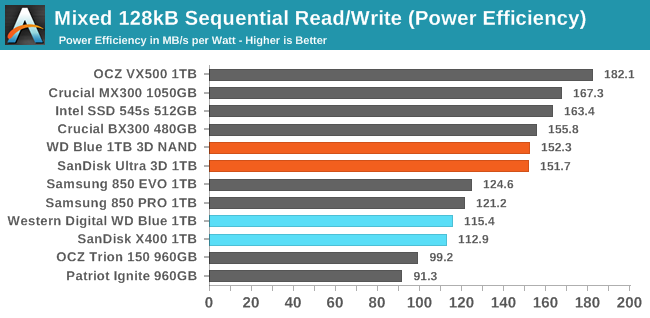 The new WD/SanDisk drives have good power efficiency on the mixed sequential I/O test, but the Intel/Micron 3D NAND SSDs are still slightly better, and the OCZ VX500 is still on top.
The performance of the WD Blue 3D NAND and SanDisk Ultra 3D across the mixed sequential I/O test is mostly flat, with the occasional blip. The Samsung drives achieve their standout performance by maintaining better performance through the read-heavy first half of the test, and only experiencing a relatively short and shallow drop in performance during the second half of the test. The Crucial MX300 achieves a very similar overall average to the WD/SanDisk drives but with relatively lower performance during the read-heavy portions of the test and clearly higher performance on the write-heavy half.