Random Read Performance
Our first test of random read performance uses very short bursts of operations issued one at a time with no queuing. The drives are given enough idle time between bursts to yield an overall duty cycle of 20%, so thermal throttling is impossible. Each burst consists of a total of 32MB of 4kB random reads, from a 16GB span of the disk. The total data read is 1GB.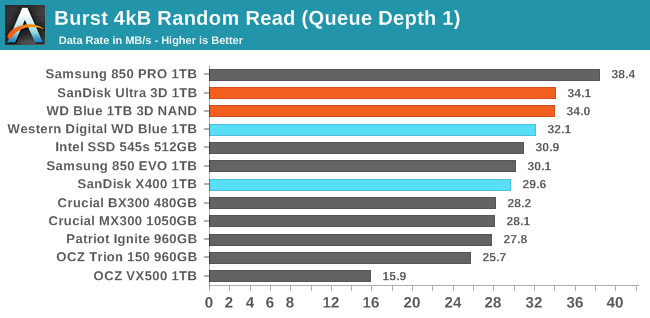 Orange is for the new drives, Blue is for the previous generation models
The switch to 3D NAND gives a clear boost to the random read performance of Western Digital's SSDs. The WD Blue was already in second place, but it has now narrowed the Samsung 850 PRO's lead.
Our sustained random read performance is similar to the random read test from our 2015 test suite: queue depths from 1 to 32 are tested, and the average performance and power efficiency across QD1, QD2 and QD4 are reported as the primary scores. Each queue depth is tested for one minute or 32GB of data transferred, whichever is shorter. After each queue depth is tested, the drive is given up to one minute to cool off so that the higher queue depths are unlikely to be affected by accumulated heat build-up. The individual read operations are again 4kB, and cover a 64GB span of the drive.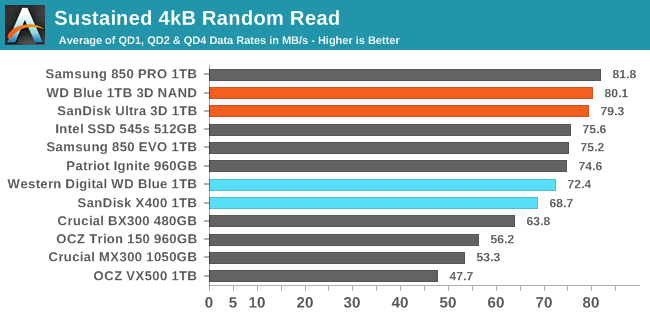 The performance boost from 3D NAND doesn't disappear on the longer random read test: the new Western Digital SSDs are able to hold on to second place, this time much closer to the Samsung 850 PRO in performance.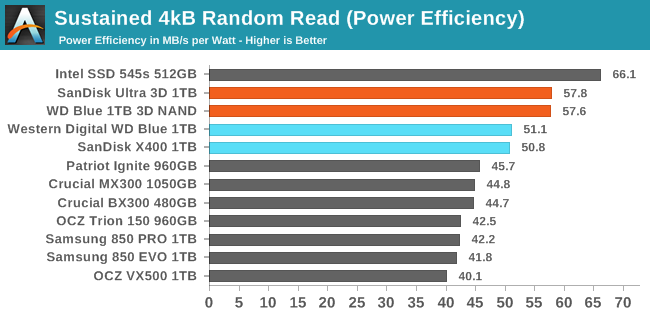 The WD/SanDisk drives already had great power efficiency for random reads, but the 3D NAND improves it even more. The Intel 545s still has the clear lead, but it isn't such a wide margin anymore.
The performance scaling behavior of the SanDisk Ultra 3D and WD Blue 3D NAND are quite similar to other top-performing drives, with performance mostly saturated by QD16. The power consumption is much lower and scales more gradually than on Samsung's drives.
Random Write Performance
Our test of random write burst performance is structured similarly to the random read burst test, but each burst is only 4MB and the total test length is 128MB. The 4kB random write operations are distributed over a 16GB span of the drive, and the operations are issued one at a time with no queuing.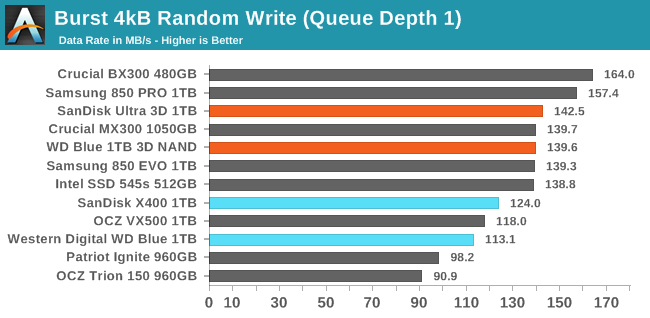 The older WD/SanDisk drives had some trouble with QD1 burst random write performance, but the new 3D NAND drives are as fast as any other TLC SATA SSDs on this test, and not too far behind the 3D MLC drives.
As with the sustained random read test, our sustained 4kB random write test runs for up to one minute or 32GB per queue depth, covering a 64GB span of the drive and giving the drive up to 1 minute of idle time between queue depths to allow for write caches to be flushed and for the drive to cool down.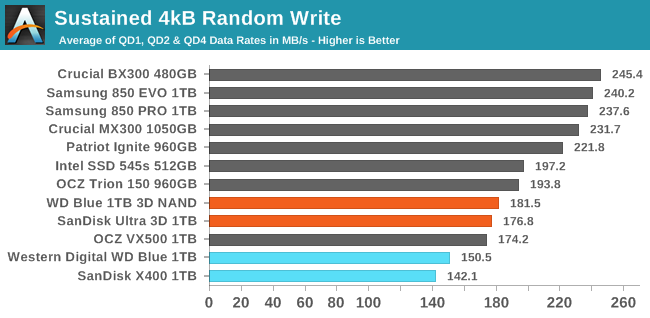 On the longer test that brings in higher queue depths, the WD and SanDisk drives still fare poorly even with 3D NAND. Toshiba manages to deliver a better score with their OCZ Trion 150 using 15nm planar TLC, even though the Trion 150 was in last place for QD1 random write performance.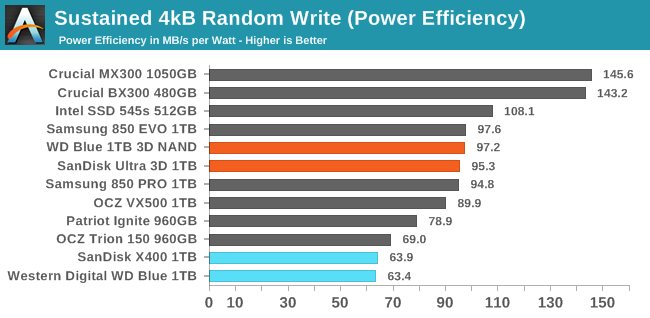 In spite of poor performance, the WD and SanDisk 3D NAND drives have good power efficiency that is on par with Samsung, but behind the Intel and Micron 3D NAND SSDs.
Most of these SSDs reach their full random write performance by QD4 and don't gain anything from higher queue depths. The WD Blue 3D NAND and SanDisk Ultra 3D fit this description too, but with a remarkably sub-par performance at saturation.