Gigabyte K8NNXP-940: BIOS and Overclocking
When we first looked at the Gigabyte pre-release BIOS, we were frankly disappointed. The board did not yield much better performance than the Athlon64 boards we had tested and it was missing the multiplier-unlocking feature. What a difference when we received the shipping F1 BIOS, which managed dramatic leaps in performance and the best Multiplier or Ratio settings that we have seen on an Athlon64 FX board. Considering that this is the first "release" version of the Gigabyte BIOS, we are looking forward to what additional performance Gigabyte may be able to coax from this board in future BIOS revisions.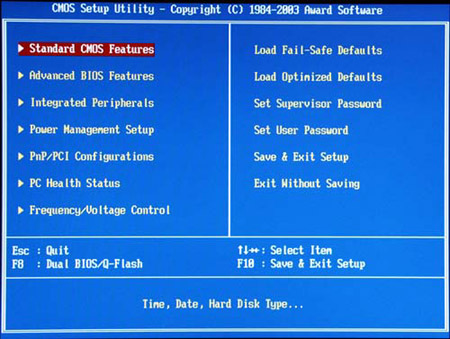 The K8NNXP-940 uses the familiar Award BIOS, though it will take us all a while to get used to the new options available on HyperTransport boards. Gigabyte also leaves memory timings off their basic BIOS screen, as they have on other recently-released boards.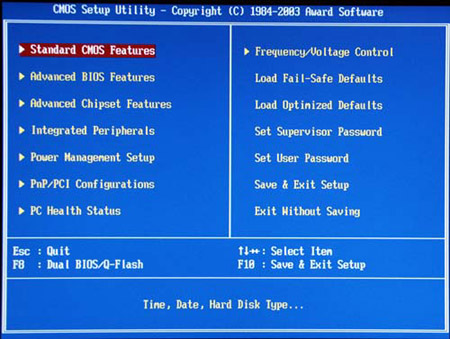 The Advanced Chipset Features are there — hidden — and you have to enter BIOS with DEL, then hit CTRL+F1 to bring up the hidden menu. We understand why Gigabyte might choose to do this on mainstream boards, but no one would ever accuse the expensive FX51, which requires expensive Registered memory, of being a mainstream choice. Users who will buy the K8NNXP-940 are enthusiasts, and they hardly need to be protected from themselves with a hidden memory timings menu. Gigabyte really needs to rethink this annoying feature, because all it does is create confusion.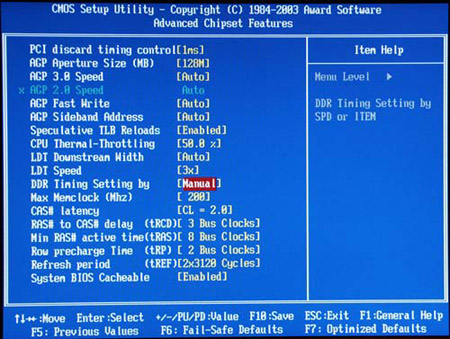 Once you have found the Advanced Chipset Features, you will see a complete selection of memory-tweaking options. The LDT option allows changing Hypertransport speed, and we suggest you leave it alone. When we set LDT to 4.0 (800/1600), it promptly locked the system on reboot. Memory can be left at Auto, which reads the SPD and sets timings, or you can force a memory speed of 100, 133, 150, 166, or 200 representing DDR200 to DDR400.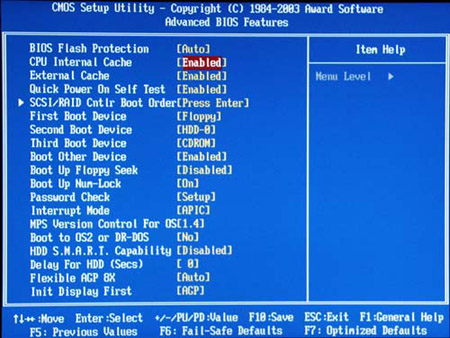 Advanced BIOS Features is a collection of the more common BIOS controls. After initial setup, you will likely see this menu only if you have multiple boot devices, and need to make changes to Boot Order.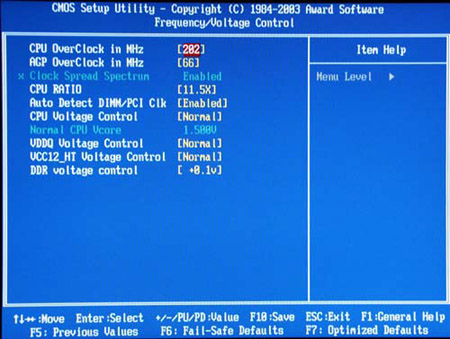 The Frequency/Voltage Control section is where CPU FSB (actually HT speed), CPU multipliers and voltages are set. You can also set AGP/PCI speed in 1MHz increments from 66 to 100. The available voltage options and ranges are what we expect, but have rarely found, on FX boards. We only wish Gigabyte had provided a wider range of DIMM voltage options. Considering FX51 only supports Registered or better memory, the range to +.3V may turn out to be perfectly acceptable. It is too early to determine at this point.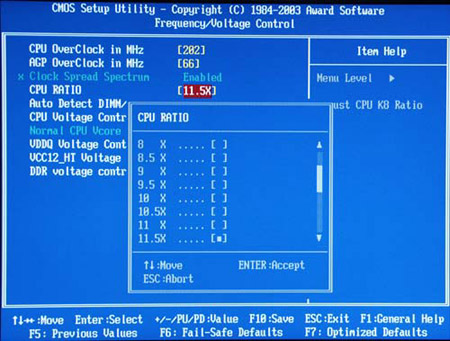 The F1 Release BIOS adds a full range of multipliers to the BIOS options. AMD users have been accustomed to being able to squeeze performance from their chips by changing ratios on the latest Athlon XP/Barton chips. Since Athlon64 did away with unlocked processors, AMD is wise to bring them back to the Athlon64 FX51 "Enthusiast" processor. It adds a bit more value to one of the most expensive CPUs on the market.
vCore or CPU voltage can be set to an unusual range of 0.8V to 1.70V. This may seem to be a strange range, but current 1.45V to 1.5V chips are likely the highest voltage that we will see in production chips, so the range is designed for the future. With Socket 940 due to be replaced with a Socket 939 that does support regular unbuffered memory, we wonder what this really represents in future-proofing. As some have pointed out, Socket 940 will continue for quite a while after FX as an Opteron standard.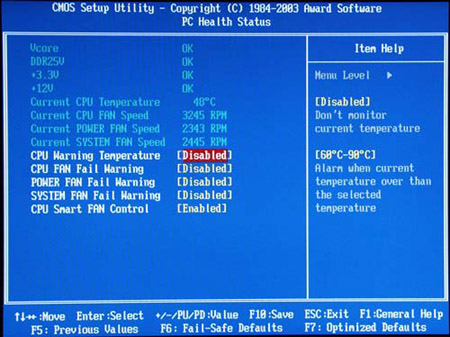 PC Health Status gives a complete display of voltages, temperatures and fan speeds. Feelings are mixed, though, on the "OK" output in the voltage section. Computer Enthusiasts, the target market for this board, would really prefer to see real voltage readouts.
Overall, the BIOS options for the Gigabyte K8NNXP-940 are what we hoped we would see in FX motherboards. Until now, we weren't so sure that we would find this range of tweaking options on the new Athlon64 FX boards. Gigabyte and nVidia have delivered a board with the kinds of control that most Enthusiasts want. Some areas could be improved, but most will find the BIOS options for K8NNXP-940 to be a good selection to squeeze the best performance from their FX processor.