Catalyst 3.8 Drivers
The first new tab on the drivers that jumped out at us was OVERDRIVE(tm). Clicking there we see one lonely checkbox and a description of the functionality. The description states that overdrive will allow the chip to maintain its optimum speed based on the temperature of the chip.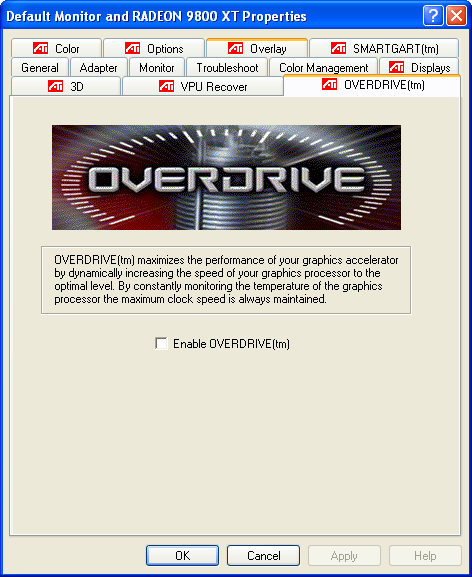 All of the tests in this article have been done with overdrive on.
The second tab we didn't recognize was the VPU Recovery tab. In moving to this panel, we see that ATI has added functionality to their driver that will reset the video card if the hardware stops responding to the drivers commands.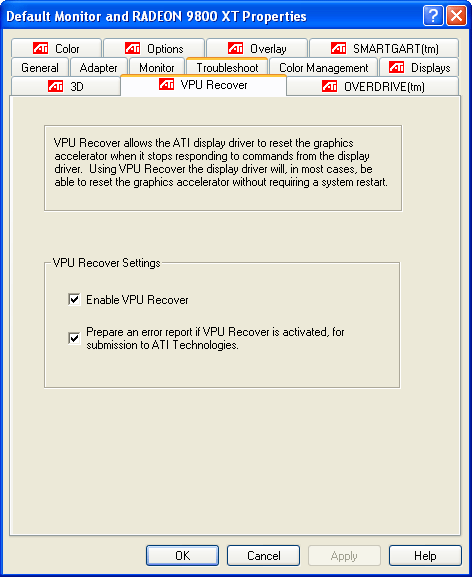 This seems like a good idea as we found a problem with the 3.7 Cats where changing the D3D or OGL settings in the driver while using a DVI connection would drop the screen. I quickly learned the windows shortcut to sleep mode in order to fix that problem, but hopefully this will be a more elegant solution. There may be some overhead and there may not be, but that is a study we will save for later. For now, we left the option set to its default ON state