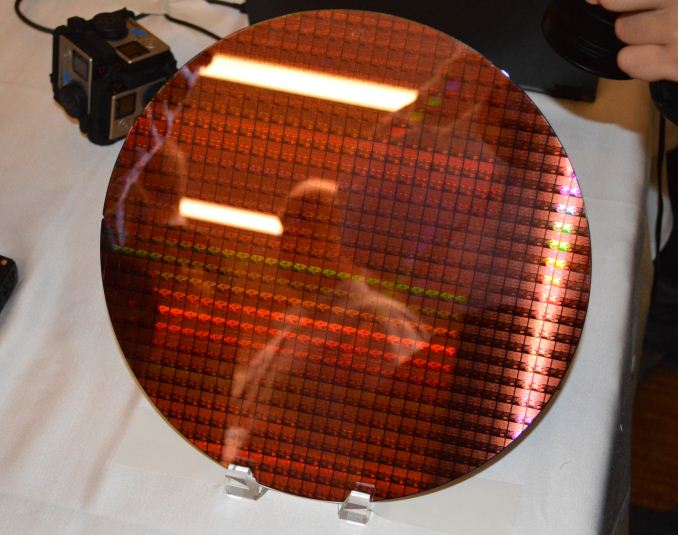 As we move through to the second quarter of the year, we have had two major updates to the desktop CPU landscape. First, Intel launched its Seventh generation of Core-based CPUs, known under the Kaby Lake name, using a refined version of their 14nm process that allowed for some frequency gains over the previous generation Skylake microarchitecture. Then AMD made their biggest CPU launch in five years, with a renewed attack on high-performance computing with the Ryzen 7 family. After spending so many years fighting 32nm and 28nm on Bulldozer based microarchitectures, AMD introduced not only a new core design but also a new process (GlobalFoundries' 14nm) with FinFET based technology. Both of these launches have drastically shaken up our recommended CPU lists moving into Spring and Summer.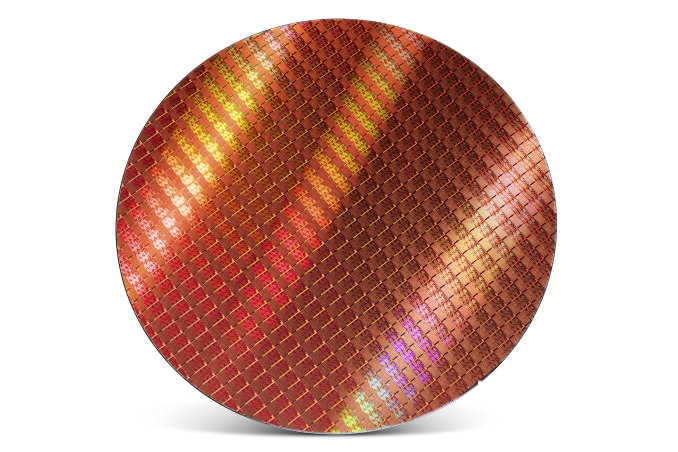 For all the information about Intel's Kaby Lake and AMD's Ryzen, our deep dive reviews are open to all readers and we highly encourage enthusiastic users to give them a once over, to understand how the hardware performs and why.
In our CPU Guides, we consider certain environments and budgets and give you our pick of some of the best processors available, supplying data from our Benchmark Database where possible.
As a result, our recommendations are as follows:
CPU Recommendations: Q1 2017
AMD
Segment
Intel
Ryzen 7 1700
$330
Peak Gaming / VR
$349
Core i7-7700K
(Ryzen 5 1600X)
$249
Smart Gaming / VR
$200
Core i5-7500
FX-6300
$81
Smarter Gaming
$120
Core i3-7100
Athlon X4 860K
$65
Cheap Gaming
$80
Pentium G4560
A10-7890K
A10-7860K
$149
$115
Integrated / eSports
-
-
Ryzen 7 1800X
Ryzen 7 1700
$500
$330
CPU Workstation
-
-
-
-
Memory Workstation
$405
$1022
Core i7-6800K
Core i7-6900K
Ryzen 5 1600X
$249
One to Watch
-
-
The majority of our recommendations aim to hit the performance/price curve just right, with a side nod to power consumption as well. Here's a breakdown of those recommendations:
Peak Gaming / VR
In the midst of the launches this quarter, the talk of CPUs that are suitable for Virtual Reality has died down to some extent. Now that AMD has parts on the shelf that are unquestionably suitable, it just comes down to what price can you enter into VR, or at what level can you be future proof as VR gaming becomes more demanding. Even with this is mind, a non-VR gaming machine that wants to be ahead of the curve has similar demands, especially as DirectX12 titles are in the pipeline. Single thread performance still helps here, especially for the simpler casual games and driving high frame rates.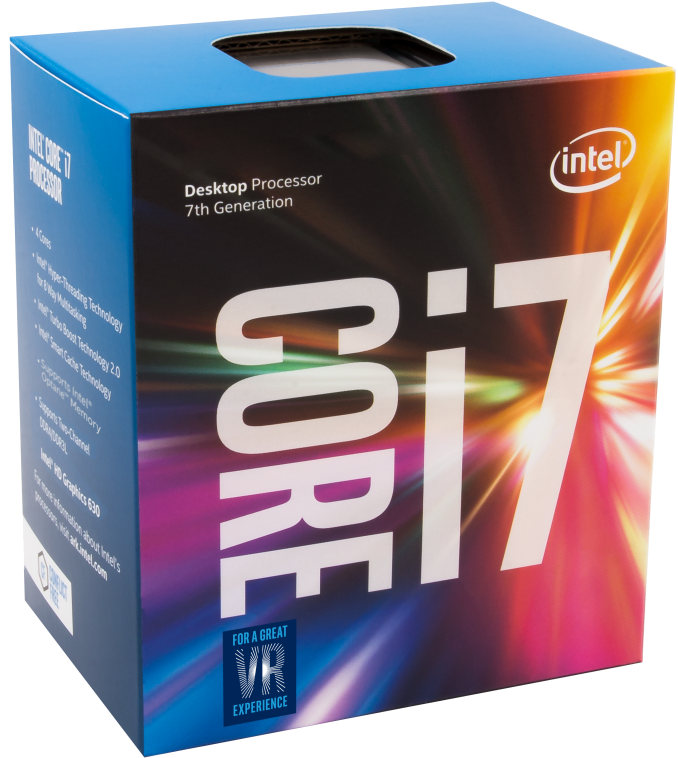 The king of the crop is the Intel Core i7-7700K. It boasts the highest per-core performance of any x86 processor, and then heaps on a lot of frequency as a result. A good processor will run up to 5 GHz with a nod for overclocking, giving a user the best premium VR experience today. At $350 list price, plus some more for a good cooler and a decent motherboard, an i7-7700K should provide a premium gaming system for several years to come.
If you want to go through AMD, then the latest Ryzen 7 1700 is a good option here at $329. It doesn't quite match the single threaded performance of the Intel CPU, but offers double the threads which will be more important as games get more complex. A good 1700 can also overclock near to 4.0 GHz, saving some money over the more expensive 1800X are $499. As an added benefit, the price of the 1700 also includes AMD's Wraith Spire stock cooler, suitable for high ambient environments, and has RGB lighting.
Smart Gaming / VR
For users looking for a nicer price on their wallets, moving slightly down the stack can retain most of the expected performance and retain some significant savings. It won't give you the premium frame rates, but the cost savings can easily be justified for user budgets where it could mean the difference for the next GPU upgrade.
For this segment from Intel I've chosen the Core i5-7500. At a list of $202, it provides four full cores at 3.4 GHz with a turbo up to 3.8 GHz, but also has 6MB of inclusive L3 cache. With no hyperthreading, each thread gets the full use of all the cores resources, ensuring fewer potential bottlenecks. The Core i5-7400 would be another option, however the difference in frequency (400 MHz base, 300 MHz turbo) in favor of the i5-7500 is worth the $10 difference. The i5 will happily power the biggest GPUs on the market, only breaking a sweat with the most demanding titles at extreme settings.
For AMD, no current CPU on the shelves really fits the bill here. So it puts me in an awkward position of pointing to a CPU that isn't out yet: the Ryzen 5 1600X. AMD has announced that this CPU will be on shelves on April 11, and based on our Ryzen 7 testing, we can make good estimates on performance. The 1600X is a six-core processor with hyperthreading, giving a full twelve threads, and runs at the same frequencies as its bigger brother, the 1800X. In our performance/price predictions, it sails above any other AMD offering, and should be highly competitive on single thread performance with the low-end Intel Core i5 parts. We really want to get this part in for testing ASAP.
Smarter Gaming
For users after a sub $1000 monster rig, or something a bit more conservative around $700, here are our 'smart' gaming recommendations. The CPUs here will still drive a single graphics card at near peak performance at higher resolutions and good settings, although cranking up the details on AAA games might be a selective process. Nonetheless, eSports titles will still run as smooth as you like with these processors.
Again, starting with Intel, I've pulled out the Core i3-7100 at $117. This is a dual core part with hyperthreading, running at 3.9 GHz. At that frequency it rises high up the charts for single thread performance, nearly matching the vastly more expensive Core i7 and Core i5 overclockable processors. For DirectX9, DirectX10 and DirectX11 games, where single thread performance helps drive a good GPU, something like the i3-7100 can provide best-in-class results.
For this segment, AMD does have much to play with right now. At this level of performance AMD's strength is price, so as the FX CPUs are being sold at low cost, something like the FX-6300 on sale and a cheap AM3 motherboard can be picked up for very little. The FX can't compete on single threaded performance with Intel, but by having three modules and six threads, it might be happy when users require multitasking during their gaming, such as watching video on a second monitor or light streaming with eSports.
Cheap Gaming
For those on a tight budget, where trying to get a reasonable gaming system under $300-$500 is a must, we have to look at the entry level processors. A number of system integrators will use these parts for their entry level builds, often paired with cards such as an RX 460, or a second-hand GTX 700-series card, a standard hard drive, some small amount of memory and a generic PSU/case. Having a base level of performance is critical here though, given the type of games these systems are designed for tend to be several years old, or indie titles.
Starting with Intel again, and to be honest they have recently launched somewhat of a surprise processor for this market. The Pentium G4560 is essentially a Core i3 by any other name, given it has two cores and four threads, but a slightly reduced L3 cache. The G4560 has a list price of $64 (retails at $80) and runs at 3.5 GHz - that's a dual core Kaby Lake processor only 900 MHz off of the top Core i7 for less than one-fifth of the price. Previous Pentium processors did not have hyperthreading, but this one does - Intel hasn't given any specific reason for the change, but it's one we will gladly take.
Intel's Pentium is hard to beat in so many ways, AMD does not particularly have an answer. The nearest thing we can get to it, until we see what price points Ryzen 3 will hit, is the Athlon X4 860K. This is one of AMD's APUs with the GPU disabled, but also comes with AMD's 95W near-silent cooler. While the last iteration, called Excavator, performs quite well in the context of AMD's APU line, but there's still a sizeable jump north of 40% performance gap that Intel can take advantage of. The upside here is perhaps the motherboard could be cheaper.
Integrated Graphics
Not many users take the line of integrated graphics because GPUs like the RX460 are relatively cheap and usually outperform what is on offer. Nonetheless, almost all mainstream CPUs come with integrated graphics for several reasons: invest now in a good CPU then later in a GPU, or the amount of space limited in the system is small, or features such as QuickSync or OpenCL are needed for the user workloads.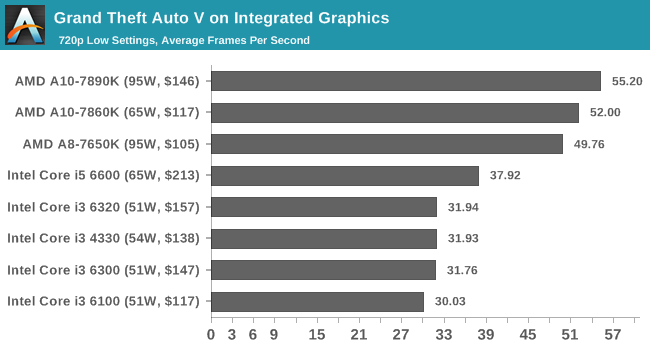 The champion of this world is the AMD A10-7890K. Technically Intel has higher performing parts in Broadwell-based eDRAM processors, but these are 3x the cost and difficult to find anywhere due to the limited launch. AMD's A10-7890K thus sits at the top of that stack, giving somewhat near RX460 levels of performance that is more than suitable for eSports such as League of Legends, DOTA2, CS:GO or Rocket League at very honest settings.
Users who still need to save a few $$ from the A10-7890K can look the A10-7860K instead. This APU offers a small step down in performance, but was one of the last A10 parts produced fully aimed at PC builders trying to hit the performance/price metrics.
CPU Workstation
Sometimes all you need is raw CPU power. Whether it is rendering, compute, encryption, or a varied office or enterprise load, CPU performance is king. This is where the worlds of the mainstream processors and the high-end desktop collide, given that the high-end usually gives more cores and more performance, but the price rises faster than you can think. Finding the right balance is key, especially when a user can potentially justify spending above the odds if it means processing their clients faster.

For this segment, AMD recently blew the doors wide open. With the launch of Ryzen 7, in software that likes to scale across cores and threads, the Ryzen 7 1800X was the winner. With its eight cores and 3.6G/4.0G arrangement, it matched Intel's latest 8-core part at only half the cost: $499 instead of $1049. If what you need is pure horsepower, the Ryzen 7 1800X is the processor to get.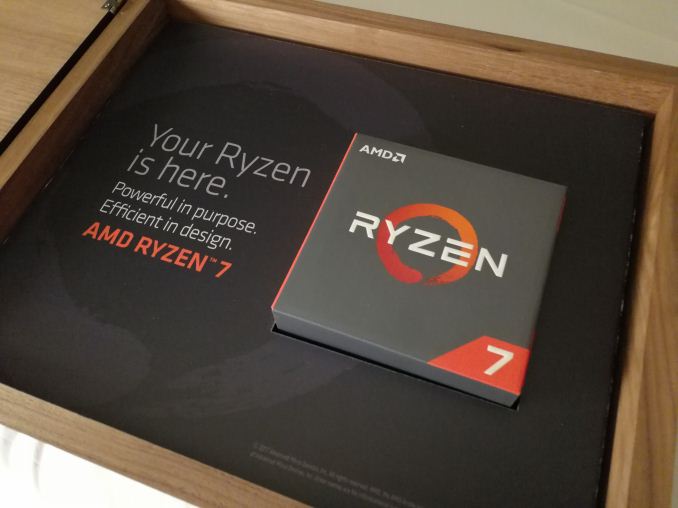 While the Ryzen 7 1800X is fun, it is actually the lower ranked Ryzen 7 parts that are better for performance per dollar. The Ryzen 7 1700 has a slight performance deficit to the 1800X, by virtue of being 3.0G/3.7G rather than 3.6G/4.0G, but it comes in at only two-thirds of the price. At $329, and coming it at 90% of the overall performance of the 1800X, the 1700 is a better choice for workstation users that still look to save a few pennies.
Memory Workstation
One of the downsides of the Ryzen 7 CPUs is that they only have dual channel memory controllers. At two modules per channel, that lends them to 64GB for maximum DRAM capacity. Sometimes a workstation needs so much more, and that is where the only direction to turn is Intel, but there will be a platform premium on CPU and motherboard as a result.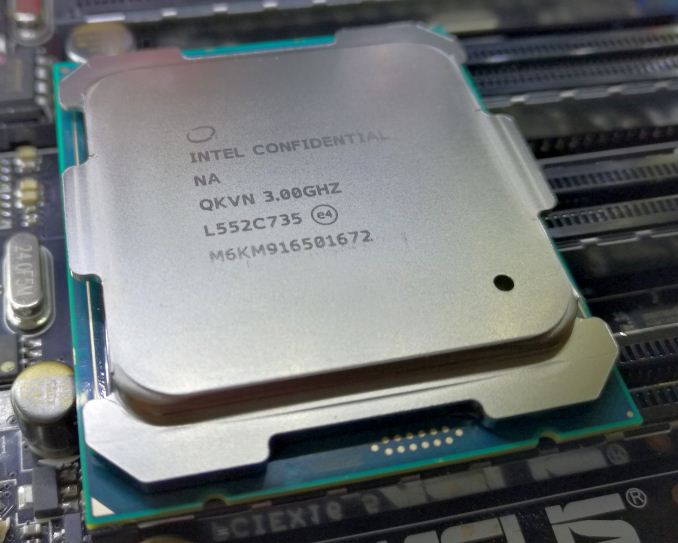 Intel has a few options, and users willing to trawl through the second-hand market can find some HEDT bargains, but for users buying new there are a couple of options. First up is the Core i7-6800K, which is Intel's low-end HEDT part from the latest launch. This is a six-core processor on Intel's Broadwell microarchitecture, with 28 PCIe 3.0 lanes, but will run up to 128GB of un-buffered memory. It runs at the same price as AMD's Ryzen 7 1800X, but in exchange for two cores the user gets double the memory capacity and a few more PCIe lanes. It is worth noting that the cheapest platform cost for this CPU, the X99 platform, will also be higher than the cheapest AMD variant.
Consequently, if you want 1800X performance but still need more than 64GB of DRAM or more than 16 PCIe lanes, then Intel's i7-6900K is your option. It has an MSRP of $1049, although at the right moment it might be on sale for just under $1000. This 140W TDP part will require a decent cooler, as well as an X99 platform underneath it. For a workstation user that needs it all, the Core i7-6900K will be overly sufficient, unless you try and find something like the Core i7-5960X (the previous generation 8-core CPU) on sale.
One to Watch
I'll be honest, the initial plan was to launch this Q1 list last week. I'm in a little bit of trouble for delaying, but I think it was worth it as we can now talk about AMD's latest announcement on Ryzen 5. The Ryzen 5 processors are quad-core and hexa-core parts using AMD's latest Zen microarchitecture, and are available at prices such that where Intel offers four cores and four threads, AMD can offer six cores and twelve threads. This 3x difference is somewhat neutered by Intel's Kaby Lake having better single core performance, but overall the Ryzen 5 CPUs are predicted to make a splash on the scene. Here is our graph of predicted performance per dollar for these CPUs: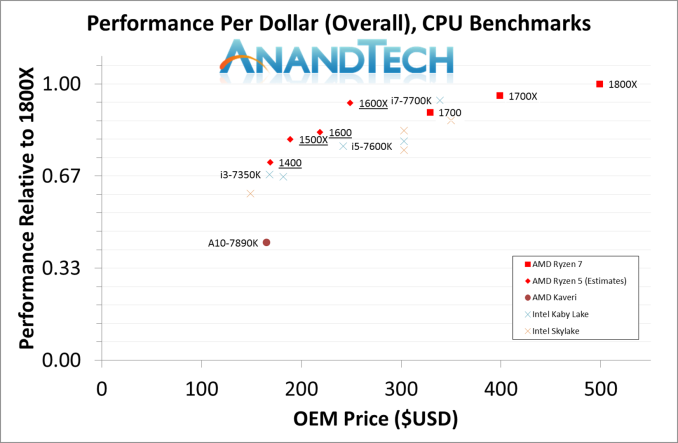 For this chart, we can basically draw a straight line from the Ryzen 7 1800X to the Ryzen 5 1500X, which covers five of AMD's new CPUs. The major outlier is the AMD Ryzen 5 1600X, which sits way above this line. We're desperately waiting to get hold of one, to see if it can live up to predictions. We'll see where the data takes us for final conclusions, but this processor is definitely on our one-to-watch list. The Ryzen 5 family will be available from April 11th.