While Shuttle pioneered the Small Form Factor computer, some of Shuttle's competitors have been making real efforts to stand out from the SFF crowd. Soltek is one of those companies, and we were pleased to take a look at their latest offering — the Qbic EQ3401M. Soltek seems to have a thing with mirrored fronts, so they have extended this design from their earlier Qbic series. However, the big news with this new small Soltek is the expansion capability. Soltek managed to get
two
5-1/4" bays in the EQ3401M, instead of the single 5-1/4" bay that we see on competitor's systems.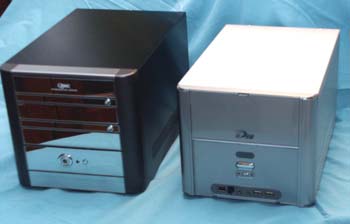 While the Soltek is about the same depth and width as the Biostar and Shuttle, you can see that the extra bay makes it a bit taller. As we take a closer look at Soltek's new Qbic EQ3 series, we also found a number of other innovations. It is clear since
our last look at Soltek in the March SFF Roundup
that Soltek has listened to the comments about their SFF and made many improvements.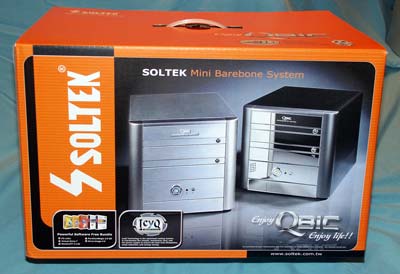 The Soltek, like the Shuttle and Biostar we recently reviewed, is based on the latest Intel 800FSB Dual-Channel 865 chipset. The Qbic EQ3401M uses the onboard graphics of the G version of the 865, but also has an 8X AGP slot for graphics expansion. Soltek supports any current 800FSB C Series Intel processor, as well as earlier 533 and 400FSB socket 478 CPUs. Add to that 8 USB 2.0 ports, 3 Firewire, Serial ATA, a large 250Watt Power Supply (by SFF standards) and 5.1 audio, and you have the makings of a formidable SFF competitor.
 System Specifications
 
 Soltek Qbic EQ3401M
 Biostar iDEQ 200T
 Shuttle SB65G2
Expansion Bays (5.25"/3.5"/Hidden)
2/1/1
1/1/1
1/1/1
Front USB Ports
2
2
2
Rear USB Ports
4
2
4
Internal USB Ports
2
4
2
Front Firewire Ports
1 Standard
1 Standard
1 Mini
Rear Firewire Ports
2 Standard
1 Standard
1 Standard
On-Board Parallel Port
Internal Header
Internal Header
Internal Header
On-Board Game Port
None
Internal Header
None
On-Board Serial Ports
2 Rear
2 — One Rear & One Internal Header
2 Rear
Front Audio Jacks
2 — Mini Mic & Line-In
2 — Mini Mic & Heaphone
3 Mini
Rear Audio Jacks
3 Mini
3 Mini
3 Mini
SPDIF
One — FrontOptical Out
Two: Rear Optical Out & Front Optical In
Two: Rear Optical SPDIF In & Out
Number of Fans (including CPU/chipset)
2
2
1
Power Supply
250W Enhance
200W Enhance
220W Enhance