Getting to China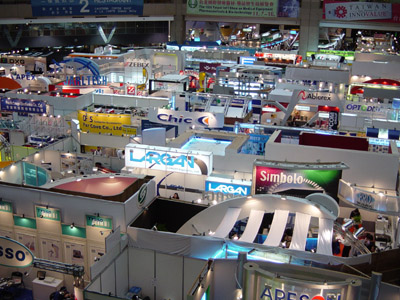 Computex 2003 Hall 1 Showfloor
As we mentioned earlier, the ECS-PC Chips company is headquartered in Taipei, Taiwan (Republic of China). There are dozens of ECS branches in the world, from California to Japan, South America and Europe. Because we were in Taipei for Computex 2003, we had a perfect opportunity to visit Shen Zhen, China and see the production facilities of ECS firsthand.
Already, just getting to the factory in China is a political fiasco. For US and European citizens, the ability to travel into China requires only a Visa, which is usually pretty easy to obtain. However, our Taiwanese hosts required a bit more paperwork since the Chinese government does not recognize Taiwanese citizens as Chinese citizens. Thus, only the port city and former British ruled colony of Hong Kong allows entry to planes from Taipei. Our final destination, Shen Zhen, has an international airport, but we have to fly from Taipei to Hong Kong and then drive 2 hours from Hong Kong to Shen Zhen. Six checkpoints and 5 hours after leaving the Taipei World Trade Center, we arrived at our destination: ECSM Shen Zhen.
The ECSM facility is comprised of three separate buildings. The #5 and #20 factories are owned by ECSM (one of the Chinese sub-companies in Elitegroup), while the #26 factory is a new factory that is owned by ECS Taiwan. Chinese government allowed ECS to become one of the first Taiwanese companies to own a factory in Shen Zhen, a fact they are quite proud of. It is easy to forget that Shen Zhen used to be a sleep port city neighbored to Hong Kong. As an experiment in the late 1970's, China allowed Shen Zhen to become the first city in the country to allow capitalism. As the city exploded into a metropolis of more than 7 million people, the Chinese government watches the city and its workers vigorously.