Shuttle pioneered the Small Form Factor computer, and has remained the standard against which all others are measured. Biostar, however, has recently been a real challenger to Shuttle with brilliant SFF engineering and well-conceived SFF designs. The Biostar iDEQ 200T continues the recent evolution of the Biostar SFF.
Early SFF designs were hampered by old technology and many compromises that resulted from the small form factor design. The best recent SFF designs, on the other hand, have been completely up to date in technology with few compromises for the size of the Small Form Factor. In fact, in
our last review
, we compared the Shuttle SB65G2 to the best of our 865/875 motherboard tests and found it held its own in that lofty company. The Biostar iDEQ 200T is the same type of SFF, sporting all the features of the latest Intel 865 boards. It adds the updated Intel Extreme Graphics that were integrated into the new 865G chipset. So the iDEQ makes perfect sense as a complete starter computer, but with room to grow for the future.
While everyone seems to love the quiet little SFF machines, most assume that there are just too many compromises in performance with these machines. Biostar, like the recently reviewed Shuttle, appears out to prove that you don't have to give up anything important to have a small, quiet computer.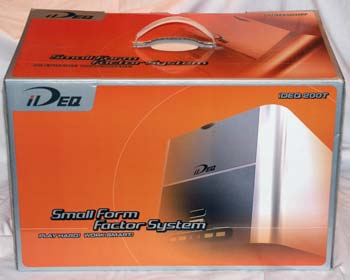 The Biostar iDEQ 200T uses the latest Intel 865G chipset with support for
any
current Intel processor, including the 800FSB C series. Other top-line features are Dual-Channel memory support, an 8X AGP slot in addition to on-board graphics, 8 USB 2.0 ports, 2 Firewire, Serial ATA/SATA RAID, Optional AirLink wireless LAN connections, and CMedia 5.1 audio. It is also very quiet with the normal "Smart Fan" enabled. Biostar clearly made every effort to build an SFF that can compete with any 865 computer with these up-to-the minute features. In fact, the SFF often have much more port flexibility than traditional motherboard/ATX case/power supply designs, since they are designed from the start for the chassis/motherboard/cooling system to work together. All of this is built into the stylish Aluminum iDEQ chassis that we first saw on the iDEQ 200N Athlon SFF.
 System Specifications
 
 Biostar iDEQ 200T
 Shuttle SB65G2
Expansion Bays (5.25"/3.5"/Hidden)
1/1/1
1/1/1
Front USB Ports
2
2
Rear USB Ports
2
4
Internal USB Ports
4
2
Front Firewire Ports
1 Standard
1 Mini
Rear Firewire Ports
1 Standard
1 Standard
On-Board Parallel Port
Internal Header
Internal Header
On-Board Game Port
Internal Header
None
On-Board Serial Ports
2 — One Rear & One Internal Header
2 Rear
Front Audio Jacks
2 — Mini Mic & Heaphone
3 Mini
Rear Audio Jacks
3 Mini
3 Mini
SPDIF
Two: Rear Optical Out & Front Optical In
Two: Rear Optical SPDIF In & Out
Number of Fans (including CPU/chipset)
2
1
Power Supply
200W Enhance
220W Enhance