Display Analysis
Among the many things that have not changed on the Dell XPS 15 are the two display options. Once again, there's little reason for Dell to change what they already offered on their 15.6-inch Infinity Edge display, since they already offered the best of both worlds. The standard device is offered with a 1920x1080 sRGB IPS panel, without touch support. At 141 pixels per inch, the standard display is relatively sharp, and with a lower resolution and no touch, would arguably be the best display for most people. As we'll see later, battery life is impacted by the optional 3840x2160 Adobe RGB offering.
The higher resolution panel comes with a wider color gamut capability, but due to the lack of color management in Windows, Dell ships their XPS 15 with the Dell PremierColor application in order to let the owner choose a more restrictive gamut, or one of several other gamuts as well. Dell's application is very well laid out, and if set to the Advanced mode, offers a plethora of options in order to fine-tune the display as needed. For most people, sRGB would likely be the gamut to have the display in most of the time, but if you are a photo editor, the wider gamuts could be very useful. It's a shame Windows 10 doesn't yet support, but Microsoft has been making some progress here as we discussed with them after Build. Windows 10 does support remapping sRGB content into FP16 half-floats, with the final end goal of HDR and wide gamut being easier to handle by the developer, if not the OS itself. But for today, the Dell PremierColor app allows a workaround with constrained gamuts.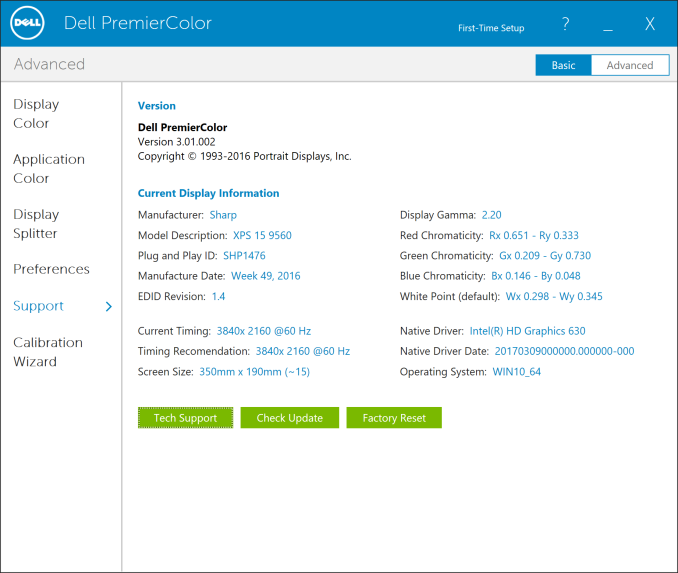 Dell also offers some extra tools to allow the display to be segmented up, much like Windows Snap, and as with the previous review discussed, this feature is very well thought out, and Microsoft would be well advised to take some pointers from Dell on their own implementation. There's also a capability to choose the color gamut for an application as well, so you could have Google Chrome in sRGB but leave Photoshop in Adobe RGB mode, making it a bit easier to use.
Testing the display calibration and capabilities is done with SpectraCal's CalMAN suite, along with an X-Rite i1DisplayPro colorimeter for brightness and contrast measurements, and an X-Rite i1Pro2 spectrophotometer for color testing. The XPS 15 was tested in both its sRGB mode, as well as AdobeRGB. It would have been nice to see the 1080p model here as well, but review units are often times what the manufacturer suggests is their best foot forward, so we just have the 3840x2160 model to test against.
Brightness and Contrast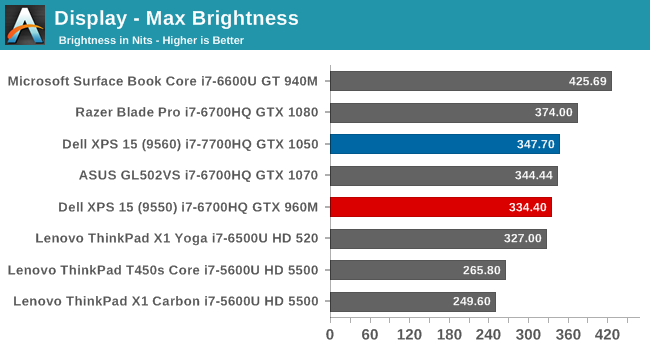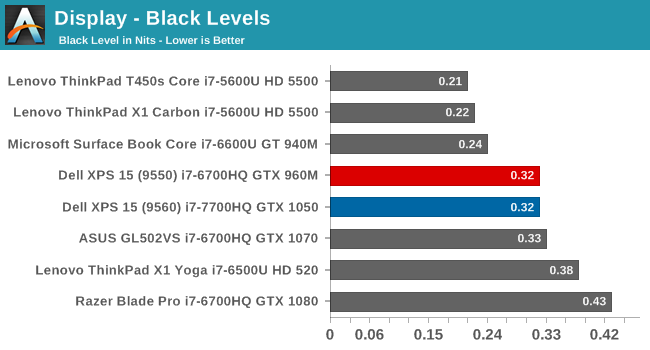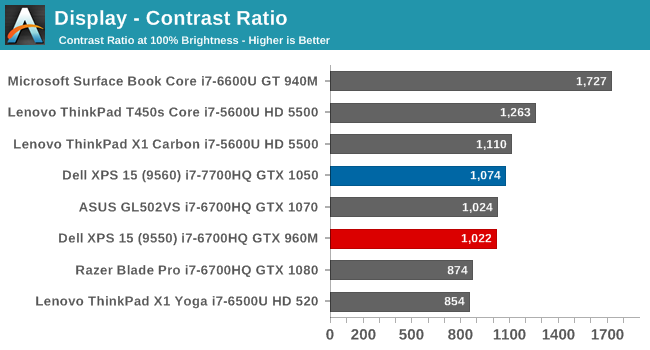 Since the panel hasn't changed, it's not a surprise to see that the brightness and contrast are very similar to the previous generation XPS 15 we reviewed. This particular example is slightly brighter, with the same black levels, meaning the contrast is slightly better. It's still a ways from the best we've seen in terms of brightness and black levels though. The minimum brightness is a relatively high 31 nits, for those interested.
Grayscale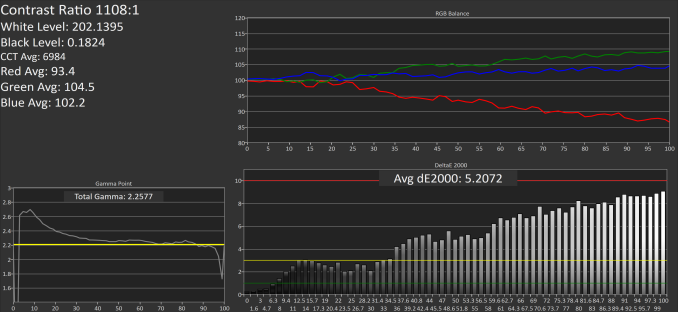 sRGB Mode (SpectraCal CalMAN)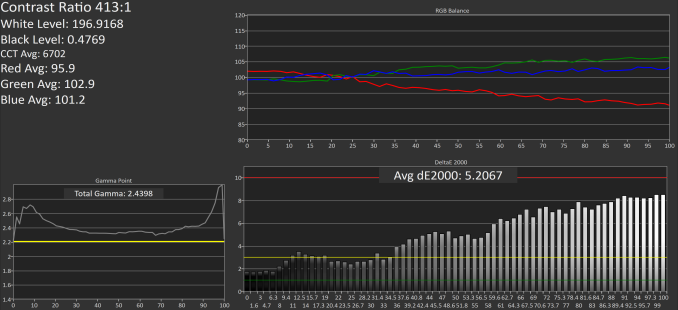 Adobe RGB Mode (SpectraCal CalMAN)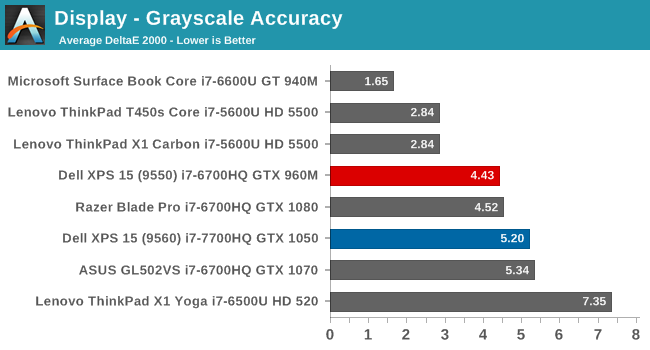 The grayscale accuracy has taken a step back with the review unit we received this time, with an average DeltaE 2000 over five, which isn't ideal. The reds in particular drop quite a bit compared to blue and green Luckily grayscale is the one thing you can calibrate on a notebook computer, but since Dell is marketing this notebook as a PremierColor display, it would be nice to see factory calibration.
Gamut

sRGB Mode (SpectraCal CalMAN)

Adobe RGB Mode (SpectraCal CalMAN)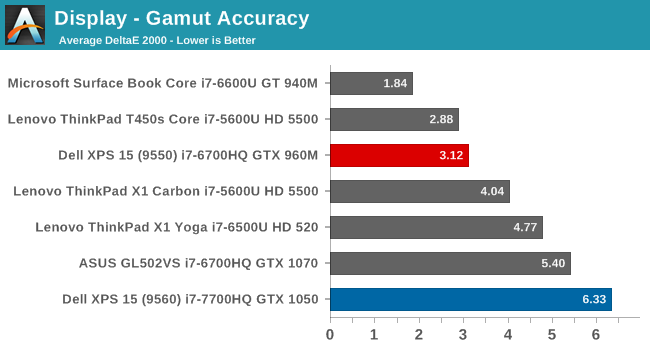 Since we've switched to our more rigorous saturation and grayscale sweeps, it can be difficult to see the actual gamut coverage, so this test just checks the 100% levels for each gamut. As you can see in the images, the sRGB mode is not locking the green down to the correct levels for sRGB, resulting in a very high dE2000 for gamut when in sRGB mode. This isn't the case in AdobeRGB though, where the results are much better. It's possible there was a conflict with our testing software and Dell's utility, but we never saw this issue on the 9550 model.
Saturation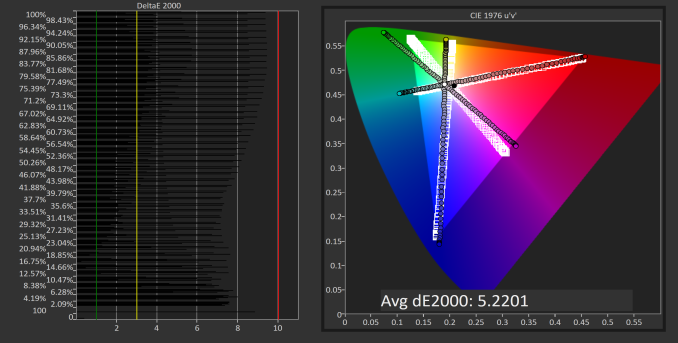 sRGB Mode (SpectraCal CalMAN)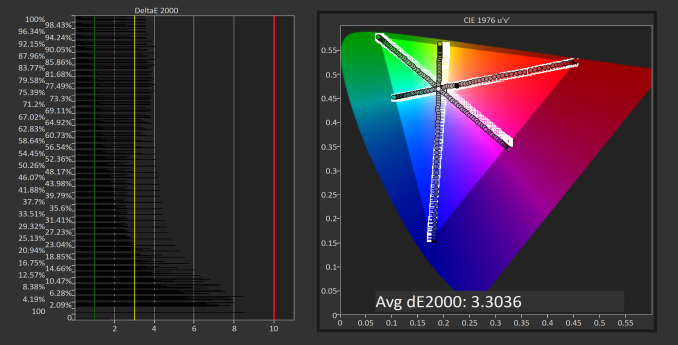 Adobe RGB Mode (SpectraCal CalMAN)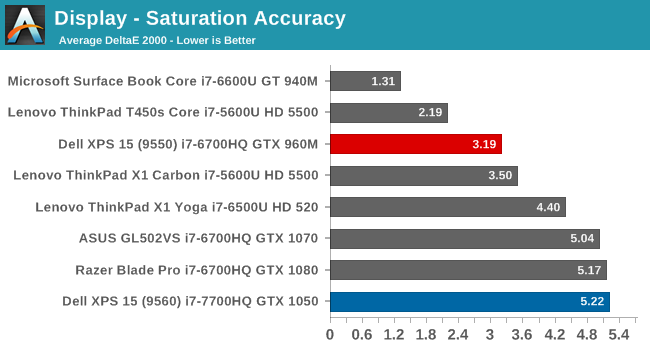 Saturation makes it even more apparent that the Dell utility, at least on this unit, is not adjusting the display gamut as it should be. The saturation sweeps are roughly identical on both sRGB and AdobeRGB modes, which results in a sRGB result that is not very good at all. The PremierColor application doesn't seem to be working at all for color gamut at the moment, and it was tested many times. We will reach out to Dell for a comment on this latest version.
Gretag Macbeth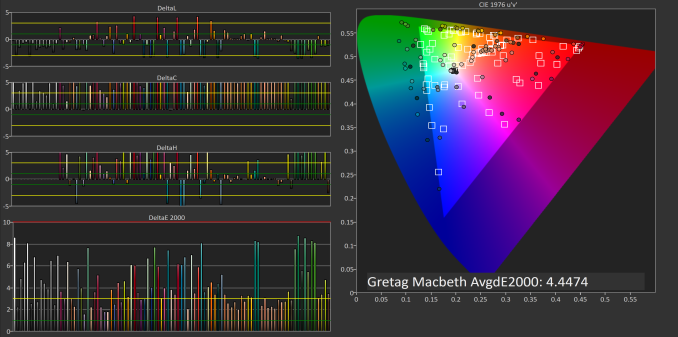 sRGB Mode (SpectraCal CalMAN)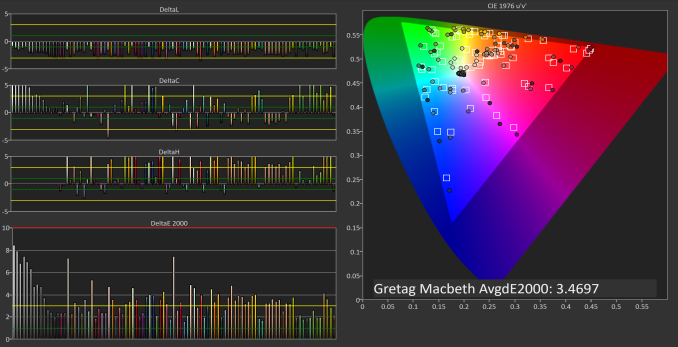 Adobe RGB Mode (SpectraCal CalMAN)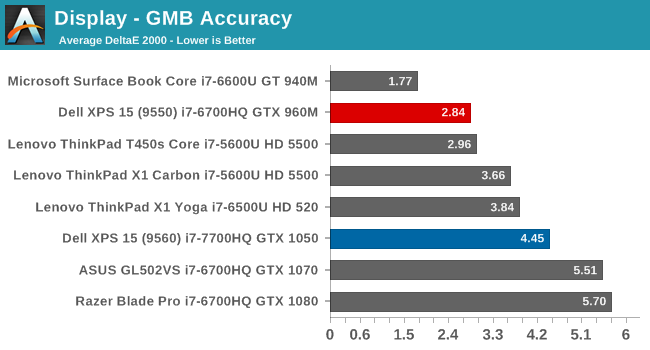 With the incorrect color gamut, and less than ideal grayscale, it's not a big surprise that the GMB test is also not as good as the previous model.
Display Conclusion
The Dell XPS 15 should offer a solid display for almost anyone, with a sRGB display for most content, but the ability to work in larger gamuts if needed. However, the current version of Dell's PremierColor application doesn't appear to be constraining the gamut as it should be, which is not a situation we saw with the XPS 15 9550 model. Hopefully an update will correct this issue.
It would also be nice to see Dell take the next step with calibration at the factory, as we've seen on Microsoft's Surface line, and Apple's MacBook Pro line. Since Dell markets this as a PremierColor display, then the next logical step is to have that display be accurate as well. We know they can do it on their desktop displays.