Radeon Chill 2017
Radeon Chill originated in efforts by a company called HiAlgo, which was acquired by AMD in June 2016. When Radeon Chill was introduced later that December, it was hampered by a few limitations: it was unintuitive to find in Radeon Settings, supported a rather limited number of games, and laptops were not supported. With 17.7.2, all those issues (and more) are being addressed.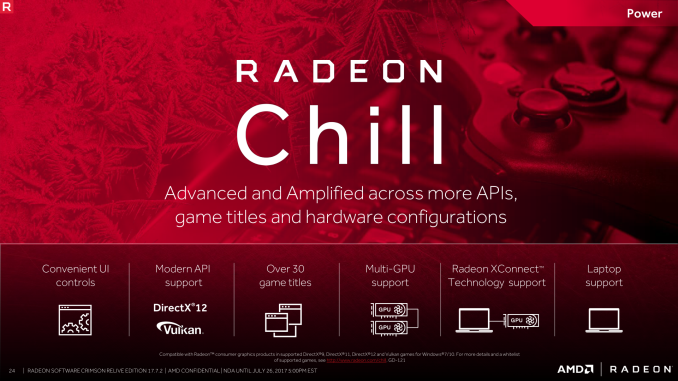 First off, Radeon Chill is now contained in the Global Settings/Global Graphics tab, rather than being inside the WattMan pane. Once globally enabled, the minimum and maximum Chill FPS ranges can be adjusted per-game in each game's Radeon Settings profile; most titles have a 40 – 144 FPS range set by default. AMD also stated that users no longer have to deal with the EULA wall in front of WattMan in order to get to Radeon Chill, as not all users may be comfortable with that.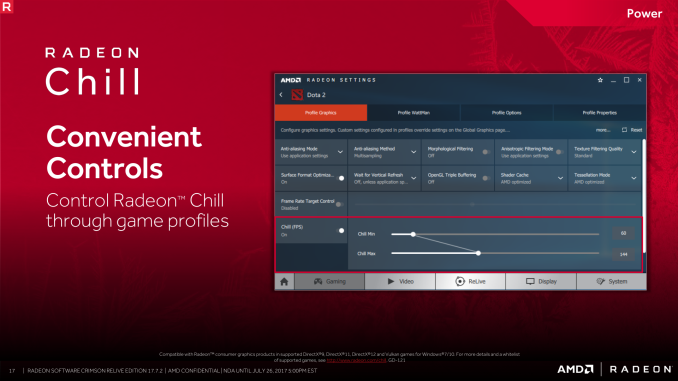 Moving on, AMD has expanded Chill API support to include DX12 and Vulkan. At the same time, AMD has expanded game support, adding 21 new games. In total, 38 games are supported across a range of APIs (DX9, DX11, DX12, and Vulkan).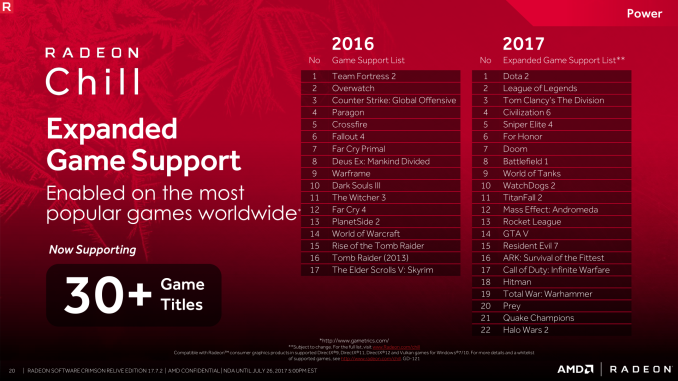 With 17.7.2, AMD has extended Chill support to multi-GPU, XConnect, and laptop/hybrid configurations. To note, AMD dual graphics (APU + discrete Radeon graphics) is not supported. Like multi-GPU support for FRTC, Chill can now reduce the power/noise/heat impact of excessive graphics horsepower.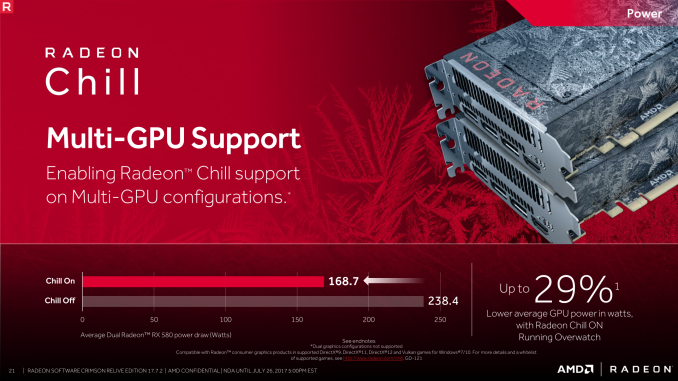 This allows the potential power savings from Chill to directly benefit battery life on laptops, and AMD notes gains while utilizing Chill in League of Legends at 1080p.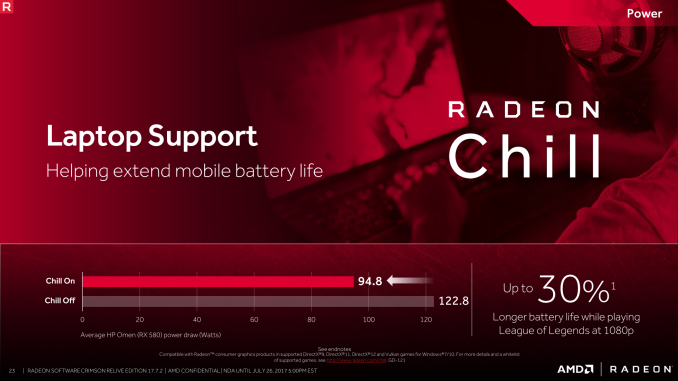 XConnect support allows for easy Chill compatibility while switching between eGPU and mobile configurations, not to mention potential reduced power/noise/heat for a small box in very close proximity to the user.