First Look at SiS 655FX Chipset
Before we get to Gigabyte's 8S655FX Ultra motherboard, we'd like to take a quick look at the SiS 655FX chipset itself, seeing as how this is our first review of a retail motherboard based on this chipset. Let's get right to it.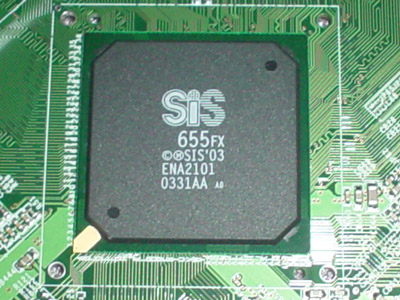 The SiS 655FX North Bridge itself differs from SiS' previous flagship Pentium 4 North Bridge, the SiS 655, in one significant way — a revamped memory controller capable of operating at dual DDR400 memory speeds. In other words, the SiS 655FX, like Intel's 875P chipset, is a dual channel DDR chipset that is capable of offering a total memory bandwidth of 6.4 GB/s.
Of course, what good would a memory bandwidth of 6.4 GB/s do if the FSB (Front Side Bus) wasn't operating at a speed that could take advantage of that bandwidth? Well, this is exactly where the second and final most significant difference between the 655FX and 655 comes into play — support for 800MHz FSB Pentium 4 processors, otherwise known as Northwood "C" series of processors (such as Intel's flagship 3.2C processor).
While the SiS 655 North Bridge did indeed support Intel's Hyper-Threading (HT) technology, it was only able to do so with a second spin of that North Bridge, the B0 revision. For a while, retail motherboards were shipping with early stepping SiS 655 North Bridges (an "A" series stepping of some sort) that could not support Intel HT. Some motherboards (Gigabyte's, in particular) were able to support HT with "A" stepping North Bridges, but it entailed a BIOS update that involved turning off power related features that normally wouldn't be advisable for overclockers and other such performance users (like ACPI). So, with the SiS 655FX, you won't have to worry about HT support, because
all
655FX will support HT no matter what.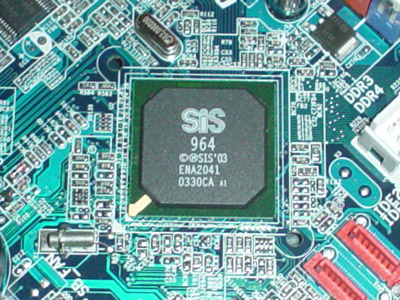 The SiS 964 is just the third South Bridge in the world shipping with native Serial ATA support. The SiS 964 supports two independent Serial ATA connectors with support for RAID 0 and RAID 1. Unfortunately, it looks as if RAID 0 + 1 isn't possible for now, though we'll have to confirm details about a supposed SiS 964 revision that adds some very interesting features, including RAID 0 + 1 array capability among other things.
A second unique feature that is less interesting, but new nonetheless, is the support for two additional USB 2.0 compliant ports. Previously, the SiS 963 South Bridge supported just six total USB 2.0, as did Intel's South Bridges before the ICH5 and VIA's South Bridges before the VT8237. Luckily, SiS followed suit and supports a total of eight USB 2.0 ports, just as the VT8237 and ICH5. Eight USB 2.0 ports should truly be enough for the overwhelming majority of computer users, especially since IEEE 1394 FireWire 400 capability is integrated on many high-end desktop motherboards (like the Gigabyte 8S655FX Ultra) or can be purchased and installed as a PCI device.
Everything else about the SiS 964 is identical in nature to the SiS 963 that so many motherboards before it were based on, such as the 1GB/s MuTIOL I/O link and AC'97 V2.3 compliant audio controller, among other basic features.