Specifications
Below is a quick overview of specifications on the drive:
ASUS DRW-0402P/D DVD-/+R Drive
Interface
IDE
CD Write Speed
16X, 12X, 8X, 4X (CLV)
CD Rewrite Speed
10X, 4X (CLV)
CD Read Speed
32X Max (4,800KB/s) (CAV)
DVD-R Write Speed
4X, 2X, 1X (CLV)
DVD-RW Rewrite Speed
2X, 1X (CLV)
DVD+R Write Speed
4X, 2.4X (CLV)
DVD+RW Rewrite Speed
2.4X (CLV)
DVD Read Speed
16X Max (16,620KB/s) (CAV)
Supported Modes
DAO / DAO-RAW 16 & 96
TAO
SAO / SAO 16 & 96
Packet Write
Multi-Session
Supported Formats
DVD+R (incremental)
DVD+RW (random)
DVD-R (DAO, incremental, multi-border)
DVD-RW (restricted overwrite)
CD-R, CD-RW, CD-ROM, CD-DA, CD-ROM XA, Mixed Mode, CD Extra Photo CD, CD Text, Bootable CD, Mount Rainer
Access Time
CD: 130ms
DVD: 140ms
Buffer
2000 KB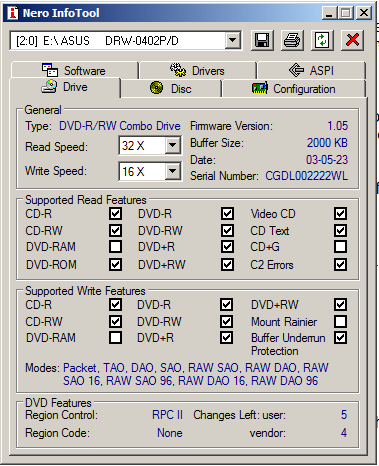 Notice the absence of Mount Rainier from the supported modes. Even though Mt Rainier is still a developing write mode, UDF should be pursued for its future compatibility.
The specifications on the drive vary compared to what the manual and product website actually advertise. The manual claims the CD rewrite speeds are only 10X and 4X, when in fact, the drive recognized 16X, 12X, 4X and 2X in Nero 5.5. We will talk more about these differences later in the review. For those of you who have Pioneer A06 drives, you will notice that these specifications are identical. It is our knowledge that both drives are most likely manufactured in the same facility.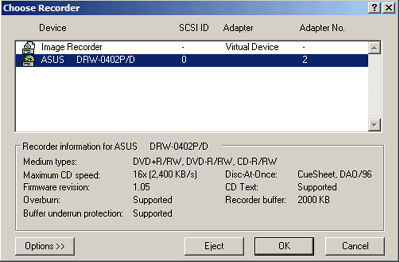 Click to enlarge.
Our original drive came with firmware version 1.05, which at time of publication was the highest available. Interestingly enough, the ASUS 1.05 firmware download contains a Changelog of firmware upgrades, which states "Pioneer" at the top and mentions firmware revisions running through 1.07. Unfortunately, attempting to download the Pioneer A06 upgrades do not work. Forcing the upgrade is perhaps possible, but probably not a good idea.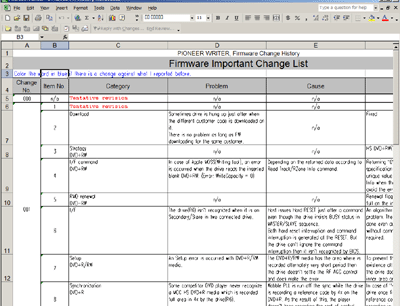 Click to view spreadsheet.