Construction
The drive shipped with an average amount of media, one 52X CDR, and a 4X DVD-R. We thought the 52X CDR was a little unusual since the drive is only capable of 16X CD writes. Cables, manuals and the drive were all present too, of course.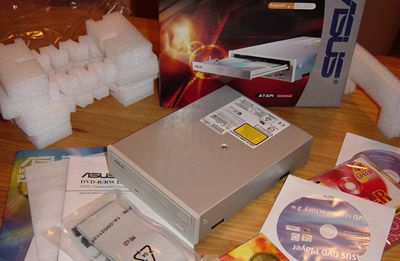 Click to enlarge.
For bundled software, ASUS went with a Sonic suite (bundled with Sonic DLA 4 and RecordNow DX 4.6). While Sonic is a good recording suite, we were a little surprised that ASUS did not bundle Ahead's Nero with the drive (which they have bundled in any other optical drive that we have seen). As always, the bundled Quick Install and Manual documentation were excellent. Both guides were very easy to read and perhaps some of the more organized documents that we have seen in a while. Unfortunately, online documentation at time of publishing was scarce.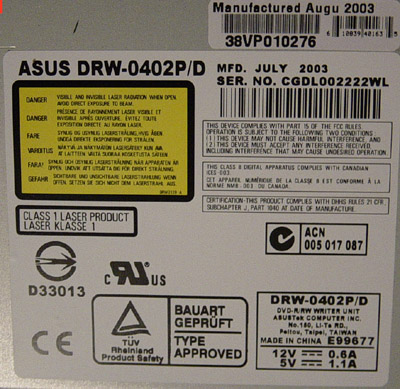 Click to enlarge.

Click to enlarge.
The DRW-0402P/D is as pleasing on the eye. Compared to ASUS' other optical storage, the drive is actually quite Spartan. A sole LED denotes read and write, while the sole button on the drive only allows for eject. There are two ventilation slits on the front of the drive for intake. A separate fan on the rear of the unit is for exhaust.

Click to enlarge.