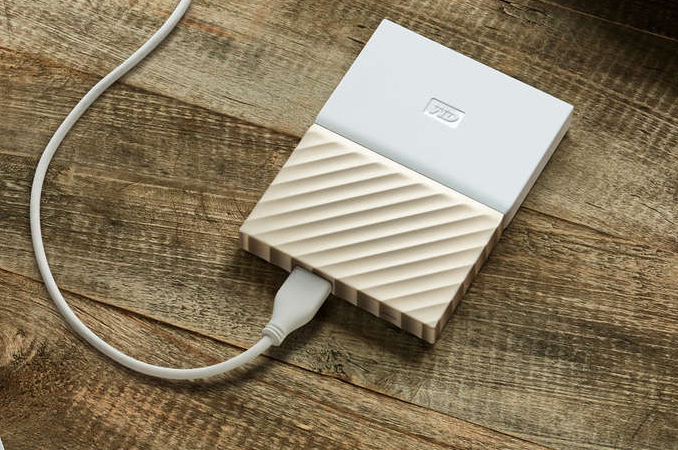 Western Digital this week refreshed its My Passport Ultra lineup of small form-factor external HDDs. The new hard drives use a new enclosure and come with software that backs up data not only from local PCs, but also from social networks and cloud services. As for capacity and interfaces, the new HDDs continue to offer up to 4 TB of storage space and utilize a USB 3.0 interface.
The new WD My Passport Ultra external HDDs come in a new metallic enclosure with metallic and matte black gray or white gold finishes that mimics design of other external storage devices by the company. The 1 TB drive uses a thinner enclosure that measures 13.5 mm (0.53"), whereas the models with 2 TB, 3 TB and 4 TB capacities are 21.5 mm (0.85") thick.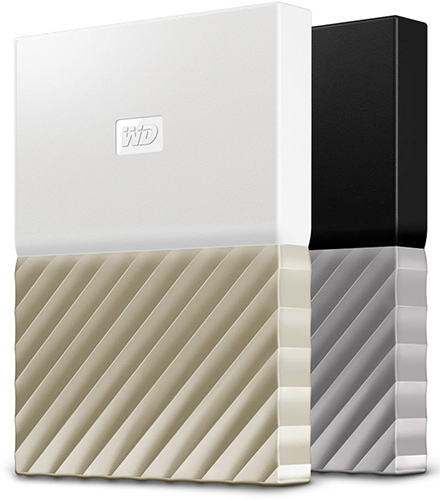 Apart from the new enclosure, the new HDDs feature automatic WD Backup software for local data and content, as well as the company's new WD Discovery software that backs up users' data from Facebook, Instagram, Dropbox and Google Drive. By using both software suites, users can consolidate their data from different sources on a single device. Meanwhile, to protect the data, Western Digital offers its WD Backup software that relies on AES-256 hardware encryption.
Western Digital is not disclosing whether they're using PMR or SMR technology on the hard drives contained within. Nor are we able to accurately guess the number of platters in the drives, as the thickness of the external enclosures means it's impossible to determine whether the company is using 2.5"/12.5 mm or 2.5"/15 mm HDDs.
List of WD's 2017 My Passport Ultra Drives
Capacity
Model
Dimensions
H×W×T
Interface
Compatibility
Color
4 TB
WDBFKT0040BGD-WESN
110×81.5×21.5 mm
4.33×3.21×0.85 inch
USB
3.0/2.0
Windows 7, 8.1, 10.

Requires formatting
for other OSes.
White-Gold
WDBFKT0040BGY-WESN
Black-Gray
3 TB
WDBFKT0030BGY-WESN
Black-Gray
WDBFKT0030BGD-WESN
White-Gold
2 TB
WDBFKT0020BGY-WESN
Black-Gray
WDBFKT0020BGD-WESN
White-Gold
1 TB
WDBTLG0010BGY-WESN
110×81.5×13.5 mm
4.33×3.21×0.53 inch
Black-Gray
WDBTLG0010BGD-WESN
White-Gold
Just like their predecessors, the new Western Digital My Passport Ultra drives are covered by a three-year limited warranty. The new drives are available from wd.com as well as from select retailers around the world. The most affordable 1 TB version costs $79.99, whereas the highest-capacity SKU is available for $139.99, which is $20 lower than the My Passport Ultra HDD 4 TB released a year ago.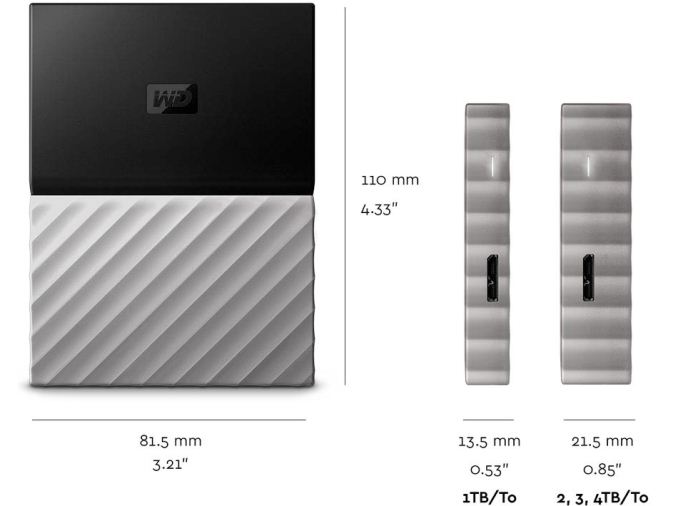 Related Reading:
Source: Western Digital