Graphics in BTX
The vast majority of BTX form factors will see PCI Express based graphics as the choice of video card in these systems. ATI has already announced that they will be releasing a native PCI Express video card once the standard becomes available in platforms. Although you can have multiple widths of PCI Express buses, graphics will use a x16 PCI Express implementation that offers 8GB/s of bandwidth.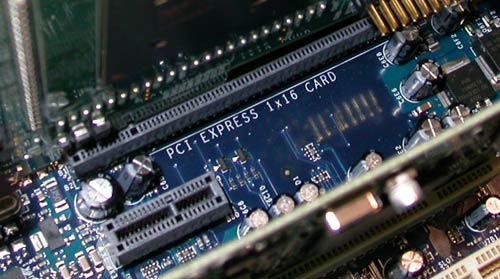 This PCI Express x16 slot will soon be home to your graphics card (the little slot is a x1 slot)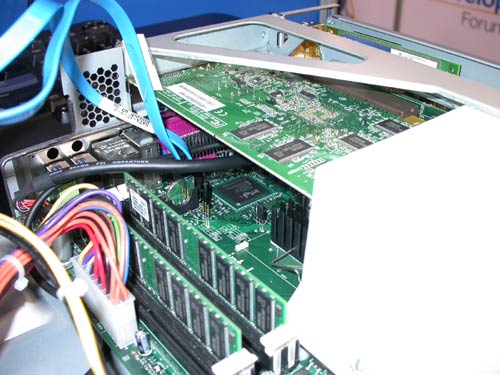 A graphics card on a riser in a BTX chassis
As we mentioned before, the graphics card can either be mounted vertically or horizontally via a riser card in a BTX case. If a riser is used, the length of the graphics card will be severely limited - most likely to half-length cards. We'd expect that most enthusiast boards and cases would support vertically mounted graphics cards.
A final point of discussion is cooling; because of the strict cooling definitions within the BTX spec, graphics vendors may be able to rely more and more on passive cooling designs and simply take advantage of the stream of air running over the CPU and chipset. Granted you won't be able to have passive (fanless) designs on the absolute fastest GPUs, but a transition to more passive designs on mainstream solutions would be plausible.