Intel's Optimized Turbo Profiles
Also new to Skylake-SP, Intel has also further enhanced turbo boosting.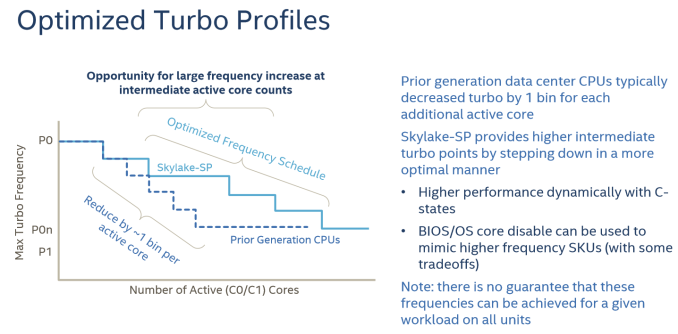 There are also some security and virtualization enhancements (MBE, PPK, MPX) , but these are beyond the scope this article as we don't test them.
Summing It All Up: How Skylake-SP and Zen Compare
The table below shows you the differences in a nutshell.
AMD EPYC 7000

Intel Skylake-SP
Intel Broadwell-EP

Package & Dies
Four dies in one MCM
Monolithic
Monolithic
Die size
4x 195 mm²
677 mm²
456 mm²
On-Chip Topology
Infinity Fabric
(1-Hop Max)
Mesh
Dual Ring
Socket configuration
1-2S
1-8S ("Platinum")
1-2S
Interconnect (Max.)
Bandwidth (*)(Max.)
4x16 (64) PCIe lanes
4x 37.9 GB/s
3x UPI 20 lanes
3x 41.6 GB/s
2x QPI 20 lanes
2x 38.4 GB/s
TDP
120-180W
70-205W
55-145W
8-32
4-28
4-22
LLC (max.)
64MB (8x8 MB)
38.5 MB
55 MB
Max. Memory
2 TB
1.5 TB
1.5 TB
Memory subsystem
Fastest sup. DRAM
8 channels
DDR4-2666
6 channels
DDR4-2666
4 channels
DDR4-2400
PCIe Per CPU in a 2P
64 PCIe (available)
48 PCIe 3.0
40 PCIe 3.0
(*) total bandwidth (bidirectional)
At a high level, I would argue that Intel has the most advanced multi-core topology, as they're capable of integrating up to 28 cores in a mesh. The mesh topology will allow Intel to add more cores in future generations while scaling consistently in most applications. The last level cache has a decent latency and can accommodate applications with a massive memory footprint. The latency difference between accessing a local L3-cache chunk and one further away is negligible on average, allowing the L3-cache to be a central storage for fast data synchronization between the L2-caches. However, the highest performing Xeons are huge, and thus expensive to manufacture.
AMD's MCM approach is much cheaper to manufacture. Peak memory bandwidth and capacity is quite a bit higher with 4 dies and 2 memory channels per die. However, there is no central last level cache that can perform low latency data coordination between the L2-caches of the different cores (except inside one CCX). The eight 8 MB L3-caches acts like - relatively low latency - spill over caches for the 32 L2-caches on one chip.