Java Performance
The SPECjbb 2015 benchmark has "a usage model based on a world-wide supermarket company with an IT infrastructure that handles a mix of point-of-sale requests, online purchases, and data-mining operations." It uses the latest Java 7 features and makes use of XML, compressed communication, and messaging with security.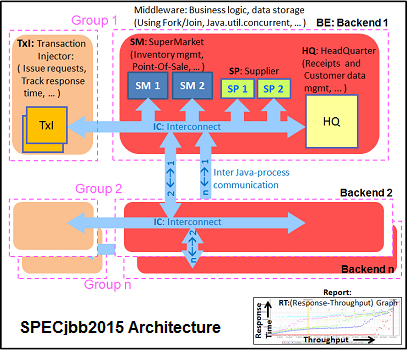 We tested SPECjbb with four groups of transaction injectors and backends. The reason why we use the "Multi JVM" test is that it is more realistic: multiple VMs on a server is a very common practice.
The Java version was OpenJDK 1.8.0_131. We applied relatively basic tuning to mimic real-world use, while aiming to fit everything inside a server with 128 GB of RAM:
"-server -Xmx24G -Xms24G -Xmn16G -XX:+AlwaysPreTouch -XX:+UseLargePagesIndividualAllocation
The graph below shows the maximum throughput numbers for our MultiJVM SPECJbb test.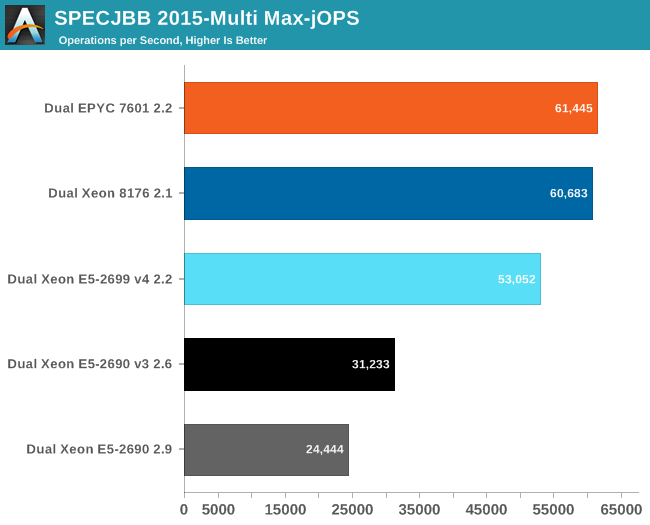 Even though our testing is not the ideal case for AMD (you would probably choose 8 or even 16 back-ends), the EPYC edges out the Xeon 8176. Using 8 JVMs increases the gap from 1% to 4-5%.
The Critical-jOPS metric is a throughput metric under response time constraint.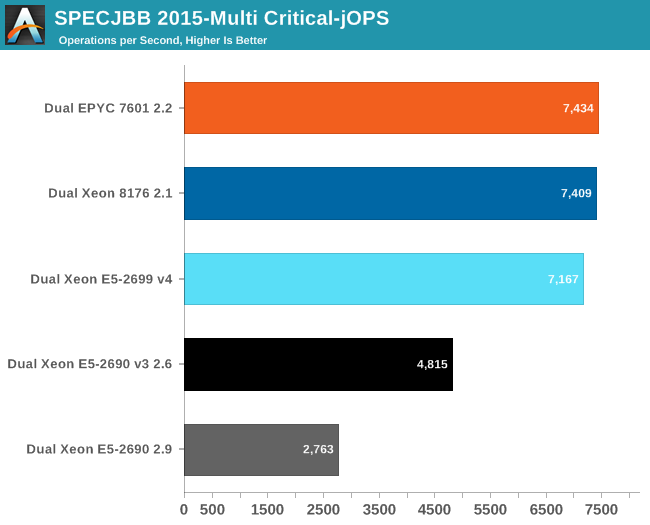 With this number of threads active, you can get much higher Critical-jOps by significantly increasing the RAM per JVM. However, we did not want that as this would mean we can not compare with systems that can only accommodate 128 GB of RAM.