Database Performance: MySQL Percona Server 5.7.0
For database benchmarking we still base our testing on Percona server 5.7, an enhanced drop-in replacement for MySQL. But we have updated our SQL benchmarking once again. This time we use Sysbench 1.0.7, which is a lot more efficient than the previous 0.4 and 0.5 versions. As a result, the measured numbers are quite a bit higher, especially on the strongest systems. So you cannot compare this with any similar Sysbench-based benchmarking we have done before.
For our testing we used the read-only OLTP benchmark, which is slightly less realistic, but still much more interesting than most other Sysbench tests. This allows us to measure CPU performance without creating an I/O bottleneck.
As expected, the EPYC 7601 can not deliver high database performance out of the box. A small database that can be mostly cached in the L3-cache is the worst case scenario for EPYC. That said, there are quite a few tuning opportunities on EPYC. According to AMD, if you enable Memory Interleaving, performance should rise a bit (+10-15%?). Unfortunately, a few days before our deadline our connection to the BMC failed, so we could not try it out. In a later article, we will go deeper into specific tuning for both platforms and test additional database systems.
Nevertheless, our point stands: out of the box is the EPYC CPU a rather mediocre transactional database CPU. With good tuning it is possible EPYC may pass the Xeon v4, but the 8176 is by far the champion here. It will be interesting to measure how EPYC compares in the non-transactional databases (Document stores, Key-value...) but transactional databases will remain Intel territory for now.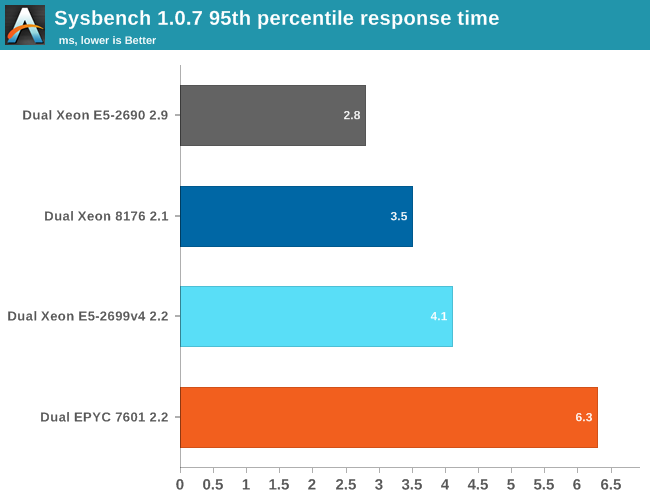 Typically when high response times were reported, this indicated low single threaded performance. However for EPYC this is not the case. We tested with a database that is quite a bit larger than the 8 MB L3-cache, and the high response time is probably a result of the L3-cache latency.