Albatron KX18D PROII: Basic Features
 Motherboard Specifications
CPU Interface
Socket-462
Chipset
nForce2 Ultra 400 North Bridge
nForce2 MCP-T South Bridge
Bus Speeds
100 to 300MHz (in 1MHz increments)
PCI/AGP Speeds
Auto (Variable) or Fixed 50-100MHz
(in 1 MHz increments)
Available CPU Ratios
5.0X to 24X
Available Dimm Ratios
1.0, 1.2, 1.33, 1.5, 1.6, 1.66, SPD, 2.0, 2.4, 2.5, 2.66, 3.0, 3.33, 4.0
Core Voltage
1.10 to 2.65V (1.10 to 1.85v in 0.025v increments,
1.90v to 2.65v in 0.05v increments)
DRAM Voltage
2.50v to 3.0 (in 0.1v increments)
Chipset Voltage
1.6v to 1.9v (in 0.1v increments)
AGP Voltage
1.5v to 1.8v (in 0.1v increments)
Memory Slots
Three 184-pin DDR DIMM Slots
in Dual-Channel Configuration
Expansion Slots
1 AGP 8X Slot
6 PCI Slots
Onboard IDE RAID
Two Standard ATA133/100/66
(maximum 4 IDE devices)
Onboard USB 2.0/IEEE-1394
Six USB 2.0 ports supported by MCP-T
TI TSB41AB2 IEEE-1394 FireWire (2 ports)
Onboard LAN
nForce MCP 10/100 Ethernet
Onboard Audio
Realtek ALC650 codec
AC '97 2.2 Compliant 6-Channel
Onboard Serial ATA
Silicon Image Sil3112 supports Raid 0/1
BIOS Revision
Dual BIOS — Release 1.00 7/22/2003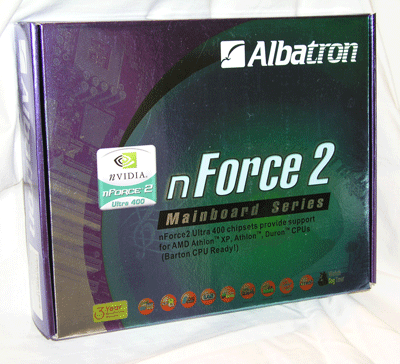 The Albatron KX18D PROII is Albatron's top Athlon board. As the flagship for Albatron's AMD offerings, it comes with just about every feature you might have on your Athlon wish list. The full-size ATX board attaches to the standard ATX case with 9 stand-offs.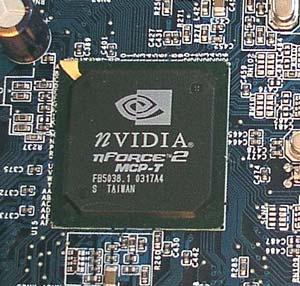 nVidia's MCP-T southbridge is the premium member of the nVidia MCP family. It provides USB support, provisions for up to two nVidia Ethernet connections, nVidia Sound Storm Audio capabilities, and ATA 133 IDE support.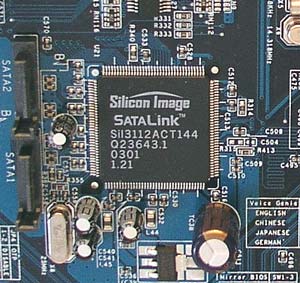 The KX18D PROII adds full Serial ATA support, as well as the option for SATA RAID 0 and 1 with the well-regarded Silicon Image 3112 controller. Combined with the MCP-T southbridge, you will have the option of using IDE drives to ATA133, Serial ATA drives, SATA RAID, or a combination of these options. Albatron provides a single SATA cable, and a Power Adapter that converts a standard 4-pin Molex connector to the standard SATA power connector.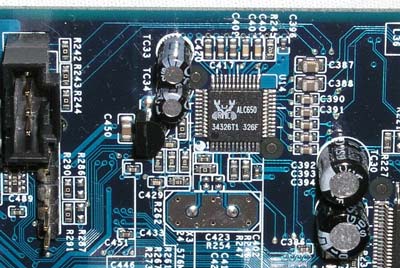 The nVidia Sound Storm still requires an audio codec as the front end for Sound Storm audio. Albatron uses the common Realtek ALC650 chip, which is compliant with AC '97 2.2 to provide 6-channel sound. AC '97 2.2 seems to have replaced older AC.

If you have Dolby digital capabilities, SPDIF output is provided by an included SPDIF bracket. SPDIF in and out jacks are here for coaxial connections, as well as Optical SPDIF out, and the 2 additional jacks for rear speakers in a powered 4 to 6 speaker arrangement. This allows you to use rear speakers and still have microphone and audio input capabilities with the rear jacks. This is rarer than you might think, since many motherboards must program the jacks and use the mic and input jacks for speakers. nVidia's Sound Storm capabilities are well-known and well regarded, but you really need an external Dolby Digital Receiver or a powered speaker system with Dolby Digital capabilities to get the most from Sound Storm.
With such great attention to the often-overlooked SPDIF and rear speaker setup, we are a bit surprised that Albatron only included a single CD connector on the KX18D PRO. This board is clearly aimed at the Athlon Enthusiast, and these are the very users who often have more than one CD/DVD in their system. A second connector would be a nice addition to what is otherwise a great onboard audio setup.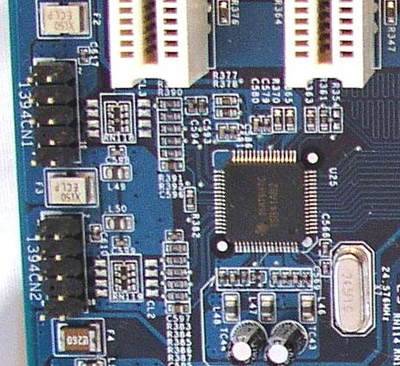 In addition to the 2 USB 2.0 ports on the rear I/O panel, four more USB 2.0 ports can be added using the included 4-port bracket. IEE 1384 firewire is provided by the Texas Instruments TSB41AB2 chip. Both standard ports are provided by an included bracket.
While MCP-T supports up to 2 Ethernet ports, the KX18D PROII implements just a single 10/100 LAN connection. It is the familiar nVidia MCP Ethernet 10/100.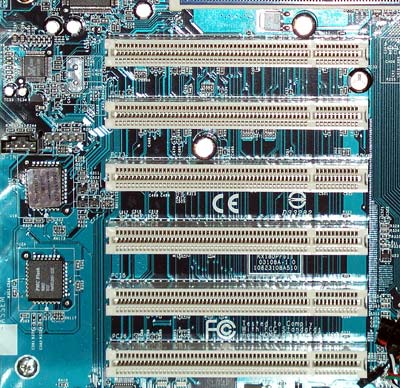 It is becoming rare to see six PCI slots on a motherboard these days, yet Albatron did include 6 PCI slots in this nForce2 Ultra 400 design. There is one caveat, however. As much as we are pleased that Albatron included full support for 6 USB, 2 firewire, and full SPDIF and mini jack support, if you install all these brackets, they will take up half of your available slots. For most, this won't matter, but if you
must
have 5 or 6 slots for your configuration, you have to choose which accessory brackets to install.

The KX18D PROII I/O ports configuration is the standard assortment you will find on the standard ATX backplate that comes with most cases. The arrangement of ports is even standard, so you can use the standard plate that came with your ATX case. Albatron does not include a custom backplate with the KX18D PROII. As you can see, there is only one serial port on the back. This is a concession often made in a board design that will also be offered with integrated video. If an integrated video version of the KX18D PROII appears, there will be a video port where the second serial port is normally found.
Scanning the features, the KX18D PROII is a top-line nForce2 Ultra 400 board. If some of these features are not so important to you, or you need to save some money, Albatron also offers the KX18D PRO. The PRO version uses the MCP southbridge and does not include Firewire, or Serial ATA options. Fewer features on the PRO version will save you money if these extra features are not important to you.