The "T"s
Even from the very beginning of the keynote, Paul Otellini made it very clear that Intel's current and future focus is firmly planted on end user experience. No longer will the microprocessor giant's focus be showing off higher and higher GHz machines (although we'll still see faster CPUs released of course). Instead we were presented with a multitude of technologies (that Intel lovingly called the "T"s) centered around enhancing the end user's experience. Much of the information we have already heard, but there were some interesting surprises as well.
The first of the "T"s Intel covered was Hyper Threading. Intel sees the adoption of HT rising to 50% of the market in the not so distant future, and we were shown a few graphs of the enhancements HT provides in multithreading and multitasking. As you can tell, most of this has been said before, but there were some very exiting revelations made. It seems that with the speed desktop users have embraced HT, Intel has decided that it is well worth their time to bring dual core processors to the desktop.
Multicore architectures coming to the desktop is very good news for computer users everywhere, and we are very exited about the possibilities of pervasive multiprocessing support. We definitely didn't expect such an early commitment to bringing this technology to the desktop, so this was quite a plesant surprise.
Intel's first dual-core CPU will by the Itanium followup known as Montecito, which will also be the first CPU from Intel to feature a total of 1 billion transistors. The follow-on to Montecito will be Tanglewood, the first multicore Itanium processor (meaning more than two cores on one die). Intel did not reveal if either of these processors would have Hyper Threading support, which many have speculated would be perfect for the Itanium architecture.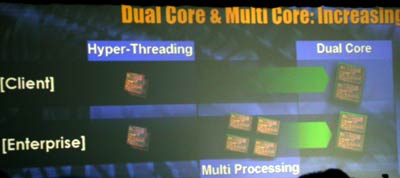 Intel went on to reveal that the Xeon would receive a dual core version with the Tulsa core (due out after Potomac ). Like its predecessors, Tulsa will also feature Hyper Threading technology meaning that each of the two cores would appear as two CPUs to the OS. Given the close relationship we've seen between Xeon processors and the Pentium 4 desktops, it would be safe to assume that a dual core desktop CPU would be due out either around the same time as Tulsa or slightly later. Given the increased transistor count of Tulsa (twice as much as a single core CPU obviously, assuming they don't share caches), we may see a desktop introduction delayed a bit due to the price sensitivity of the desktop market.
The second "T", Centrino Mobile Technology (CMT), is alive and well, but Intel didn't spend much time talking about CMT. We will undoubtedly hear more about Centrino in Anand Chandrasehker's keynote on Wednesday, but until then we were left with a brief demo of Dothan (90nm Pentium-M with 2MB L2 cache) on a Samsung laptop.