NVIDIA – GeForce FX Go5600 and GeForce FX Go5650
For high-end mobile systems, NVIDIA brings the GeForce FX Go5600 (NV31M), which is appropriately based on the GeForce FX 5600 (NV31), the specs of which can be found
here
. The specification of the Go version compared to its desktop big brother is virtually the same. As we cited in our preview, it is produced on a 0.13 micron process, is a full DX9 part, shares a number of similarities with the NV30, and consumes 1.0V while running.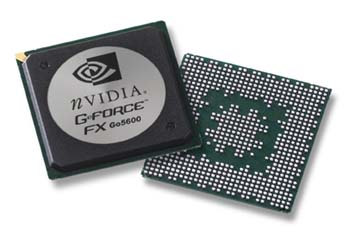 The original GeForce FX 5600 Ultra graphics processor, which includes the Go part, are supposed to be clocked at 350MHz core clock and 350MHz memory clock (700MHz effective). However, we have only been aware of original GeForce FX Go5600 shipping at the highest of 270MHz core clock and 300MHz memory clock. The reason why we use the term "original" is because the GeForce FX Go5600 has undergone a refresh. Like the GeForce FX 5600 Ultra, the Go part has two versions now. One is the GeForce FX Go5600 and the other, the GeForce FX Go5650. The first of the two is based on the wire bond design, and the second is the flip-chip. The flip-chip design allows the GeForce FX Go5650 to hit higher frequencies when compared to its predecessor. The flip-chip version of the desktop GeForce FX 5600 Ultra is clocked at 400MHz core and 400MHz memory (800MHz effective). As of late, we have only seen a shipping version of the GeForce FX Go5650 clocked at 325MHz core clock and 295MHz memory clock. So basically, there are two versions of the desktop NV31 and the NV31M. Though, the desktop version doesn't have a new name incantation like the mobile line. NVIDIA has informed us that they have already started the transition, and we expect to see all future mobile systems (and those announced within a few weeks) to hit the shelves with the new flip-chip version of NV31M.
In the GeForce FX Go5200 and GeForce FX Go5600 preview, we mentioned the support for component output and a MPEG2 decode assist engine. However, we still have yet to test these two features, and will report back once we do, accordingly. For a more detailed look into GeForce FX Go5200 and GeForce FX Go5650, read our original
preview
.